With a population of 4.53 million, Hakka people account for 19.3 percent of Taiwan's population, and they are the nation's second-largest ethnic group after Hoklo. Among the Hakka villages scattered across Taiwan, Neiwan (內灣), Beipu (北埔), and Ermei (峨嵋) in Hsinchu County in northern Taiwan are some of the most typical places where visitors can discover Hakka culture in Taiwan.
Neiwan is a lovely community surrounded by hills and water, and the Neiwan Old Street was once the artery of lumbering and mining transportation in the old days. However, it has transformed into a Hakka spot for tourism.
Subscribe to our Newsletter!
Receive selected content straight into your inbox.
It is replete with an extensive variety of hometown-style Hakka dishes and mountain products. Strolling along this street, visitors will be embraced by a reminiscent atmosphere, and can taste some of the famous delicious local flavor, such as wild ginger lily rice dumplings (野薑花粽), Hakka flat noodles (Bantiao, 客家粄條), Hakka radish buns (客家菜包), Hakka rice cakes (Mochi, 麻糬), Hakka tea, etc.
The Neiwan Theater is an antique building that has been converted into quaint shops, where visitors can buy handmade souvenirs and all kinds of handicrafts, etc. The Neiwan train station is a good place to take pictures, and it is fun to walk across the suspension bridge just outside Old Street.
Beipu is a small township in southeastern Hsinchu County, which is known among locals as the Hakka Capital of Northern Taiwan, as it has been one of the most important and most successful in preserving Hakka heritage. Beipu Old Street (北埔老街) and Ci-Tian Temple (慈天宮) are popular spots for visitors to enjoy a bit of Hakka history, culture, and cuisine.
Built in 1846 and dedicated to the Buddhist goddess Guanyin, Ci-Tian Temple is the central point of Beipu. There are scores of small shops and stalls selling various Hakka delicacies and souvenirs in the vicinity of Ci-Tian Temple and on Beipu Old Street.
There are many restaurants featuring various forms of Hakka cuisine in Beipu. Any visit to Beipu wouldn't be complete without sampling a bit of amazing Hakka delicacies and dishes, be it a hot bowl of Hakka flat noodles, the extremely tasty ginger pork intestines (薑絲炒大腸), Hakka radish buns, dried persimmons (柿餅), the Grind Tea (Lei Cha擂茶), sweet potato cakes and taro cakes (番薯餅、芋仔餅), etc.
Ermei (峨嵋) is a rural township in Hsinchu County. In addition to Hakka cuisine, it's famous for the picturesque Emei Lake, also known as Tapu Reservoir (大埔水庫), the Shiherliao Recreational Agriculture Area (十二寮休閒農業區), and a newly established Buddha college with a giant Laughing Buddha statue (Maitreya 彌勒佛).
Among Hakka delicacies, Grind Tea (Lei Cha擂茶) and dried persimmons (柿餅) are two of the most striking Hakka heritages. Grind Tea, also known as Hakka tea, is the symbol of Hakka people's wisdom of life and their hospitality. It consists of a mix of tea leaves and herbs that are ground or pounded together with various roasted nuts, seeds, grains, and flavorings. It is a popular Hakka beverage with a unique flavor.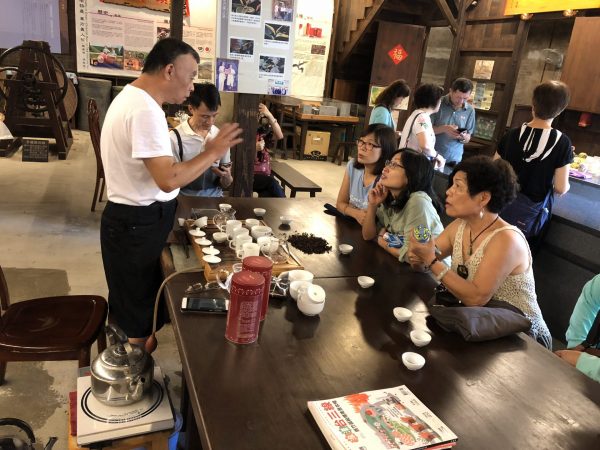 Neiwan, Beipu, and Ermei are famous for making dried persimmons, where visitors can see many shops selling various varieties of dried persimmons. As they are low in fat and have a moderate quantity of nutritional value, they are one of the Hakka delicacies liked by many local people.
Watch a video about the Hakka Villages: