Let's do an easy word this time – The Chinese character for jade!
玉 (yù) is another word based on the ideogram for king, 王 (wáng). The only difference is that there's a tiny dot on its lower right side, which resembles an amulet on the king's gown.
Subscribe to our Newsletter!
Receive selected content straight into your inbox.
The oldest form of 玉 displays a chain full of shining jade stones. Considered the most precious of gems, Chinese noblemen use to wear them as pendants on their clothes. Chinese women have always treasured jade jewelry. Jade often has intricate patterns carved into it, and it can also be carved into many exquisite shapes and forms.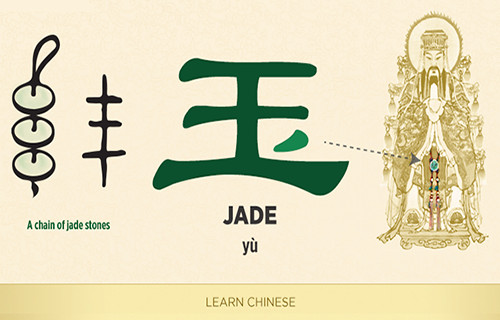 In ancient China, jade was associated with many human characteristics: With the warmth of its glow, people recalled kindness; with its soft interior, they saw righteousness; with its tranquil and high tone, wisdom; with its well-defined but smooth edges, bravery.
Did you know that jade comes in many other colors than green, such as orange, brown, black, white, grey, purple, pink, red, yellow, and blue?
Follow us on Twitter or Facebook