A scarf is a very versatile accessory and fitting for various occasions. Especially in winter, a scarf offers welcomed protection for your neck and chest against the cold weather. There are many ways to wear a scarf both for fashion and for practical reasons.
Scarves are among the most popular luxury decorations for ladies and young girls.

Subscribe to our Newsletter!

Receive selected content straight into your inbox.
Winter scarf material
What really defines a scarf is its making and what it is made of. The most distinct feature of a winter scarf, and its main difference to a summer scarf, is the thickness that wool or cashmere scarves have compared to summer scarfs.
Generally speaking, there is no real summer or winter scarf. Some people wear their favorite scarf all year round. The best example of a multi-season scarf is one made of silk. Due to the nature of silk, a scarf made of silk doesn't need to be made as thick as one made of wool or cashmere, but it will still keep you warm.
For those who like to put things into categories, you could say that wool and cashmere go well in winter, and silk is perfect for spring and fall.
Most women will not complain about having one more scarf than needed in their closet.
Ways to wear a scarf to fit the season
There is more than one way to do something. Tying a scarf is no exception.
Next, we will introduce some simple ways to tie your scarf in a more elegant and charming way, depending on the season.
It's not just a fun passion to enjoy, but with the following repertoire of how to tie your scarf, you can look different each time you dress up in your favorite scarf.
You won't just look that much more elegant and beautiful, but will also enjoy the full amount of cold protection your scarf can give you. It's really so simple that it is often overlooked.
Let's learn several ways to wear a scarf by watching the following video:
9 Styles of tying a scarf
Classic
Bohemian Chic
Modern Shawl
Side Swept Shawl
Intricate Loops
Butterfly
Effortless Classic
Criss-Cross
Scarf Tie
These are just a few styles you can tie your scarf in.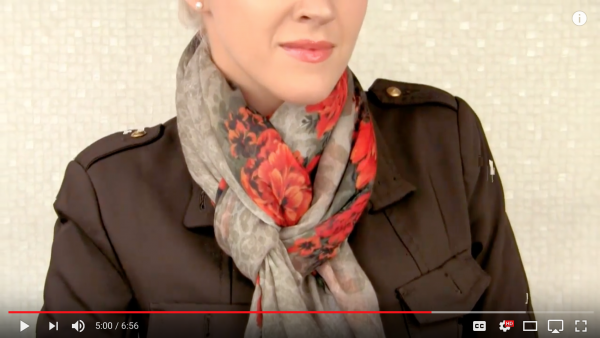 With this knowledge, you can now look the best in your scarf no matter the season, no matter the occasion.