Some type of Christmas celebration occurs in almost every part of the world, and Taiwan is no exception. Though Christians only make up 4.5 percent of Taiwan's population, people across the nation can always feel the festive atmosphere of Christmas time in every corner during this time of the year.
Shopping malls, department stores, office buildings, and the sidewalks in front of these structures are heavily decorated from the weeks leading up to Christmas until the lunar New Year holidays are over. It is not uncommon to see giant Christmas trees or related decorations in government offices as well.
Subscribe to our Newsletter!
Receive selected content straight into your inbox.
Watch the video of the Christmas celebration in Taipei City with the amazing 3D projection Xmas trees:
Moreover, many large-scale Christmas celebration activities are sponsored by various governments across Taiwan. Take the New Taipei City, a metropolis in northern Taiwan that has a population of 4 million for instance. It has held the "Christmasland" activities at the New Taipei City Plaza every year over the past seven years.
Divided into three areas, the exciting and innovative 2017 New Taipei City Christmasland is being held from November 24, 2017 to January 1, 2018, bringing 39 days of festive activities. This year, a Singaporean Guinness World Record holding company is once again invited to create the most vivid lighting sculpture show on Taiwan's largest projection screen (94,657 ft2 or 8,794 m2) at this annual Christmas rendezvous.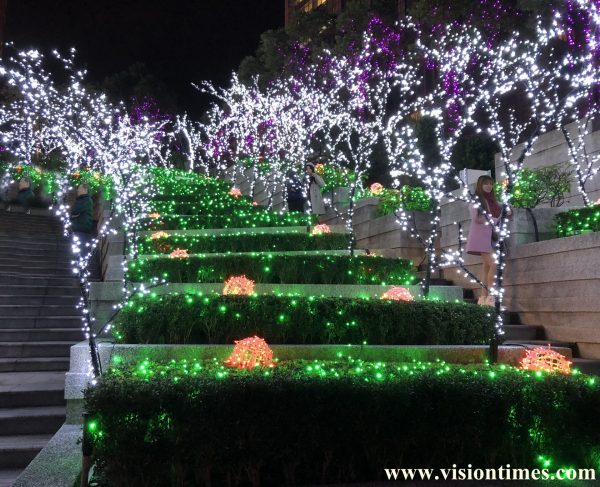 A total of 48 high-end projectors are used to create the unique 360-degree 3D sculpture projection Christmas tree, which was recommended by Harper's Bazaar Magazine as one of the 19 most amazing Christmas trees in the world. The vivid and delicate animation, fantastic music, and shiny special effects have made Christmasland most attractive to numerous visitors at home and abroad.
At the Christmasland area, there are eight container-converted markets adorned with extravagant lighting, a Santa bear-shaped stage and a glittering Christmas tree moose-themed merry-go-round amusement facility. Moreover, famous singers and dancers, along with nearly 30 groups of other idol singers, are invited to perform live in turn at the Superstar Christmas Concert of Christmasland.
In Taiwan's capital, the 2017 Taipei Christmas Festival is sponsored by the Taipei City government, in collaboration with 12 major department stores, 4 specialty commercial districts, and 80 businesses. In the 15-day-long event, a stamp collection activity is launched, and 15 different styles of limited edition nutcracker dolls are introduced to collectors.
Though Taiwan's Constitution Day coincides with Christmas day, many local governments across the nation have held a variety of Christmas celebration activities instead of observance of Constitution Day in recent years. Many mansions and residences are also decorated with Christmas trees and glittering lights during this time of year regardless of whether they are Christians or not.