A climber famous for scaling skyscrapers without any safety equipment, Wu Yongning, has died after falling from a 62-story building in the city of Changsha, China. The 26-year-old daredevil fell on November 8, but his girlfriend only recently confirmed his death.
Sometimes referred to as "Chinese Superman," Wu Yongning had amassed a considerable following on Chinese social media for his adventures in "rooftopping," or scaling tall structures without protective gear or safety harnesses. He regularly posted videos of himself lying down atop the edge of a skyscraper, hanging from towers, or jumping between buildings many stories above the ground.
Subscribe to our Newsletter!
Receive selected content straight into your inbox.
Despite the risks, Wu Yongning always survived his stunts and his post usually received thousands of likes and comments from his followers. What happened next almost seems inevitable; the Chinese climber fell, plunging 62 stories to his death.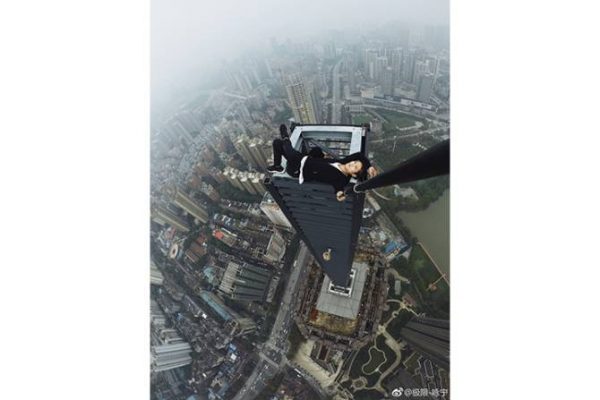 The video circulating of his final, ill-fated stunt shows Wu Yongning at the top of the building as he does pull-ups from its edge before trying to climb back atop the roof. He visibly struggles to regain his footing before losing his grip and falling from the side of the skyscraper.
His followers began to worry when he stopped posting updates in November. At the time of his fall, Wu was attempting a rooftopping challenge in Changsha, the capital of Hunan Province, hoping to claim the 100,000 Yuan (US$15,000) prize.
Crowdfunding a death
Livestreamers and viral video-makers such as Wu Yongning can earn money from Chinese video platforms that allow followers to send virtual gifts, which can then be converted to cash. Wu's death has prompted uneasy soul-searching over the "cash for clips" Internet video industry, as questions are now being asked about whether these platforms, and their viewers, are in some way responsible for his death.
A user on microblogging network Weibo commenting on Wu Yongning's death said:
"Watching him and praising him was akin to buying a knife for someone who wanted to stab himself, or encouraging someone who wants to jump off a building. Don't click 'like', don't click 'follow', this is the least we can do to try to save someone's life."
The conversation comes as China struggles to contain the fast-evolving, billion-dollar Internet video industry. Millions are broadcasting their lives on livestreams, and nearly half of China's 710 million Internet users are watching them. China may be infamous for its censorship and Internet restrictions, but the world of livestreams and short videos remains largely unregulated.
However, change may be on the horizon. In response to the incident, state broadcaster CCTV said in a recent commentary:
"Social media sites should not, in their quest for profit, selectively ignore the fact videos can bring about harmful social consequences."
With all the likes, comments, and financial rewards, Wu Yongning was encouraged to risk his life. The sad fact remains that had he not been so popular on live-streaming apps, he might still be alive today.