Taiwan is known for its exquisite and delicious cuisine, and high on the list is hot pot. Not only is hot pot something that many Taiwanese people cannot do without, but it is also part of Taiwanese culture. Wherever you go in Taiwan, big streets and small alleys alike, you can always find a hot pot restaurant.
Please watch the following video of a unique restaurant that features pickled cabbage and meat hot pot in Taiwan:
Subscribe to our Newsletter!
Receive selected content straight into your inbox.
Hot pot usually consists of a simmering metal pot with broth in the middle of a dining table, with raw ingredients placed around the pot. Guests can add whatever they like to the broth, cook it quickly, and eat it with dipping sauce.
Typical hot pot dishes include finely minced beef, mutton, pork, seafood, cabbage, lettuce, corn, taro, yam, mushrooms, soybean curd, egg dumplings, and fish cake (魚板).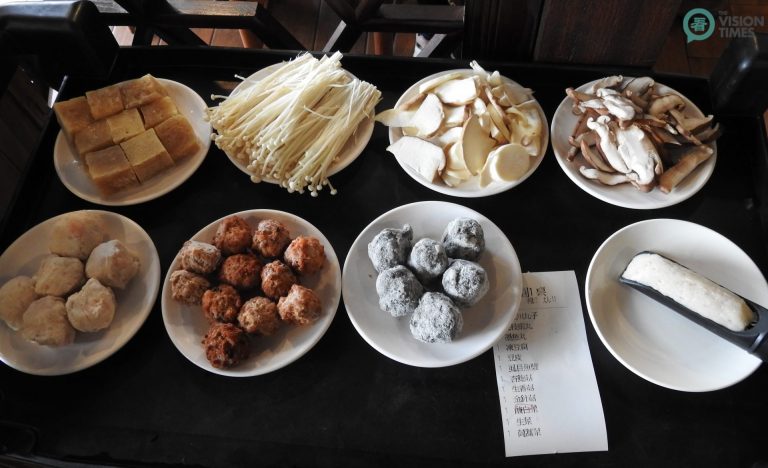 There are various styles of hot pot in Taiwan, such as Spicy Hot Pot (麻辣鍋), Seafood Hot Pot (海鮮鍋), Savory Stinky Hot Pot (臭臭鍋), Herb-Flavor Hot Pot (藥膳火鍋), Pickled Cabbage and Meat Hot Pot (酸菜白肉鍋), Two-Flavor Hot Pot (鴛鴦鍋), Vegetarian Hot Pot (素食鍋), Korean Kimchi Hot Pot (泡菜鍋), Mutton Hot Pot (羊肉爐), Shabu-Shabu (涮涮鍋), and All-You-Can-Eat Hot Pot (吃到飽火鍋), just to name a few!
In recent years, pickled cabbage and meat hot pot restaurants (酸菜白肉鍋餐廳) have become quite popular in Taiwan, and among them is Laujio Pickled Cabbage and Meat Hotpot (老舅酸菜白肉鍋). Founded in 2008, this famous hotpot restaurant is located in Taichung City in central Taiwan. It uses traditional tall brass chimney pots, and its broth is a traditionally prepared bone broth with seafood, which lends an umami flavor.
In addition to its delicious food, what is perhaps most striking about this restaurant is its exterior appearance and interior design. With an intriguing entrance, the restaurant looks like a tiny palace surrounded by leafy pine trees. Upon entering the restaurant, customers are greeted with a giant brass charcoal hot pot flanked by two large ceramic cabbage fermentation jars. It is a favorite spot for customers to take pictures.
Inside, the restaurant is full of traditional flavor with handpicked articles and decorations. Behind the restaurant is an elegantly arranged miniature garden with lush pine trees. Additionally, large glass panels let in natural light, creating a cozy ambiance. This warm and inviting atmosphere makes Laujio Pickled Cabbage and Meat Hotpot a perfect destination for family and social gatherings.
When Nauru President Kinza Clodumar visited Taiwan in 1998, Laujio Pickled Cabbage and Meat Hotpot was selected as a host restaurant by the Taiwanese government. Also, many famous people, such as Taiwan's former president Ma Ying-jeou (馬英九) and two-time Oscar-winning Taiwanese film director Ang Lee (李安), have patronized the restaurant.