April 25 is ANZAC Day in Australia. ANZAC stands for Australia New Zealand Army Corps. War was declared between England and Germany on August 4, 1914. When World War I started, Australia promised 20,000 men to aid England. At the time, Australia's opposition leader Andrew Fisher announced that: "Our last man and our last shilling in any conflict with Germany." Australia's Prime Minister added: "Our duty is quite clear, to gird up our loins and remember that we are Britons."
Most people thought the war would be over by Christmas and believed it would be a good adventure. Some were too young to join and so they lied about their age, while others saw the war as a good way to see the world. Families parted as they said goodbye to their fathers, brothers, sons, and sisters who were nurses. Ships set sail off the Australian shores with the soldiers and nurses. Some said they could smell the eucalyptus trees far from the shores of Australia. The troops stopped in Egypt for training, where they prepared for their first battle against Turkey.
Subscribe to our Newsletter!
Receive selected content straight into your inbox.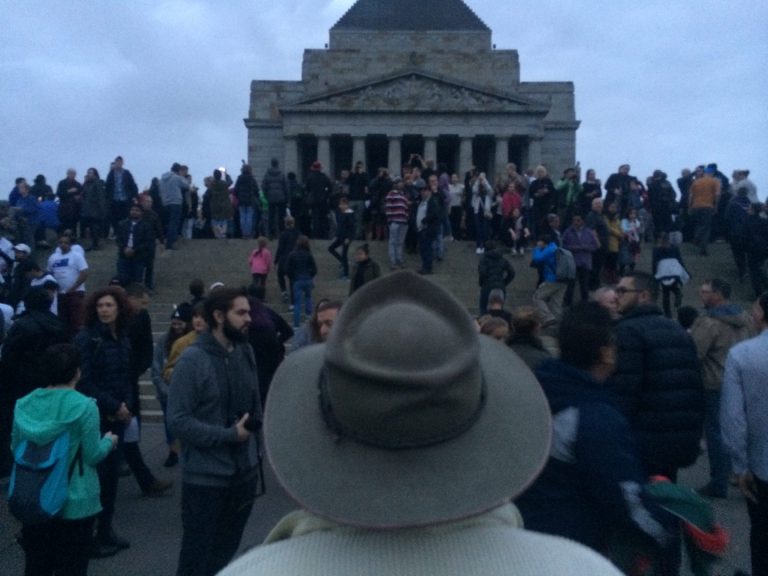 April 25 is a national public holiday for Australians and we give thanks and remember the soldiers, nurses, and all who came together to defend Australia in war and peace. Those who fought in World War I and II are especially remembered. This year, there was a focus on women and the indigenous Australians who fought and served for Australia.
Across Australia, services are held in communities to remember loved ones and the ANZACS who served Australia in war. In Melbourne, I walked to the Shrine of Remembrance and as I crossed the lawn, I could hear the bagpipes playing the old gospel song Amazing Grace. There was a man wearing a traditional Scottish dress playing the song beautifully. I felt at peace.
I walked up the wide footpath and toward the towering shrine at the end of the path. Bordering the path was huge conifer trees and people filling the spaces in between. It was quiet with everyone was waiting for the dawn service to begin at 6 a.m. As the bugler played, everyone remembered all those who did not come back from war and those that did make it home. Most Australians have family members who fought in World War I, and they shared many wartime stories during the service.
ANZAC Day is an emotional day, as Australians recall how difficult the conditions were for the soldiers who fought in the trenches of Europe. Nurses did what they could to help the soldiers, while volunteers assisted with aid, food, and clothing. Many hardships were shared by both family and friends as they received notice of a son, husband, or father who had died fighting or was in prison in a far-off land.
At 6 a.m., the service began with an introduction and the bugler played a memorable tune, The Last Post. The New Zealand and Australian national anthem was played next. The cauldron at the shrine was lit and a wreath was laid by it on behalf of all veterans. The guest speaker, Annette Holian, spoke about her family who fought in World Wars I and II and how she became a nurse to serve Australia. She talked about living in a war zone and how she used her experiences to encourage her colleagues at home to change their thinking and to better manage their situation in troubled times.
While World Wars I and II ended, it did not for many of those who served, as their memories were too horrific to ignore. Over time, the veterans received assistance from Veterans Affairs in Australia. ANZAC Day also helps heal these soldiers as Australia acknowledges their bravery and courage.
After the dawn service, a hot breakfast was shared near the shrine where those who served together met up and remembered the good times that they shared.
The Shrine Visitor Centre is where one can place a poppy as a symbol of thanks and remembrance. A red poppy remembers soldiers, a white poppy represents peace, while a purple poppy remembers animals that died during conflicts. There are an estimated 8 million animals that were sacrificed in World War I. To commemorate their sacrifice, the Australian War Animal Memorial Association issued a purple poppy that can be worn alongside a red poppy.
ANZAC Day parade begins
After breakfast, a parade begins near Federation Square. All Australia's forces — Army, Navy, Air Force, nurses, and the next of kin of those who served Australia — walked in the parade. The medals a person receives for serving Australia or for an honorable achievement are worn on the left. If a person is representing a family member who served, they wear their medals on the right.
Some people couldn't walk the distance and cars were available for them as they waved cheerfully to the crowd while brass and bagpipe bands played in between groups. The crowd cheered and clapped and yelled out:  "Well done!" and other cheers of thanks. Australians served in many countries around the world, and a flag bearer led each group noting the place where they are from in Australia or overseas country where they served.
The parade ended at the Shrine of Remembrance. More speeches were given and people gathered to learn about previous wars. Inside the Shrine, people can display their poppies and find out details about their family members who served and received a certificate for their achievement.
There is much to view inside the shrine, including photos, statues, soldiers' and nurses' uniforms, and the items that they carried. On display was one of the many rowboats used by the soldiers who rowed themselves into Gallipoli. The soldiers were guided to the wrong beach and many died before they came ashore by either drowning or gunfire. The landing was a disaster not just for the Australian troops, but also the Turkish soldiers, as many lives were lost on both sides. A service is also held at Gallipoli on ANZAC Day.
We placed our poppy at the shrine and remembered family members who served in the Australian army and all those who gave up their lives to bring about peace, lest we forget.