There are 23 recognized species of macaques under the genus Macaca, 22 of which live in Asia, including Taiwan. Macaca cyclopsis, also known as the Formosan rock macaque (台灣獼猴), is native to Taiwan. It is the only primate species in Taiwan aside from humans. These monkeys love to eat bamboo shoots.
It is believed that Taiwan's Formosan rock macaque originated in China when Taiwan was connected with mainland China during the glacial period. Additionally, the Formosan and Japanese macaques belong to the same subspecies.
Subscribe to our Newsletter!
Receive selected content straight into your inbox.
Please watch the following video of a Formosan rock macaque eating bamboo shoots near Sun Moon Lake (日月潭) in central Taiwan:
Formosan rock macaques tend to be medium to large in stature. They are diurnal and considered to be female-bonded, which is similar to other subspecies in the genus Macaca. Their coloration ranges from gray to brown. Their body is 36-65 cm long and weighs 5-18 kg, with a tail that can be as long as 26-46 cm, which is the second-longest among all the macaques.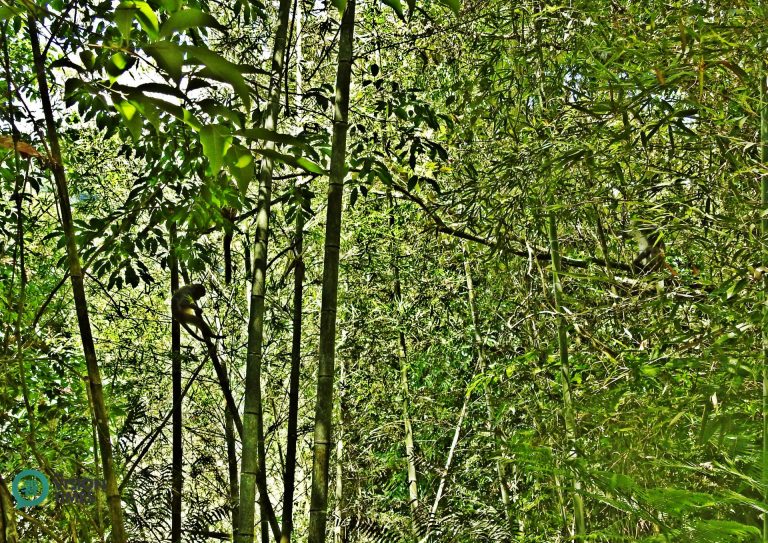 Formosan macaques, like chipmunks (花栗鼠), have cheek pouches where they are able to temporarily store their food. They feed on a variety of foods, including fruits, leaves, seeds, buds, young shoots, berries, bark, insects, small vertebrates, and some even reportedly raid agricultural crops.
The macaque's native habitat used to be restricted to mountainous areas across Taiwan at an altitude of less than 2,500 meters, especially around the areas of Wulai (烏來), Taipinsahan (太平山), Nantou (南投), Changhui (彰化), Chaiyi (嘉義), Kaohsiung (高雄), and Pintong (屏東). However, attracted by the widespread cultivation of fruit trees, they now can also be found in flat plain areas throughout Taiwan.
Formosan rock macaque monkeys have a large population
It is estimated that Taiwan's Formosan rock macaque population is between 250,000 and 300,000 at present. One of Taiwan's most popular tourist attractions, Sun Moon Lake, is populated by the monkeys. It is estimated that there are at least 10 troops living in the bamboo forests surrounding the lake, which is a major food source.
With the increasing contact between humans and the macaque, there have been reports of conflicts between the two species. Many macaques have lost their fear of humans and often beg, harass, and even attack humans for food. It is also not uncommon to hear reports of hikers being attacked by macaques in Kaohsiung City's Shoushan Park (壽山公園) in southern Taiwan.
Formosan rock macaques are listed as grade three of the Wildlife Conservation Act's three-grade classification for protected animals in Taiwan. According to the law, Formosan rock macaques shall not be disturbed, abused, hunted, killed, or otherwise utilized. Violators of the law are subject to fines of up to NT$1 million (US$33,000) and five years imprisonment, while feeding the macaques may be punishable with fines of up to NT$3,000 (US$100).