Situated in the Dongshan River drainage area in northern Taiwan's Yilan County, Yilan 52-jia Wetland (宜蘭五十二甲溼地) is one of the 41 National Class Wetlands designated by the Taiwanese government in 2015. A "jia" is a unit of land area (甲) commonly used by Taiwanese people, and one jia is equivalent to 0.9699 hectares (2.396 acres). Since the wetland covers an area of 52 jia (50.43 hectares or 124.59 acres) extending across several townships, it is thus named Yilan 52-jia Wetland.
Please watch the following video of the Yilan 52-jia Wetland (宜蘭五十二甲溼地):
Subscribe to our Newsletter!
Receive selected content straight into your inbox.
As this wetland contains low-lying marshes that accumulate water all-year-round, it is the perfect habitat for aquatic animals and plants. It is reported that there are over 170 species of birds inhabiting the area, including black storks, graylag geese, black-winged stilts, pelicans, northern lapwings, and the endangered black-faced spoonbills. Not surprisingly, the area attracts countless bird-watchers every year.
Common wetland plants
Plant species commonly seen here include buttonbush (風箱樹), common reed (蘆葦), salty grass (鹹草), seaside Clerodendrum (苦藍盤), baby's breath (滿天星), and small-leaved Barringtonia (穗花棋盤腳).
Among them, the small-leaved Barringtonia, also known as Barringtonia racemose, was an important plant for water and soil conservation in Taiwan. However, it's now endangered due to the overexploitation of estuaries and the arbitrary felling of trees. To restore this precious species, a small-leaved Barringtonia restoration area (穗花棋盤腳勳復育區) has been established in the wetland.
Small-leaved Barringtonia is an evergreen tree with a straight and unbranched stem reaching up to 52.5 feet (16 m) in height. It has large drooping racemes of white or pinkish flowers, ranging from 20 cm (0.7 feet) to 80 cm (2.6 feet) in length.
Its buds are pinkish-red and split open bringing forth masses of delicate stamens (雄蕊) in white sprays up to 1.4 inches (3.5 cm) in width, and often tinged with pink. However, it blooms only at night, and each flower lasts only until sunrise.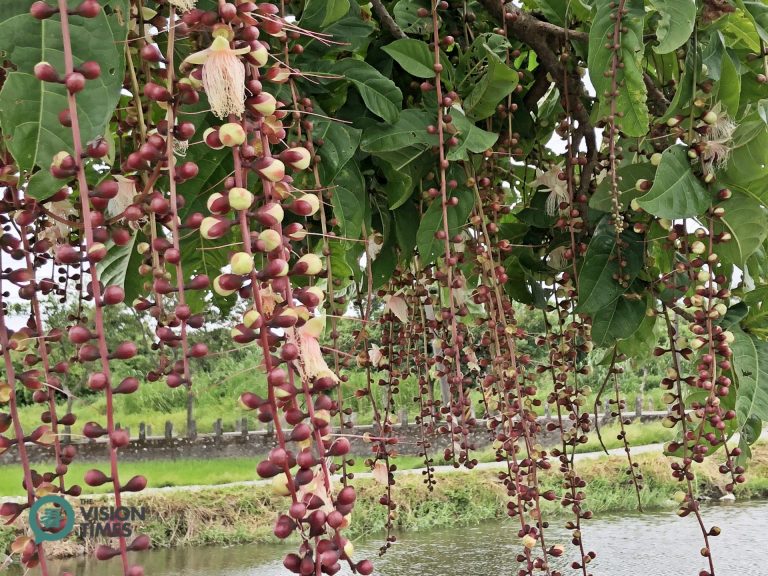 The precious nighttime fluorescence of the small-leaved Barringtonia has become one of the iconic features of Yilan 52-jia Wetland. The flowers are so elegant and delicate that local people often refer to them as the "Summer Night Fireworks."
They also have a lovely fragrance. It's a romantic and beautiful experience to stroll among the trees in the evening while enjoying the cool summer breeze and sweet fragrance of the flowers.
Mr. Brown Avenue (伯朗大道) is an interesting destination not far from the wetland. The winding route is the perfect place for biking and strolling. At the time of this writing, rice grains just turned from green to yellow, allowing one to appreciate the vast expanse of yellow waves along the winding route while enjoying the gentle breeze and pleasant smells from the rice paddies.
To promote tourism, the local government has recently launched a land-art activity. The Chinese characters "良食大道" and "幸福冬山" were painted in the rice paddies along the two sides of Mr. Brown Avenue. They read "Good Rice Avenue" and "Happy Dongshan Township."
While visiting Yilan 52-jia Wetland, it's also a great idea to visit some other interesting attractions in Yilan, such as the National Center for Traditional Arts (國立傳統藝術中心), Plum Lake (梅花湖), Dongshan River Water Park (東山河親水公園), Lanyang Museum (蘭陽博物館), and Luodong Forestry Culture Garden (羅東林業文化園區).