Guanyin (觀音) is a typical agricultural district in northern Taiwan's Taoyuan City, where farmers have transformed their paddy fields into lotus leisure farms to add value to their agricultural operations.
The Taoyuan City government has actively supported these lotus leisure farms to promote sustainable agricultural development. By combining tourism and agriculture, the city government's Department of Agriculture holds the Taoyuan Lotus Festival (桃園蓮花季) every summer.
Subscribe to our Newsletter!
Receive selected content straight into your inbox.
Please watch the following video of lotus leisure farms in Taiwan.
During the festival, not only are various cultural-based activities held to promote awareness of ecology and environmental resources, but local lotus farms also offer lotus dishes, snacks, souvenirs, and leisure activities to entertain visitors.
The 20th Taoyuan Lotus Festival is held from June 30 to August 12, 2018, at the Guanyin Lotus Leisure Agriculture Area. The festival hosts a series of events, including a photography competition, melon and fruit tasting, live concerts, aboriginal and Hakka dancing parties, and an environmental play entitled "Love Hakka Villages." Five sightseeing routes to leisure farms are also available so that visitors can see and appreciate the rural scenery in the district.
At the paddy field-turned square in front of the tourist information center, there are large-scale land art objects on exhibit, including a peach, a bamboo shoot, a peanut, chickens and eggs, two oxen, and a lotus kiln. The square is a photography hotspot, and is where the opening ceremony of the Lotus Festival and other cultural activities are held.
The Lian He Garden Leisure Farm is one of the most popular lotus leisure farms in Taiwan
There are about 20 lotus leisure farms in Guanyin District, and they each have their own unique characteristics. Many of them offer unique local delicacies, Hakka cuisines, and drinks. Among them, the Lian He Garden Leisure Farm (蓮荷園休閒農場) is one of the most popular.
Covering an area of over 2 hectares (4.9 acres), the leisure farm is composed of two sections separated by a trail. Visitors can find a wide variety of water lilies in small ponds and over 100 other varieties of plants. Some water plants are rare and regarded as national treasures, such as the Yellow Water Lily (Nuphar shimadai萍蓬草) and Cyperus malaccensis (三角藺草).
Lian He Garden Leisure Farm is one of the few leisure farms in Guanyin District that features the Santa Cruz Waterlily (大王蓮). This type of lotus, which has large platter-like leaves with upright rims, can support the weight of an adult (less than 100 kilos). For a small fee, visitors can sit or stand on a leaf for a photo.
The farm also grows several Thai varieties of lotus that have much taller stalks than most other species. It is especially intriguing to visitors, as it is not commonly seen in Taiwan.
Another feature of this leisure farm is its Straw Museum. It displays a wide array of straw weaving handicrafts made by the farm operator, such as the 12 Chinese zodiac animals, agricultural instruments, and a traditional Hakka three-section compound.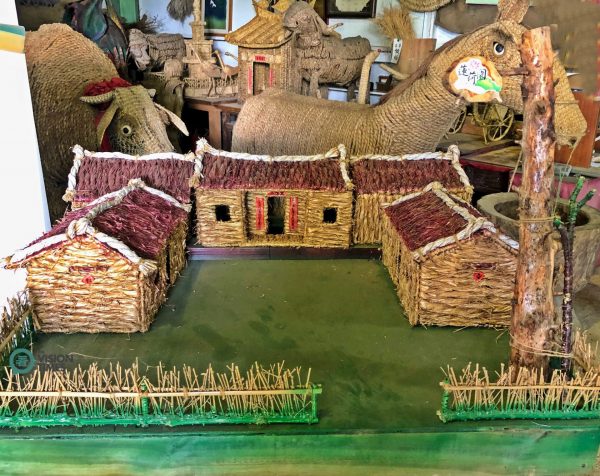 The leisure farm's restaurant provides a wide selection of Lotus-based delicacies, snacks, shaped ice topped with lotus seeds, and drinks for visitors to savor and taste rural life at reasonable prices. Another fun way to explore the leisure farm is attending its DIY activities, such as kilning sweet potatoes, crafting straw swords and scarecrows, and making lotus leaf rice dumplings.
Other leisure farms in the Guanyin Lotus Leisure Agriculture Area are also great destinations to have fun and experience rural life. Guanyin District is an ideal destination for a wholesome family trip during the summer.