Located on the North Coast of Taiwan, Wanli (萬里) is a cozy district in New Taipei City. With four small fishing harbors, Wanli is known for catching natural sea crabs, including flower crabs (花蟹), three-spot crabs (三點蟹), and stone crabs (石蟳).
These three species of crabs are generally referred to as Wanli Crab (萬里蟹), which is a brand name officially certified by the New Taipei City Government in 2012 to boost their market value.
Subscribe to our Newsletter!
Receive selected content straight into your inbox.
Please watch the following video of the Guihou Fishing Harbor:
Wanli Crabs are mainly caught from the 50-meter-deep sandy seabed of the Northwestern Fishing Ground (西北漁場) about 20 to 24 nautical miles from Wanli. Every year, approximately 600 tons of Wanli Crab are harvested, and about 80 percent of them are captured by Wanli fishermen from the Northwestern Fishing Ground.
There are about 50 fishing boats in Wanli that are engaged in the crab fishery from September to November every year, and most of them use baited crab cages to catch crabs due to conservation concerns and to keep the freshness of the crabs.
As a matter of fact, Taiwan's Council of Agriculture also adopted a set of rules in 2014 to ban the capture of sea crabs smaller than 8 centimeters (3.15 inches) by measuring their back-shells, aiming to protect crabs that have yet to reach maturity. On the other hand, fishermen must release egg-bearing crabs to the ocean immediately between August 16 and November 15 every year. Violators are subject to a fine of up to NT$150,000 (US$5,000).
To promote Wanli Crab, the New Taipei City Government has launched the Wanli Crab Season (萬里蟹季) with a variety of promotional activities at Wanli District every fall since 2012. Since then, the value of the industry has increased from NT$350 million (US$12 million) in 2011 to NT$700 million (US$23.3 million) the following year. It is expected that the crab harvesting industry will surpass NT$1.5 billion (US$50 million) this year.
Fishing harbors offering crabs
Among the four fishing harbors in Wanli District, Guihou Fishing Harbor (Turtle Roar Fishing Harbor龜吼漁港) is the most popular one, and the Guihou Fishermen Market in the harbor is often packed with visitors competing for meaty Mali Crab during the festival.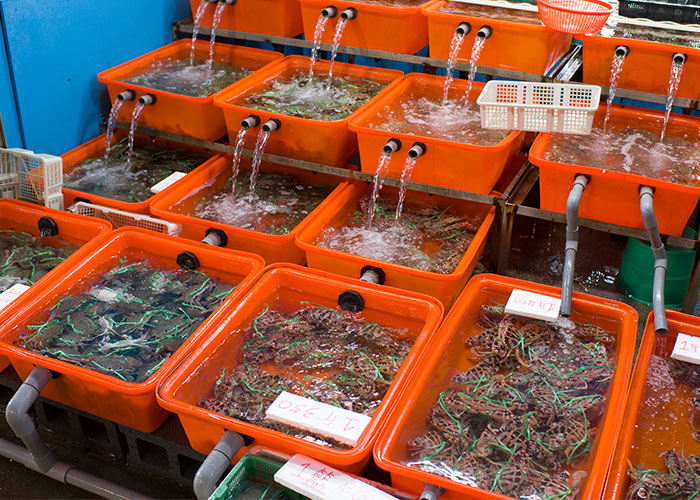 In addition to dozens of seafood restaurants, there are many different seafood stalls in the Guihou Fishermen Market for visitors to select their favorite seafood and compare prices. Right after purchasing crabs, prawns, clams, seaweeds, fish roe, and other seafood, visitors can ask seafood stall operators to cook the seafood on the spot.
There are a variety of ways to cook crabs, such as Stir-fried Sha-Cha Crab (清炒沙茶萬里蟹), Fried Crab with Chili, Steamed Wanli Crab and Rice Plank, and Black-peppered Crispy Wanli Crab. But the classic is Steamed Wanli Crab without adding any seasonings, as it can retain the ocean freshness in the meat.
It is surely a great experience to enjoy the fresh and tasty seafood, in particular Wanli Crab, at the crowded tables in the Guihou Fisherman Market.
After lunch, visitors can take in the splendid scenery of the Pacific Ocean at the Crab Theme Park (螃蟹主題公園) adjacent to the Guihou Fishing Harbor, and visit the Yeliu Geopark, which is full of amazing natural rock formations formed by volcanic lava.
Visitors can also swing by the famous hot springs in Wanli and Jinshan Districts, which are only about a 30-minute drive from the Guihou Fishing Harbor.