Dinner and treats on Halloween can't be anything regular — they have got to be spooky!  These recipes may elicit some cries of "EEWW!", but they'll be a hit with the costumed bunch and without a doubt, the adults too.
Eyeball Pasta
Yield: 4 servings
Subscribe to our Newsletter!
Receive selected content straight into your inbox.
Ingredients:
Spinach pasta, any shape
Your favorite pasta sauce
4 pieces of string cheese
Black and/or green olives
Plastic straws
Directions:
Slice string cheese about 1/4″ thick. Cut the olives in half lengthwise.
Using the straws cut circles out of the cheese discs; using the same straw, cut pieces out of the olives. Place the olive pieces in the cheese pieces to make eyeballs.
Cook pasta according to directions. Top with a serving of pasta sauce and add the eyeballs on top.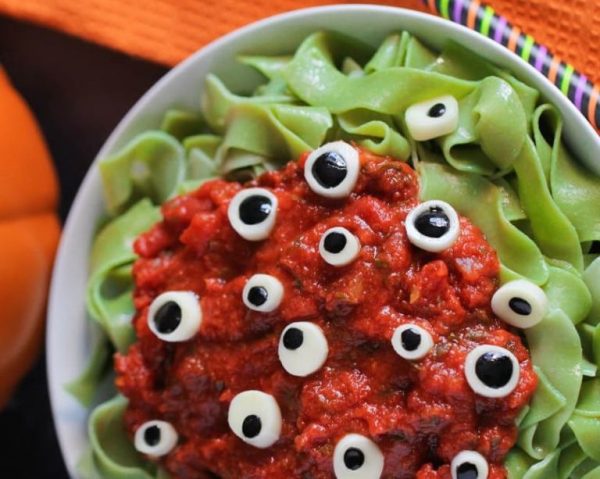 Severed Toes in Bandages
Yield: 36
Ingredients:
1 box refrigerated piecrust
1 package of 36 beef cocktail franks
36 almond slices
1 large egg
Ketchup
Directions:
Preheat oven to 450°F. Line a large baking sheet with parchment paper.
On a work surface, unroll a piecrust and, using a pizza wheel, cut crust into 3⁄8-inch-wide strips to make 36 strips.
Working with one frank at a time, wrap each cocktail frank (like a bandage) with a dough strip to cover about one-half to two-thirds of the frank. Repeat with remaining franks.
Arrange on a prepared baking sheet.
Using a small paring knife, make a horizontal slit on the unwrapped end of each frank, and insert an almond slice into the slit to resemble a toenail. Brush dough bandages with egg wash.
Bake in preheated oven 10 minutes, or until pastry is light golden brown. Serve hot with ketchup.