China has confirmed that it has arrested Interpol chief Meng Hongwei on suspicions of illegal activities, after he landed in the country. Last seen in France on September 29, Meng's wife has admitted that she not only fears for his life but also hers.
Arresting Interpol chief Meng Hongwei
When Interpol came to know that its Chinese head had not reported back after a visit to China, they asked for clarification from Beijing. The Chinese authorities later confirmed that Meng was under their custody for violating state laws, which purportedly involved taking bribes and other unspecified crimes. Subsequently, Interpol received a statement of resignation from Meng.
Subscribe to our Newsletter!
Receive selected content straight into your inbox.
No one knows where the ex-Interpol chief currently is, what condition he is in, how he is being treated, or whether he has even been allowed legal representation. Beijing has decided to terminate his membership in the Chinese People's Political Consultative Conference. Analysts say that Meng must have committed a very serious offense for the Chinese Communist Party to act so rashly and arrest the head of an international police force like Interpol.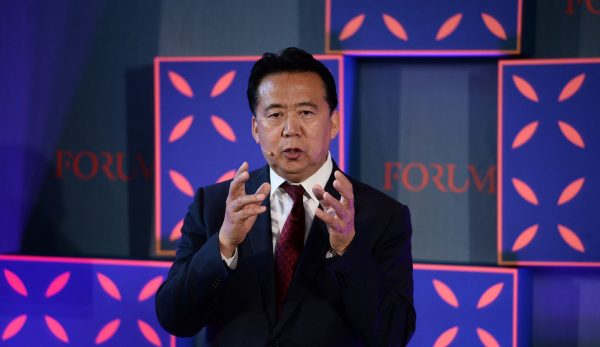 Under normal circumstances, this would have severely strained the diplomatic relationships between France and China. But it seems as if the French authorities have been given some kind of proof by Beijing that incriminates Meng, which would explain why France has not turned the incident into a major international issue.
However, all this is speculation and no one really knows why Meng has been arrested by the Chinese government. Meng was appointed as Interpol chief in 2016 amid Beijing's attempt to gain influential positions in international agencies. He was expected to fulfill his role until 2020.
Political asylum
Meanwhile, Meng's wife, Gao Ge, has stated that her husband might be dead and that she might be next in line. "I think it is political persecution… I'm not sure he [Meng] is alive. They [CCP] are cruel, dirty, and stupid… there is no bottom line, I can't imagine… this is true for everyone in China. I don't want any wife and children to go through the same situation," said Gao (NTD).
Gao currently resides in France with her two children. She reported having received death threats from a Chinese-speaking man who said there were two teams in place to target her. France might be able to provide her protection for the time being. But if Beijing supplies any evidence that points to her being involved in any crime, then French officials may hand her over to China.
As such, Gao's best bet is to seek the help of American authorities. "If Gao can't go to the U.S., then no other country can protect her… If Gao has evidence of the CCP's corruption, she can give this information to the U.S. in exchange for their protection. But once she exposes these documents, Meng won't have a way out," Zhang Jian, a Chinese pro-democracy activist in exile in France, said to The Epoch Times.
Political experts say that Meng may still be alive and that Beijing will likely conduct a show trial when the time comes, as a way to convince the world that it honors the rule of law. But considering that China has a history of simply "vanishing" people who act against them, one need not be surprised if no more information about Meng is made available by the Communist Party.