Li Wenzu from Beijing has been awarded the prestigious Edelstam Prize for her fight in promoting human rights in China, a country that is governed by one of the most oppressive regimes in the world. The prize is instituted in memory of Swedish diplomat Harald Edelstam. This is the first time that the award has been given to a Chinese person.
The prize won by Li Wenzu
Li Wenzu is the wife of human rights lawyer Wang Quanzhang. On July 9, 2015, the Chinese government began to purge human rights lawyers, activists, and legal personnel by illegally sending them to prison. This became known as the 709 crackdown. Wang went missing on July 10, 2015. He was treated brutally by the authorities and was made to disappear for six months. Later on, Li Wenzu and the spouses of the other detainees formed a support group to get their loved ones released. Most of the lawyers and activists came back home. However, Wang still remained in police custody.
Subscribe to our Newsletter!
Receive selected content straight into your inbox.
Li Wenzu became famous after she marched over 100 miles from Beijing to Tianjin in April this year, demanding the Chinese authorities release her husband whom she has not seen since 2015. The communist government saw her as a threat and barred her from leaving the country.
"When I heard the news of the award, I was nervous because I felt that in China there were so many people who worked hard for the 709 case, and their achievements were far greater than mine. Everything that I've done is just what I should do. I don't deserve this award. So thanks to everyone for the encouragement and recognition," Li Wenzu said in a statement (South China Morning Post).
U.S.-based activist Yuan Weijing accepted the award on Li Wenzu's behalf as she could not travel to Stockholm. Li's role in providing support to the group of families affected by the arrest and her sustained campaigning in getting the detainees released was what made her eligible for this year's Edelstam award.
"The attention that Mrs. Li Wenzu and the other wives have brought, not only to their husbands' plight, but also to the state of the crackdown, is a wonderful example of courageous human rights activism, fighting back with untraditional methods, using online appeals, and visits to jails, prosecutors, and courts," Caroline Edelstam, jury chairwoman and co-founder of the Edelstam Foundation, said in a statement (Radio Free Asia).
China: A graveyard for human rights
China is one of the worst offenders in the world against personal freedoms and free speech. The Chinese Communist Party (CCP) has a very long history of violently dealing with any individual, organization, or community that it deems a threat to its power. The 709 incident is just one of the many examples of oppression unleashed by the CCP against the Chinese people.
Being a communist state, strict religious control is exerted by the government. In Xinjiang, millions of Uyghur Muslims are detained and subjected to inhuman treatment in order to make them renounce their faith. They are regularly brainwashed to accept the communist ideology above their religion and prevented from observing many of their customs.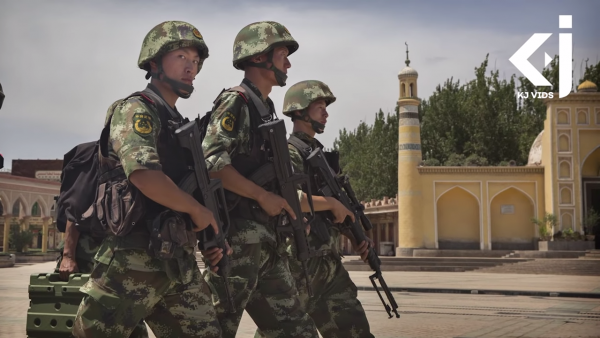 Crackdown on the Christian population is another major concern. Though the Vatican arrived at a deal with the Chinese government and set up an "officially certified" Church, the CCP seems to be using it as an excuse to persecute Christians who do not subscribe to it.
As far as the Internet is concerned, the CCP strictly censors all content to ensure that its citizens never get exposed to the truth and Western ideas of human rights and democracy. Though the Communist Party does speak of equality of the sexes, women are rarely given positions of power. Cases of violence against women are repeatedly given less attention than they usually deserve. Political activists who speak against the communist ideology are routinely detained and punished for having a free mind.