The Metropolitan Museum of Art (the "Met") in New York City is currently holding an exhibition of art in Chinese culture entitled Children to Immortals: Figural Representations in Chinese Art. More than 120 objects from Chinese history are up for display.
"Conveying a person's inner spirit (chuanshen) is the central aspect of figural representation in Chinese art. Rather than prioritizing accurate anatomical renderings, artists sought to capture the "life energy" of their subjects. This exhibition explores sophisticated decorative arts that depict figures dating to late imperial China, from the Song (960-1279) to the Qing (1644-1911) dynasties. Over this thousand-year period, images of humans, legendary figures, and immortals frequently appeared," according to the Met.
Subscribe to our Newsletter!
Receive selected content straight into your inbox.
'Children to Immortals'
Children
The first gallery showcases artwork relating to children and their activities. In ancient China, children were considered symbols of purity, a version of how human beings "should have been." The people of those times also saw it a good fortune to have as many children as possible. Hence, many of the ancient Chinese art depicts children doing various kinds of activities.
One silk tapestry on display shows kids engaged in archery, falconry, boating, fishing, playing musical instruments, reading, riding horses, and flying kites. Almost 83 boys are depicted in the tapestry that belongs to the Qing Dynasty era. The exhibition also showcases the sculpture of a sitting boy.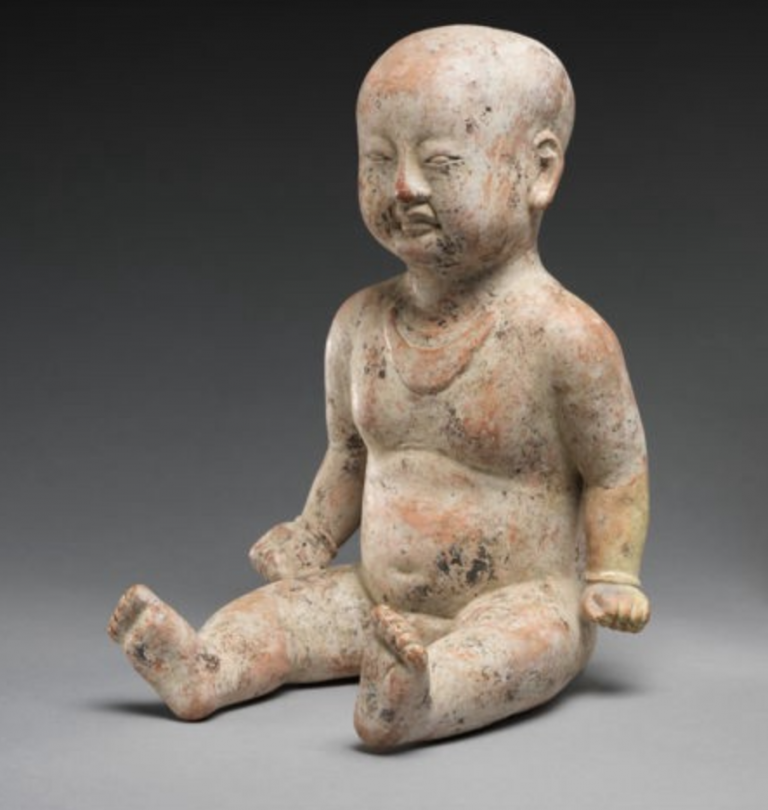 "This plump male child is a rare example of secular figural sculpture from the Song Dynasty. It was made at a moment when Song sculpture reached a pinnacle of naturalism. Song historical texts and archaeological discoveries indicate that this type of pottery doll (nihai'er), elaborately dressed with real clothes and jewelry, was made for the Qixi Festival (the seventh day of the seventh lunar month) and kept in people's homes to express the wish for many male children," according to Tiffani K Pan (Medium).
Idealized daily life
The second gallery contains objects that display an idealized version of ancient Chinese daily life, legends, and historical novels. One work is a porcelain dish with a painting that shows a scholar sitting content beneath a tree.
Another porcelain shows women conveying their affection toward a young scholar by throwing fruits at him. Other artworks show people admiring the moon in autumn, the flowers in spring, strolling through beautiful gardens, relishing the four arts, and tasting tea.  
Divinity
The third gallery showcases religious themes, especially from Buddhism and Daoism. One visually stunning work from the Ming Dynasty (1368-1644) shows the Buddha reaching nirvana while being surrounded by eight disciples or arhats. While the Buddha's expression is serene, the disciples are clearly feeling an immense sorrow. Sculptures of ancient Daoist philosopher Laozi and the Eight immortals can also be seen at the exhibition.
"Such religious works of figural representation reflected the traditional customs and beliefs of the people at the time, who valued purity, faith, and virtue. In different artistic mediums, from paintings to jade artifacts, ancient peoples imbued their spirit of piety, self-cultivation, and pursuit of higher wisdom," according to The Epoch Times.
The exhibition Children to Immortals, which began on August 9, 2018, is expected to continue well into next year until February 23, 2020. However, since the artifacts are very old, they will be exhibited in two rotations so as to avoid damage from over-exposure to light. The first rotation ends on May 26, 2019, while the second rotation begins a few days later on June 1, 2019.