Donating blood for years in Hsinchu, Taiwan, 11 years ago, Lian Zhicheng donated a pint of blood, not knowing that this precious bag would save the life of his future wife.
According to the Central News Agency, Lian began donating blood four times a year since he was 20 years old. At the age of 47, he met Lin Xiaofen through a mutual friend. Lin originally worked as a teacher in Taipei, but in 2015, she returned to her hometown of Hsinchu to take over her family business, and this is where she met Lian. The bond between the two of them is strong, Lin said with a smile. "He could even tell if I made funny faces behind him."
Subscribe to our Newsletter!
Receive selected content straight into your inbox.
One day, Lin told her boyfriend at the time 11 years ago in Taipai that she felt unwell and went to the emergency room. While there, she suddenly fell into a coma. When she woke up, she was told she had severe blood loss. Lin had been given 10 bags of blood, but also two bags of separated platelets which saved her life from her abnormal coagulation function. "If it were not these blood cells, I may have died," she said.
After listening to Lin's experience 11 years ago, Lian Zhicheng casually said: "You didn't use my blood, did you?" That caught Lin's attention and she began to ask around. The emergency room nurse told her that separated platelets are very precious, and gave her a list of blood donation centers that supply the hospital. She went to several before she finally found out that the center was located in Hsinchu, and the donor was Mr. Lian. Lin didn't expect to find that the bag of blood that saved her life actually came from her boyfriend. She exclaimed: "Fate is really predestined!"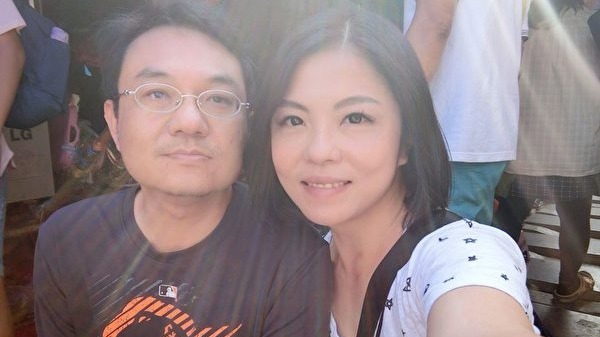 Although the age difference between them is 10 years, there was always a quiet connection, and after dating for two years, they became husband and wife, continuing their predestined fate.
Translated by Judy Yang