After gaining complete control over Chinese society and censoring everything they don't approve of, the Chinese Communist Party (CCP) is extending its censorship worldwide, with Australia as its number one victim. The Chinese regime is now reportedly censoring books by Australian publishers, refusing to print them if the books contain keywords identified as "controversial" by the CCP.
Censoring books
Australian publishers print books in China because of the economical rates at which the task can be done. China has always had a censorship policy regarding books of foreign publishers. These rules were largely never enforced in the past. But in recent times, the CCP has become strict on the matter.
Subscribe to our Newsletter!
Receive selected content straight into your inbox.
"All of a sudden, they've decided to up the ante. They're checking every book; they're very, very strict at the moment. I don't know how they're reading every book, but they definitely are… If you can avoid adding any of those things in your book, I'd definitely advise it … It's totally out of our control and affects all the companies printing in China… It's a lot of extra work for us; we definitely wouldn't enforce this is we didn't have to," an anonymous source working in the Chinese printing industry said to The Sydney Morning Herald.
According to media reports, books must not contain any mention of Chinese political dissidents or protestors. Topics like the 1989 Tiananmen protests, the umbrella revolution in Hong Kong, Tibetan independence, Falun Gong, and Uyghur nationalism are all taboo. Political figures like Xi Jinping, Mao Zedong, or any of the current politburo members must not be mentioned. Most religions have also been blacklisted. Content about border disputes is not allowed. Any map in the book has to be vetted by the country's State Bureau of Surveying and Mapping. In short, Australian publishers cannot publish any book with content that goes against the CCP's interests.
"China has just got more and more aggressive; they cannot be satisfied by their censorship in China, they would like to expand it to Western countries, especially Australia, since we have a large Chinese population," Wu Lebao, a Chinese dissident living in Australia, said in a statement (Tibetan Review).
Shelving books
Fear of China is increasingly making Australian publishers ditch certain books. Last year, a few publishers refused to publish a book out of fear of retaliation by Beijing's "agents of influence" operating in the country. The book, titled Silent Invasion, is written by Clive Hamilton and details how CCP agents have been interfering in Australia for political and strategic gains. In total, about three publishers refused Hamilton's book.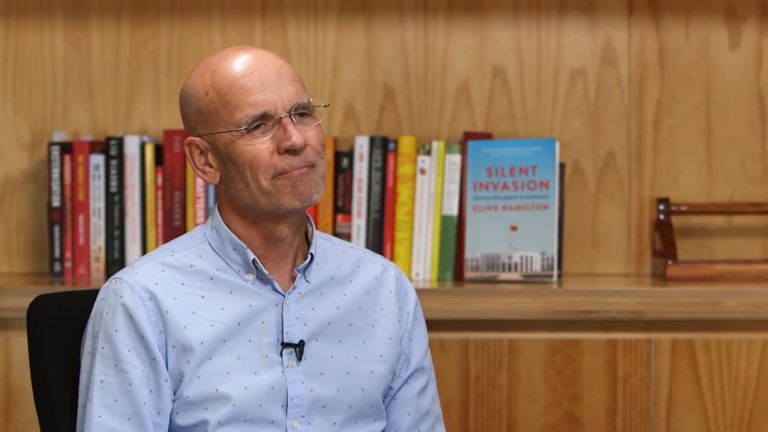 "[If] other publishers are afraid of publishing criticism of the Chinese government, then Western democracy is in trouble… I think the key message is that the shadow Beijing casts is now enough to spook even a reputable publisher in Australia. They didn't have to do anything, just the fear of what they might do was enough for the publisher to pull the plug from the book," Hamilton said to Business Insider.
Fortunately, Hardie Grant Books acquired rights to Silent Invasion and will apparently publish the book in the first week of March. The CEO of Hardie Grant claimed that Silent Invasion was a book that "needed" to be published. Hamilton is said to have rewritten certain sections of the book. However, it is unclear what portions were rewritten.
Follow us on Twitter or subscribe to our weekly email