A 10-year-old young girl from Hong Kong, Tang Yuen-sze, who had gone missing on March 3, 2019, has been found safe. Her disappearance had triggered a citywide search by both the police and the public.
Back home
On Sunday night, Tang had gone out with her grandparents. At a supermarket on Chai Wan Road, one of the grandparents realized that the kid was missing. Though they looked for her, Tang was nowhere to be found. On Monday morning, she was reported missing to the Hong Kong police.
Subscribe to our Newsletter!
Receive selected content straight into your inbox.
The department immediately issued a public notice, describing Tang as a girl with straight, shoulder-length hair, weighing about 29 kg and 1.4 meters tall. "She was last seen wearing a light grey jacket, light grey trousers, and blue sports shoes, and carrying a blue and yellow backpack," a police spokesman had stated (South China Morning Post).
Fortunately, the girl was located by afternoon when she turned up at her father's office in Chai Wan. She apparently had no major injuries and is believed to have been lost the previous day in the push and pull of the crowd.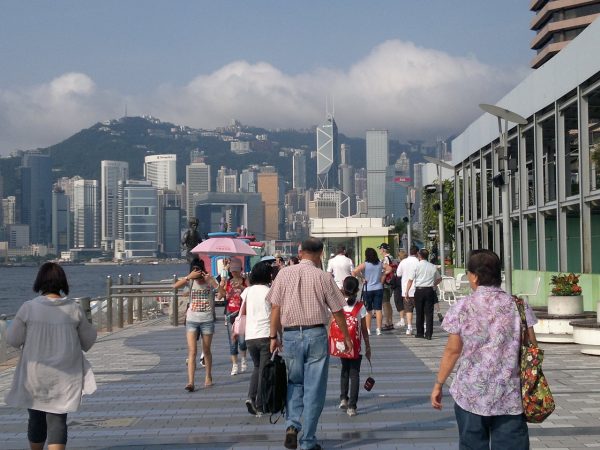 Thousands of people go missing in Hong Kong every year. Some estimates put the figure at over 4,000. Though many are eventually found, as is the case with Tang, some remain missing and are never found. However, unlike Tang, several of the missing people are actually those who ran away from their life's hardships.
"Some people borrow money and then find themselves having great debts. As we all know, with the presence of criminal organizations in Hong Kong, many are threatened, and their families also become victims… As they are not able to pay, many might just decide to run away," Sarah Hua Zhong, an associate professor at the Chinese University of Hong Kong's Department of Sociology, said to South China Morning Post.
There are also cases where people, who are targeted and profiled by the Chinese Communist Party (CCP), go missing and are never seen again. The involvement of CCP keeps everyone away from questioning the disappearance in such incidents. Unlike other regions, the Hong Kong police do not publish an annual report on missing people.  
Hong Kong and safety
Despite the several cases of missing people, Hong Kong is widely regarded as one of the safest places on earth. A 2018 survey by Gallup poll had ranked Hong Kong as the sixth safest city in the world. The city scored 91 points out of a maximum 100, up from 88 points in 2017.
The ranking was done after taking four factors into consideration — public's trust in the local police force, safety while walking at night, incidences of theft, and assault. Hong Kong was found to score great in all these parameters. Venezuela, a country undergoing a political crisis right now, was ranked as the least safe country for the second time in a row. Only 17 percent reported feeling safe when walking alone at night in the Latin American nation.
CEOWORLD magazine had also ranked Hong Kong well last year when it came to safety. The city scored 78 points and was positioned 22nd among 338 cities worldwide. Abu Dhabi was ranked number one, with places like San Pedro Sula in Honduras and Johannesburg in South Africa at the bottom place.
Follow us on Twitter or subscribe to our weekly email