Whenever you look up at the sky, the chances are high that you see at least one airplane crossing the blue expanse. These massive passenger planes are flying 5-6 miles above the surface of our planet, carrying hundreds of people. While building one of these enormous marvels of engineering might be beyond your skill, you can still create an airplane in your garage. How do these massive constructs fight against gravity to carry you to your destination, and how can you build an airplane of your own at home?
The science of flight
Have you ever folded a paper airplane and tossed it across the room — or stuck your hand out the window and felt how the air moves over it? Then, you're already familiar with the basic principles of flight.
Subscribe to our Newsletter!
Receive selected content straight into your inbox.
The basics of flight are pretty simple — wings are shaped in a way that changes how the air flows around them. The air moves faster over the top of the wing than the bottom, creating lower pressure above it and high pressure below. This pressure differential creates lift and allows the aircraft to get off the ground.
Lift is just one of four flight forces you have to contend with in your quest to fly. Lift is the upward force, while gravity tries to pull the plane back downward. Thrust, from engines or propellers, moves the plane forward, and drag from the atmosphere attempts to pull it backward. The goal of flight is to generate enough lift and thrust to overcome drag and gravity.
Now that you have a basic idea of how a plane gets off the ground, how can you build your own?
Build an airplane from the ground up
You don't need a degree in aerospace engineering to build an aircraft at home. According to the FAA (Federal Aviation Administration), there are more than 30,000 homebuilt aircraft registered in the United States, and another 30,000 currently under construction. You've got two options when it comes to building a plane — assembling it from scratch or purchasing a prefabricated kit.
Scratch-building requires a lot of custom fabrication, which can be difficult without previous experience. Thankfully, kits are available that contain all the parts you'll need to build your aircraft. Let's take a look at the assembly process.
Every airplane has five essential components:
Fuselage: This holds the cabin and cargo areas and provides, via a central point, a structure to attach the rest of the elements.
Wings: These are two lengthy constructs that cut through the air and provide lift.
Empennage: Also known as the tail, this sits at the rear of the fuselage and houses vertical and horizontal stabilizers, as well as the rudder.
Landing gear: This is made up of wheels or pontoons to allow the craft to land safely.
Power plant: This is another name for the engine that provides the thrust necessary for a successful flight.
Most kits to build an airplane will come with the pieces unassembled and may be marketed as subkits, so you don't have to purchase the entire plane at once. You can buy empennage, wing and fuselage kits, as well as power plants and landing gear kits.
You will also need to purchase finishing materials, like a canopy, interior hardware, and a power plant.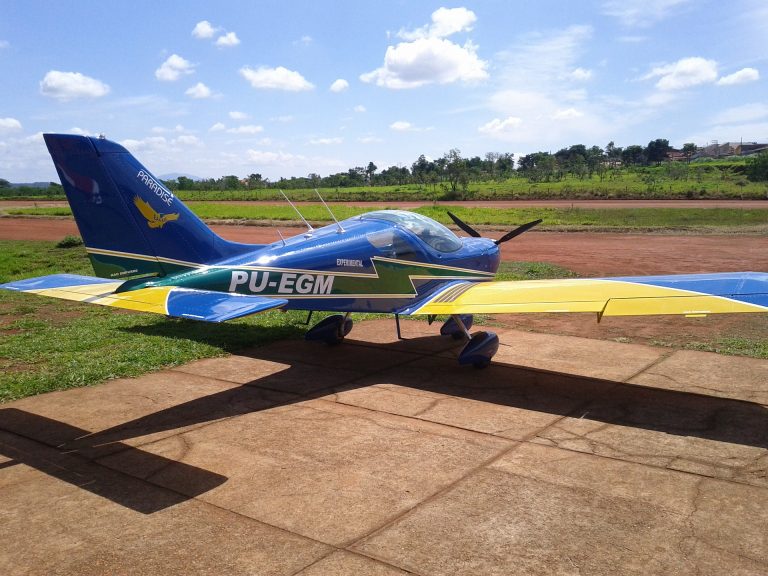 Once you have all the pieces, you will need a place to assemble the aircraft. This isn't a small project — even the smallest single-seater plane will have a wingspan of around 15 feet and a length of 15 to 25 meters. To reach the higher sections of the plane, you'll need equipment that can get you on the plane's level. Investing in a scissor lift or scaffolding will allow you to easily construct your plane.
Don't expect to assemble this project in a weekend. Even experienced DIY builders can spend hundreds of hours building an aircraft and getting it ready for its first flight.
Don't forget your license
Anyone can build an airplane, but not everyone can fly one. If you're planning on taking on the task of creating a personal aircraft, don't forget to work on obtaining your pilot's license. Not only will this give you the ability to fly your newly christened plane legally, but it also helps you understand how the various components of an airplane work, making it easier to put them together.
Follow us on Twitter or subscribe to our weekly email