India is currently grappling with pollution of its ponds. Many experts suggested that large-scale operations with big budgets were needed to save these water sources. But the actions of Ramveer Tanwar have proved otherwise.
Modern hero
The National Institution for Transforming India (NITI Aayog) published a report in 2018 stating that the country was experiencing the "worst water crisis in its history." Safe drinking water is gravely limited in the nation, with only about half of the population having access to it. About 200,000 people die due to a lack of safe drinking water each year. The situation could get worse, since by 2030 the demand for water in India is expected to double.
Subscribe to our Newsletter!
Receive selected content straight into your inbox.
In light of this pressing issue, individuals, NGOs, and other organizations have stepped forward to combat water pollution. One person who caught media attention is engineer Ramveer Tanwar. Born in Dadha village in the state of Uttar Pradesh, Ramveer has witnessed first-hand the degradation of various lakes in the region. Fearing the destruction of the village he grew up in, Ramveer vowed to help however he could.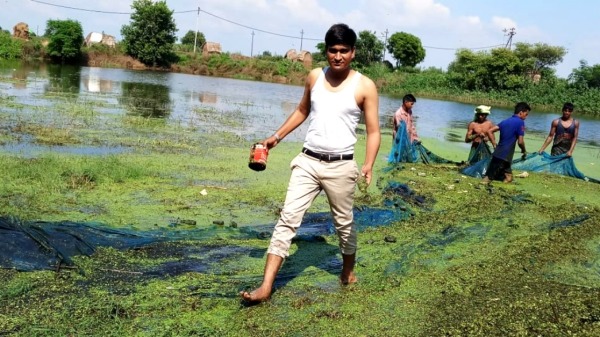 In 2013, he organized the Jal Choupal, a group where members discuss matters concerning water conservation in villages. However, it wasn't enough. He needed to make a bigger impact to address the water problem. So in 2014, he quit his job in a multinational corporation to focus on his advocacy group. He started revitalizing lakes — with the help of villagers, of course — by setting up a double filtration system consisting of wooden planks and a mesh made of grass. As for the thick sludge, he mobilized volunteers to encourage farmers to raise 10,000 sludge-eating fish and educated them about the significance of saving the lake.
These efforts later caught the attention of the local government, culminating in the formation of a "groundwater army" in all districts. Of course, Ramveer is the coordinator in his district. "We are trying to build an emotional connection between the villagers and water bodies. It will help them understand the importance of lakes and ponds, and take initiative to save them," Ramveer said to ScoopWhoop.
From villages to social media
Ramveer also introduced an online campaign to inform more people about the need to preserve water bodies. He called it #Selfie_With_Pond, wherein people can join the cause by taking a selfie behind a polluted lake. "The idea was to source the exact location of the pond because many ponds have either dried up or have been reduced to garbage dumps. So by asking people to post a selfie, I wanted to find the exact location of neglected ponds and help could be mobilized to revive them." Ramveer said to The Times of India.
Various netizens on Twitter commend this brave man's action. "I came to a small little pond. In the cool shade of the mango trees. Its glassy water lapped gently on its moist bank. At its helm, the grasses grew long. The dragon flies hummed along… Thank you, Mr Ranveer Tanwar, for gifting such lovely ponds to our children," said Twitter user SampaLahiri. Another user, Navneet_Singh_G said: "These Good Samaritans @ramveertanwarg are the real pride of our culture and patriotism… Great #SelfieWithPond."
What started as a small operation now extends to around 50 villages. Thanks to Ramveer and his team of volunteers, 10 ponds have been restored in the past 5 years.
Follow us on Twitter or subscribe to our weekly email