The Facebook page "Taiwan mothers protect democracy" explained that the quality of housing, medical care, and education have greatly deteriorated in Hong Kong as a result of the rule of "one country, two systems."  This has caused Hong Kong and Taiwan netizens to comment on the page.
This Facebook page contains posts by Taiwanese mothers from all walks of life. Posts on the page discuss democracy, education, human rights, environmental protection, literature, art, and other issues. On April 24, a posting noted that after the return of Hong Kong more than 20 years ago, the Chinese Communist Party (CCP) deliberately introduced a large number of immigrants that has greatly reduced the quality of life by diluting the people's self-identification under the rule of one country, two systems.
Subscribe to our Newsletter!
Receive selected content straight into your inbox.
One posting incorporated a cartographic chart showing that under Hong Kong's one country, two systems, housing prices remain high, public housing is difficult to secure, forcing people to be overcrowded in their homes, there is reduced access to the medical system, and there are no hospital beds to accommodate citizens in times of emergency.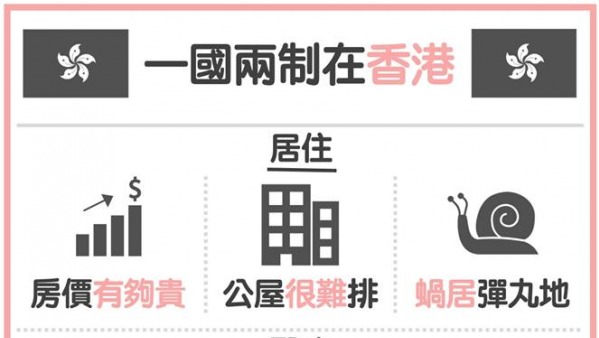 A posting noted that parents are experiencing difficulty in procuring milk powder in Hong Kong due to the limited supply compared to demand.  And where the education systems of China and Hong Kong have been integrated, the CCP has been vigorously promoting "Putonghua teaching" and doing away with Cantonese. Now, any student caught speaking Cantonese is penalized.  It goes on to note that due to poor urban planning, students must spend a lot of time on public transport traveling to schools in different districts.
Another posting on the page also noted: "Being a mother, when watching our child running and playing happily, one can't bear to see their future become so miserable!" The page calls upon the people of Taiwan to grasp the opportunity to vote in the coming election and give their vote for the president to courageously say "No" to the CCP to reject one-country, two-systems, as well as defend the democratic values of Taiwan.
Many netizens agree, saying that this cartographic chart must be circulated to all parents to point out the serious and critical problem to as many people as possible. Some posters on the Facebook page are deeply concerned that high officials are not penalized when they commit crimes, whereas students who participate in demonstrations are sent to jail, saying: "This is the worry for the younger generation and if not addressed urgently, today's Taiwan can become another Hong Kong tomorrow."
Translated by Chua BC and edited by Helen
Follow us on Twitter or subscribe to our weekly email