Mr. Wu Ningkun, an acclaimed Chinese translator and an Anglo-American literary research expert, passed away at the age of 99 on August 10, 2019, in the United States. He is best known for his Chinese translation of The Great Gatsby, a 1925 novel by F. Scott Fitzgerald, and his memoir about a shattered Chinese dream entitled A Single Tear, A Family's Persecution, Love and Endurance in Communist China.
Mr. Wu studied at the Foreign Languages Department of the National Southwestern Associated University in Kunming from 1939 to 1941. In 1943, he volunteered to serve as an interpreter for the Republic of China Armed Force during their bomber training in the U.S. In March 1948, he was admitted to the University of Chicago to pursue his doctorate degree in English and American literature.
Subscribe to our Newsletter!
Receive selected content straight into your inbox.
In 1951, he was invited to become a professor at Peking University in Beijing under Chinese Communist rule. Like many other Chinese intellectuals, Mr. Wu was patriotic and eager to serve his home country. Prior to his return to China, his brother in Taiwan and sister in Hong Kong tried to stop him from returning to mainland China by warning him about the Communist regime as "torrential water and beast."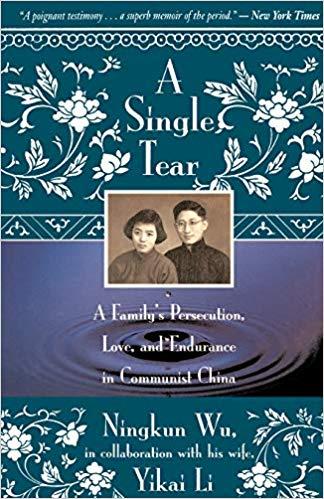 His siblings' warning did not deter his enthusiasm. Unfortunately, as soon as he returned to the mainland, he witnessed his colleagues in academia being publicly condemned during the "brainwashing reform" movement. A few years later in 1957, he was denounced as an "ultra-rightist" and was forced to exile to northeastern China, one of the most desolate regions in China, and then to the "corrective education" prison farm in Tianjin. His wife, Li Yikai, was also exiled to Hefei, Anhui.
Mr. Wu's daughter, Wu Yimao (Emily Wu), was born in 1958, the beginning of the Great Leap Forward. At a young age, Yimao endured hunger, poverty, and turmoil.  She nearly lost her life from multiple severe illnesses because of the lack of proper medical treatment.
When the Cultural Revolution broke out in 1966, Mr. Wu's home was rampaged and his books were burned. He was humiliated, insulted, and locked up in a cowshed. One day, in August of that year, Yimao, who was 8 years old, went to the hospital alone to seek dental treatment. On the way home in the rain, a solder tricked her into the woods and molested her. She was also raped by Zhang Dingxin, her father's friend and colleague while her father was in confinement.
While Yimao was in elementary school, she was a target of discrimination, bullying, and abuse because of her father. Her desk at school was smeared with feces; she was frequently dragged around by her hair and beaten. Her whole body was covered with bruises and injuries.
When she transferred to a high school after moving with her parents to Hefei, she didn't own a pair of shoes. When the school mandated shoes, she was forced to sell her hair for money so that she could buy a pair of shoes.
In 1976, after Yimao graduated from high school at the age of 17, she was sent to a remote mountain village in Anhui to work as a farmer.
In addition to the tragic experiences of herself and her family, Yimao also witnessed and learned of many devastating events — teachers at the Anhui University cut their wrists during the Cultural Revolution, hanged themselves, and committed suicide by jumping off tall buildings. Yimao's 70-year-old grandmother was sent to her hometown of Yangzhou, confined to a tiny room that was once used for ancestral worship, and eventually died of sickness and hunger. Yimao's younger brother was also humiliated by the teachers in the kindergarten. He was forced to sit in the toilet and was not allowed to play with other children.
The Wu's shattered Chinese dream finally ends
After more than 20 years of suffering, Wu Ningkun's family finally left for the United States in the 1980s and ended their shattered Chinese dream. In the United States, Mr. Wu regained his dignity and became a well-known professor at home and abroad. In her memoir Feather in the Storm, Emily Wu recounted her stories of growing up in China during the Great Leap Forward and the Cultural Revolution, the unfortunate tales of her family in the chaos, childhoodless children, and the tragic ending of their lives and shattered Chinese dreams. The book is her story and the stories of tens of thousands of Chinese children.
The ordeals of Wu Ningkun and his family painted a portrait of people under the communist regime. Communism promises people a beautiful paradise, but in reality, it only gives them hell on earth.
Translated by Chua BC and edited by Angela