People who raise horses often claim that the animals have a therapeutic effect on them. In France, a horse by the name of "Peyo" is well known as an excellent "therapist" that helps sick people get better. In fact, horse therapy is a recognized form of treatment.
Peyo the horse
Peyo is a 14-year-old stallion from the city of Dijon. Two times a month, he visits hospitals in the locality. While the thought of a horse entering a hospital might sound unhygienic, the administrators take every precaution to ensure that Peyo is sanitary when inside the building. His tail and mane are braided, his hooves are greased, his body is completely covered by an anti-bacterial lotion, and a big blanket is put over him. It is only then that Peyo is allowed inside a hospital, together with his owner, Hassen Bouchakour.
Subscribe to our Newsletter!
Receive selected content straight into your inbox.
Once inside, Peyo is free to go wherever he wants. Incredibly, Peyo often goes into the rooms of people who are the sickest, in many cases those who are dying. He just stands near the patients and they instantly take a liking to him. A sort of silent communication between Peyo and the patients takes place and people even cry in the horse's presence.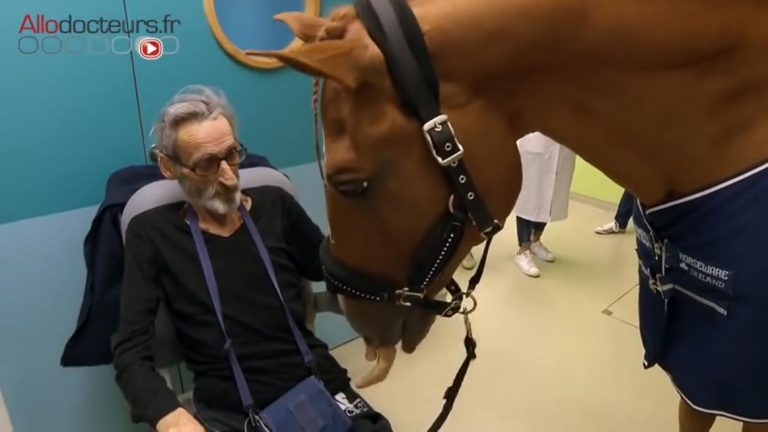 "Patients who tend to be angry and aggressive become calm. Patients who don't want to walk anymore start walking. Patients who don't speak suddenly find words. Some of the ladies in senior homes even go to the hairdresser the day before Peyo comes so that they will look their best. The medical staff call it magical," according to Petslady.
Peyo wasn't always a therapy horse. When Bouchakour was traveling with Peyo for shows, he noticed that the horse was attracted to people who were disabled. Eventually, Bouchakour started taking Peyo for therapy visits and discovered that the horse was very good at making sick people happy.
There is a YouTube video about interviews with home care staff who claim that Peyo has an extraordinarily positive effect on residents. Many commenters were also amazed at how Peyo brought happiness. "This is the most beautiful healing and spiritual connection I have ever seen. Peyo is so wonderful and so is his dear handler and companion. What HUGE benefit they are spreading everywhere… It is incredibly moving and inspiring and I am sharing it with many friends," a viewer commented.
Horse therapy
The concept of using horses for therapy is nothing new. In ancient Greece, Hippocrates, who is considered the father of medicine in the West, wrote about using equine-assisted therapy. In the 1950s and 1960s, horse therapy attracted huge attention in Europe after a Danish Olympic dressage silver medalist claimed that riding a horse helped her recover from polio.
In North America, the Professional Association of Therapeutic Horsemanship International (PATH) is a federally registered organization that promotes equine-assisted therapy. With almost 4,800 certified instructors and 873 member centers, the organization has helped over 69,000 people across the world deal with emotional and cognitive challenges.
Horse therapy is usually employed by people suffering from autism, mood disorders, movement disorders, substance abuse, and so on. Even many combat veterans who suffer from PTSD make use of horse therapy.
Follow us on Twitter or subscribe to our weekly email