With the pro-democracy protests in Hong Kong gaining international sympathy, Beijing unleashed thousands of Twitter trolls who were tasked with one objective — to spread misinformation through fake Twitter accounts. Their goal was to discredit the Hong Kong protests by painting them as violent, anti-China rioters acting on behalf of foreign powers.
Twitter trolls and fake Twitter accounts
In August, Twitter stated that it had taken down about 1,000 accounts that were part of a Chinese state-sanctioned network. Plus, 200,000 additional accounts identified as propaganda pages were also taken down. The accounts were tweeting that the protestors had "ulterior motives" and were "taking benefits from bad guys," and so on.
Subscribe to our Newsletter!
Receive selected content straight into your inbox.
Misinformation is spread through two channels. The first way is through state-run outlets like China Daily or CCTV, which only publish pro-Beijing content. This is a direct way of spreading false news, where the user knows that the publisher is linked to the Chinese Communist Party (CCP). But the second way, which is what the Twitter trolls deployed, is more covert. The Twitter accounts pose as neutral third parties who then turn around and bash the Hong Kong protestors.
Users who read such tweets end up mistakenly believing that neutral people are voicing their opinions against the protestors, in significant numbers. As a consequence, they get influenced and start blaming the protestors; a view that Beijing actively promotes. "The end goal is to control the conversation," Matt Schrader, a China analyst with the Alliance for Securing Democracy at the German Marshall Fund in Washington, said to The New York Times.
Such fake Twitter accounts were not created after the protests began. In fact, many of the accounts have been active for several years. Some of them are bots for hire that are willing to tweet on any subject, while the remaining accounts are possibly hacked ones. A few of the accounts that had a large number of followers were purchased through the darknet.  
"In the same places where you can buy software exploits from Russian hackers and ransomware, there are also actors that offer what they call disinformation as a service: either building up an entity positively on social media or negatively, by tearing them down or spreading compromising information," Priscilla Moriuchi, research head at Recorded Future, a digital risk and intelligence company, said to NPR.
U.S. pressure on China
President Trump ramped up pressure on China by demanding that the country behave responsibly in Hong Kong. "The world fully expects that the Chinese government will honor its binding treaty (and) protect Hong Kong's freedom and legal system and democratic ways of life… How China chooses to handle the situation will say a great deal about its role in the world and the future," Trump said in a statement (Channel News Asia). He also added that China should treat its Uyghur minorities with respect.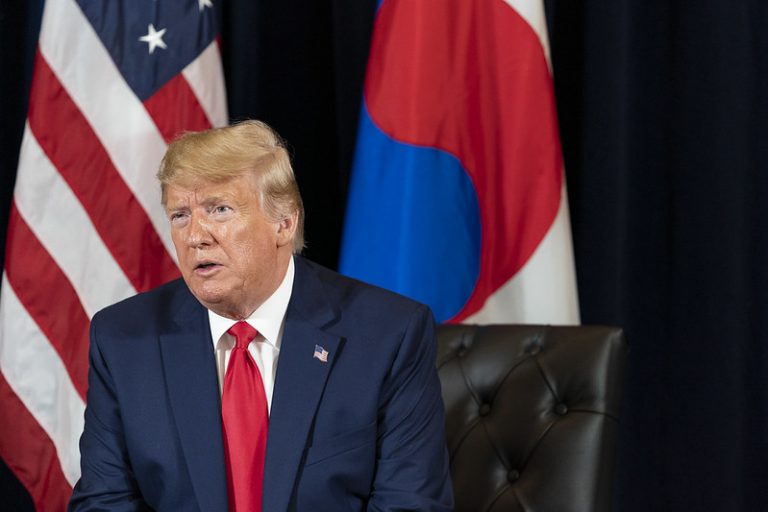 Trump made these statements while speaking at the recent United Nations General Assembly. In addition to human rights concerns, the president also criticized Beijing for stealing American intellectual property and jobs. The two nations are engaged in a trade war and neither side has given an indication that things might cool down soon. Trump's latest comments are sure to irk the Chinese government, which has asked the United States to stop supporting Hongkongers and even accused the United States of being involved in the unrest.