How did a rural child who couldn't afford to go to school become the executive vice president of Taiwan's largest computer equipment company? And when his entrepreneurial venture failed and left him penniless, how did he manage to make a comeback? This is the story of Taiwanese businessman Mike Tseng, who went on to win the international innovation award.
Mike was born in Dahu Village in Changhua, Taiwan, to a poor family. Shortly after graduating from middle school, he learned about Taichung's Shalu Industrial High School from his classmates, who'd come across an advertisement in the newspaper. The high school was run by a factory owner who covered the students' tuition and gave them a wage, in exchange for mechanical labor.
Subscribe to our Newsletter!
Receive selected content straight into your inbox.
Mike enrolled for the entry exam straight away. He clearly remembers achieving 104 out of 120 points in mathematics, 126 out of 140 points in natural science and only 23 points in English — which was no big deal. He was accepted for three years of study and became a very diligent student, one of the best in his class.
Just before graduation, Mike's tutor and factory manager Mr. Zhang suggested that he learn English to complement his mechanical skills. It was common at the time for a vocational school graduate to be proficient in mechanics and a college graduate to be fluent in English, but rare for one to possess both abilities — competence in the English language was sure to give Mike an advantage. Zhang encouraged him by introducing him to the church, which was offering free English classes.
After several months, an opportunity knocked on Mike's door, when Taipei held an international exhibition for mechanics and technology. Zhang recommended him to the Board's Chairman as a good candidate for managing their booth and machinery. It marked a turning point in Mike's life. Observing the chairman conversing fluently with English speakers was a great inspiration for him and enhanced his determination to improve his own language skills. After returning to Taichung, Mike began attending English classes six days a week. Every morning, he would get up at 4:30 a.m. to have time to revise the previous day's lessons. He improved rapidly and after one year, became the second person in the company who could speak acceptable English.
Mike went on to serve in the military for three years, but stayed disciplined in improving his professional competence and language skills by frequently reading English technical books. When he left his post, the factory manager from Mike's previous workplace recruited him in a new business venture, which later became the largest computer equipment company in Taiwan.
Even after 17 years, when Mike had been promoted to the position of executive vice president, he continued to work on furthering his professional development. At the age of 35, he attended the Kaohsiung Institute of Technology part-time and completed three years of studies. With his excellent English and professional knowledge, Mike became very sought after. He worked as general manager at the Taiwan branch of DMG — Europe's worldwide leader of cutting machine tools. He then worked at the Swiss LNS Group as CEO of the Asia-Pacific region. He managed machinery factories in Taiwan and China, as well as 21 branches in the Asia-Pacific region. Mike successfully led his team to take over the industry's global market by 51 percent.
At the age of 55, Mike retired from LNS and founded the AFAR Group, a global producer of sporting goods and patented products.
He gradually transformed the international trading company into the luxury brand, Luxwell.
"I prefer to stay fit and reduce the reliance on medication," says Mike. "Out of the 20,000 members of my seven gyms, over 90 percent are males under the age of 35. There are of course some females and seniors. How can we best maintain our health? My previous company was selling traditional treadmills, but actually, I don't like treadmills."
Mike was determined to combine his knowledge of physiology and mechanical technology to develop innovative health-care equipment. He wanted them to be practical for home use, even for people who lack physical strength.
Luxwell has now released its new innovative soft treadmill, the first ever that is designed to be used barefoot. While running, the knees are subjected to three to five times one's body weight upon impact, according to research. Hairline fractures and arthritis due to running are very common even among healthy individuals, according to Dr. Brian Clement of The Hippocrates Institute.
Luxwell's patented "Nature Walk" treadmill has won gold medals from the Concore Lepine Paris Innovation Award and the French Society of Medicine's Exercise and Sport division, to name a few. Its soft surface and integrated shock absorbers are designed to protect the joints and improve circulation.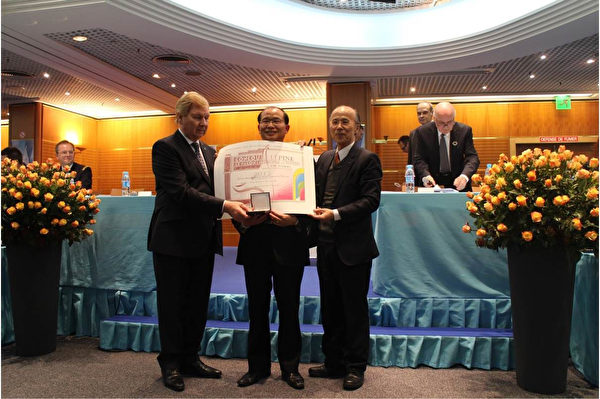 It's been 19 years since the founding of the AFAR Group. Success looks easy from the outside, but for Mike, it's been a challenging journey. How did he jump over the hurdles to reach his eventual success? How did he keep going in the face of hardships?
We'll take a closer look in Part 2.
Translated by Chua BC and edited by Emiko Kingswell
Source: The Epoch Times
Follow us on Twitter or subscribe to our weekly email