In late August, China deployed forces near the Hong Kong border as the city was in turmoil due to the anti-extradition bill protests. State-run media said that the deployment was a routine rotation of forces that Beijing has kept stationed in the region since acquiring Hong Kong from the UK in 1997. However, it is now being reported that the troop deployment was not a rotation, but a significant addition.
Troops near the Hong Kong border
A group of Asian and Western envoys revealed to Reuters that the number of Chinese military personnel in the Hong Kong region has doubled or even tripled since the protests started. Earlier, there were around 3,000 to 5,000 military officers. But now, the number is estimated to be as high as 10,000 to 12,000. This is believed to be among the largest number of troops ever assembled by China in Hong Kong.
Subscribe to our Newsletter!
Receive selected content straight into your inbox.
"They [China] do seem to have an active contingency plan to deal with something like a total breakdown in order by the Hong Kong police… I would think it would take something like that or some other worst-case scenario for them to deploy. But they are clearly more ready than before, and are leaving nothing to chance," Alexander Neill, a Singapore-based security analyst at the International Institute for Strategic Studies, said to Reuters.
Custom equipment aimed at crushing urban violence, including trucks used to lay down barbed wire barricades and water cannon vehicles, have been moved near the border. Transport helicopters have been sighted frequently flying around Hong Kong and the surrounding areas. What once used to be abandoned lots are now filled with army jeeps and trucks. The People's Liberation Army (PLA) has about 17 facilities in Hong Kong. Activity in many of these facilities has gone up.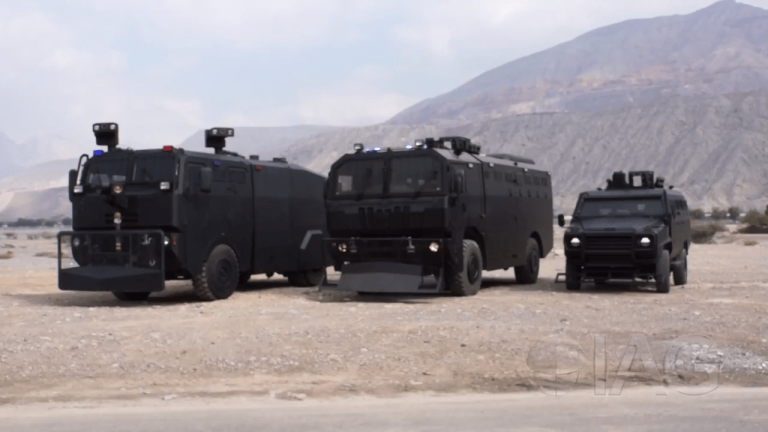 On October 1, when the 70th anniversary of the Chinese Communist Party's rule was being celebrated, the Hong Kong protests turned even more violent. Police ended up shooting an 18-year-old protester. "I think the escalation of protests on the day of the anniversary celebrations has already tested Beijing's patience and the situation now seems ripe for Beijing to stage a direct intervention," Eswar Prasad, a professor of trade policy at Cornell University, said to CNBC.
Anti-mask law
Since protesters wear masks at the demonstrations, it has been difficult for Hong Kong police to identify and arrest them (or gas them effectively). But with the government banning masks during demonstrations by invoking the Emergency Regulations Ordinance, the protesters can now be arrested by police just for covering their faces. Critics have called the mask ban a sign of authoritarianism and have warned that it could create more unrest.
"The adoption of the Emergency Regulations Ordinance will have a negative impact on Hong Kong's status as an international financial center. The ordinance was established in 1922, and it was only applied once in 1967. The application… not only shows that Hong Kong is now in an abnormal state, but it will also have a huge impact on Hong Kong's rule of law," Willy Lam, a professor at the Chinese University of Hong Kong's Center for China Studies, said to DW.
Unsurprisingly, Beijing has extended full support for Hong Kong's anti-mask law, calling it a necessary measure to create order in the city. The Communist Party's Central Political and Legal Affairs Commission argued that the anonymity provided by the masks made some protesters feel that they are playing some sort of game, thereby making them more likely to commit violence. The commission said that the mask ban will "save" young people from committing crimes due to ignorance.
Wily communists
According to some analysts, the only thing now holding back the Chinese Communist Party from launching a full-scale invasion of Hong Kong is the continued monitoring and threats from the international community. But will it be enough? How long will the People's Liberation Army tolerate the "disobedience"? The CCP has been known to "escalate" a situation before interfering. Hong Kong's situation only seems to be getting less stable by the day. Has the CCP created enough chaos that they "have no other option" other than to invade and "restore order"?