Taiwan celebrated its 109th National Day on October 10 amid China's escalating verbal intimidation, military threats, and economic coercion. Unlike its tough response to China in previous years, Taiwan seemed to purposely hold a rather low-key Double Tenth Day celebration this year.
The origins of Double Tenth Day
Double Tenth Day is celebrated on October 10, which is commonly referred to as Double Tenth National Day. It is to commemorate the start of the Wuchang Uprising (also known as the Xinhai Revolution), which led to the establishment of the Republic of China on January 1, 1912. Please watch this video of Taiwan's National Day:
Subscribe to our Newsletter!
Receive selected content straight into your inbox.
President Tsai's National Day address
At the National Day celebration ceremony, President Tsai Ing-wen (蔡英文) delivered an address titled "2020 Proud of Taiwan (團結台灣 自信前行)." In addition to outlining the country's post-pandemic economic strategies, Tasi also urged China to heed Taiwan's voice and change its way of handling bilateral relations.
She also called for joint facilitation for cross-strait reconciliation and peaceful dialogue, as well as discussion on how the two sides can live in peace and coexist based on mutual respect, goodwill, and understanding.
National Day celebration performances
The National Day celebrations started off with performances by a Hakka PaYin Troupe (客家北管八音團) and continued with the parade of the Ministry of National Defense Honor Guards, and other performances by the Military Police Rapid Reaction Company (Motorcycle Platoon), Taipei First Girls High School's marching band and honor guards, and some folklore and sport performances.
Air display
One of the highlights of the National Day celebrations was the air display, including a formation of F-16s fighter jets flying over the Presidential Office, the Air Force's Thunder Tiger Aerobatics Team performing an air show, and two helicopters carrying Taiwan's national flag flying over the celebration site.
Massive projection mapping show
At night, an eight-minute projection mapping show that illuminated the facade of the historic Presidential Office building was staged every half hour from October 6 thru the 10th.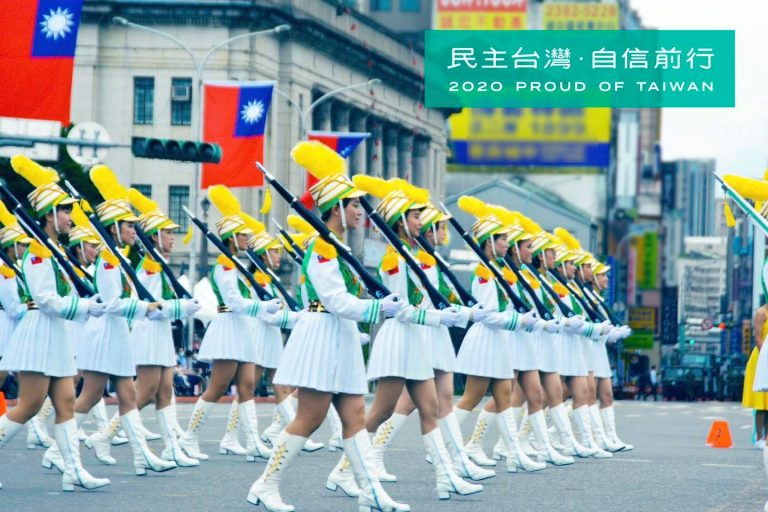 Fireworks display
The National Day fireworks display took place in southern Taiwan's Tainan City. The massive fireworks display commenced with warm-up performances starting at 2 pm on October 10.
With five themes, each lasting for seven minutes, there were 27,354 fireworks set off from the ground of Tainan's Yuguang Island (漁光島). The fireworks display lasted 33 minutes and lit up the night sky above the island, which attracted over 500,000 visitors flooding into four main viewing areas.
The fireworks display also featured a light performance by a fleet of 400 drones, creating the Double Tenth logo, and other stunning images. Another feature of the celebrations in Tainan City is a parade participated in by local civic organizations, along with a variety of other music and folklore performances.
National Day evening reception
The National Day evening reception was held in the port city of Keelung in northern Taiwan on October 9. All the cruise ships and other vessels in the port sounded their horns at the same time during the performances by pop singers and other artists.
To celebrate Double-tenth National Day, the Port Life in Keelung Festival (好港節) was held at YM Oceanic Culture & Art Museum in Keelung on October 9-10. In addition to various music performances, there are over 40 stands selling exotic snacks, beverages, and other interesting items. Moreover, some beers were provided for free. Another highlight of the event was a boat cruise on the Port of Keelung.