In 1990, Tim Baker up and moved his family from the United States to China. Thirty years later, he has become affectionately known as "foreign dad" to 4,000 orphans, of which 95 percent were children with disabilities.
In June 2019, an 8-year-old girl with cerebral palsy in Nanjing was thrown into a river by her father and grandfather. She was weighed down by a school bag loaded with two heavy bricks. It was tragic that this little girl met with such an end due to Chinese societal thinking. The villagers were saying that a disabled child is "not worth raising up" and it is better to get rid of the child.
Today's communist-ruled and utilitarian Chinese society, coupled with the one-child policy, has obviously had a devastating impact leading to the abandonment of so-called defective children and an increase in the possibility of "unnatural deaths." However, in the eyes of Baker, all children — even the disabled ones — are treasures, cute and beautiful, that have not been discovered.
Ten years ago, a little boy with severe burns was abandoned in a cornfield in the suburbs of Tianjin. It was raining heavily and more than 40 people were standing there with umbrellas in their hands just to watch, but no one picked the boy up or helped him get out of the rain.
If it was not for a kind farmer and Baker, the boy would have lost his life that day. The boy underwent a 6-hour operation. The doctor amputated the child's left arm, left foot, all the toes of his right foot, and all the fingers of his right hand. The doctor said that the boy had only a 10 percent chance of survival, but the boy survived and is now a 16-year old. His name is Levi.
Levi was adopted by an American couple. He is a top-notch athlete and plays soccer well in addition to swimming, cliff climbing, water skiing, and even bike riding. Levi is also a member of the school basketball team. Looking at Levi's photo, his smiles are no different from other American children. He leads a wonderful life and has a good future.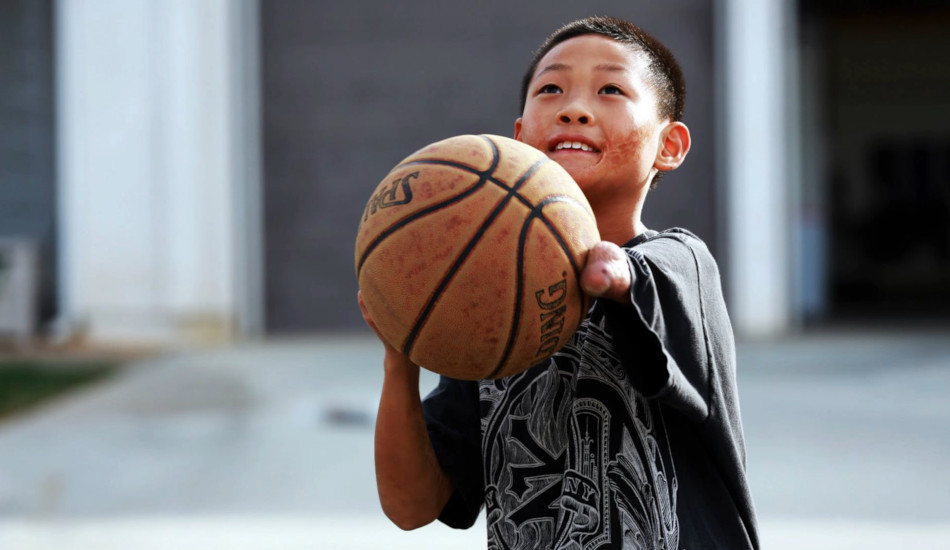 "If Levi's life had ended ten years ago, there would be no story of him today." Baker dared not think further. Deep inside his heart, he knows that there are many abandoned children like Levi waiting for him to rescue.
Rooted in China for the rest of his life
Before moving to China, Baker was a general manager of a supermarket, earning a good salary, with his own house and a car. His wife was a full-time housewife taking care of their two lovely daughters.
In 1988, Baker faced a huge turning point in his life as he was very clear on what he actually wanted to do. He eventually quit his job, packed up his family, and moved to China. He became an English teacher in a school in Fushun and the children there used to call him "Teacher Bei." After a year, Baker and his family moved to Beijing. He hoped to help more people and it did not take long for his wife and him to start volunteering in the surrounding orphanages.
The first time Baker and his wife entered an orphanage, they were shocked to see the dire conditions. In the densely packed room with windows opened, there were more than 30 babbling orphans lying on the ground. The walls were bare except for a few educational pictures meant for early primary school children hanging side by side at one corner. The whole room stank and some of the children were lying in their own excrement with flies buzzing around, and there was a very pungent smell.
What they saw made them feel distressed. They quickly walked out to calm themselves down before returning to the room. Then they carried the children, bathed them and changed their clothes, and then played with them.
A year later, Baker's wife took a train and traveled for more than 50 hours to adopt a 5-month-old disabled girl named Esther from the Guiyang Social Welfare Institute. Under their care, Esther learned to read and write. She is now 26 years old, working as a teacher in the United States, having entered society like all normal people.
In 1995, Baker's friend, Philip Head, died of a heart attack on the train returning to Beijing from Changchun to see a child. When the couple received the bad news regarding their friend, they felt that everything in this world is impermanent and life is short. The couple decided to do something to change the lives of the children with so many challenges.
Their first move was to set up a foundation in honor of their friend to raise funds for disabled children. They named it the "Philip Head Foundation." They quit their jobs and decided to open an orphanage of their own. They rented a big house in Langfang near Beijing so that they could adopt and take care of the children.
A home for disabled orphans
To set up the orphanage, the Baker family used up their many years of savings to buy various supplies for the children, such as diapers, milk powder, cribs, toys, and so on. The couple also sought donations from relatives and friends.
On the first day after they set up the facilities for the orphanage, they adopted six children from the Tianjin Children's Welfare Institute. Thus, together with their own four children, they formed a big family of 10 children. Baker did not stop there; he regularly drove his 11-seat minibus and visited the surrounding orphanages to "pick up" children.
He was ever willing to take care of any children that the orphanages and welfare homes had difficulty in taking care of and also any child who no one wanted to accept. Baker and his wife did all this for free and even took care of the children's expenses using their own money.
Baker turned to a suburban developer seeking for a house to open an orphanage and was surprised when the developer was moved by his good deeds and agreed to rent him four houses at a low rate. Baker started to raise funds, hired female helpers, and trained them to take care of the children. Since then, Baker and his wife have been very busy.
Although they have had limited manpower, all the children were well taken care of. They were dressed nicely and neatly. There is no room for messiness in the orphanage. This is the strict requirement of Baker's wife.
The couple adopted more than 60 children and several more minibusses were added to the inventory. They also decided to set up and run their own school and hired teachers. They even set up their own clinic.
Their next move was to find a bigger place with a large yard for the children to play outdoors and to exercise. Baker drove his minibus to several places to search for a new location.
Surprise that 'fell from the sky'
In 2002, the government of Tianjin granted Baker 33 acres of land for a token price of 1 yuan. This piece of land is located at the junction of Beijing and Tianjin and can facilitate them to send the children for medical care. In order to raise funds to build a house, Baker gave talks and participated in TV shows that aired in the United States, sharing stories of the more than 60 orphans to American audiences. This time, he raised US$268,000. That was enough to build two houses.
A bigger surprise was yet to come. An architectural design company in Beijing was willing to complete the entire design free of charge. All the cement, roof tiles, paint, circuits, and switches were donated by good-hearted people and some even sold their building materials such as bricks at wholesale prices.
Eventually, four small two-story houses with blue-gray exterior walls, stilted eaves, and yellow glazed tile roofs were completed and they are all of Chinese design.
In 2006, the children's village was completed and Baker named it "Shepherd's Field Children's Village" because this piece of land was originally the place where local shepherds herded sheep. Baker has never thought of naming the place an "orphanage" or "welfare home."
In his view, this is just like a family home and he hopes that all the abandoned children can feel the warmth of home life there. In one of his talks, Baker said that for every child, when they first enter, there is a desolate look on their face, but it only takes a few days to see their eyes brighten.
Translated by Chua BC and edited by Michael Segarty
Follow us on Twitter or subscribe to our email list