In November 2019, massive bushfires erupted in Australia and ravaged the country, including the Blue Mountains in New South Wales, for a whole nine months. Then nature intervened in March 2020 with heavy rainfalls to help battling firefighters control the fires and extinguish them all by the end of the month. The bushfires that inflicted so much suffering in Australia, specifically in the New South Wales area, sent a ripple of fear throughout the world as many lives were lost, with the traumatic experiences being narrated by firefighters, along with the loss of an area of land that is roughly the size of South Korea. But, like a phoenix, the arrival of the pink flannel flowers in the Blue Mountains has acted as a soothing balm over the fiery savagery.
Pink flannel flowers in the Blue Mountains
Known as bushfire ephemerals, this rare species of pink flowers bloom only on burnt land as the seeds only germinate after a fire. Currently, these flowers are reigning over the areas spanning from Katoomba to Lithgow and north to Newnes in New South Wales. The scenery is so serene that locals are proudly calling the bloom a "sea of pink," and visitors from all parts of Australia are making a pilgrimage trip to the Blue Mountains to witness the rare event. While the mountains are also home to various eucalyptus trees and you can witness the oil droplets as you trek around and be enveloped in the pungently comforting smell of the trees, it is the pink flannel flowers that make your heart stop.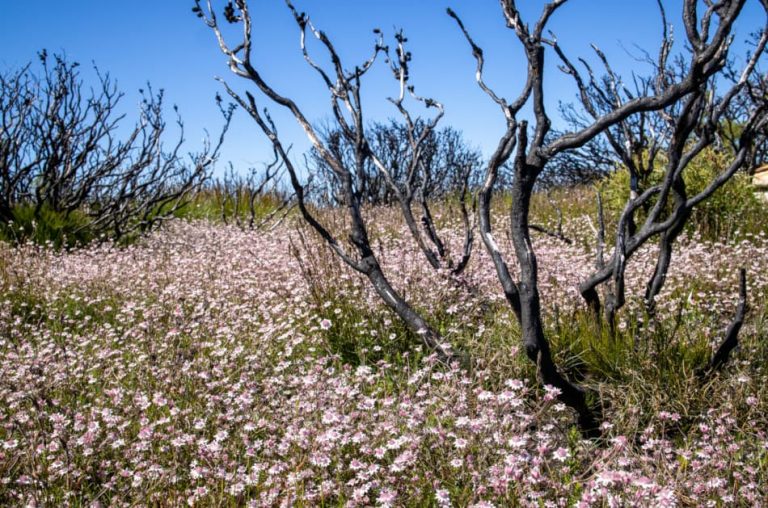 In scientific terms, the pink flannel flower is known as Actinotus forsythii, with actinotus meaning "bearing rays," the name makes sense once you see it. At first glance, the flower might look like a daisy, but upon closer inspection, you will find that it has a feathery appearance with petals pointing out like light rays or a star — and given the current scenario, wishing stars are much needed. In terms of soil preferences, the flower loves shallow ridge soil. As the seed requires fire to germinate, you can plant a seed in the soil and spend years not knowing that it exists around you unless smoke brings the seed out of its dormancy. While the flower is predominantly found in pink, white shades are not uncommon.
The flowers bloom for just a couple of months, but the color and the freshness they bring is enough to help heal all the scarred souls — of humans and nature alike. The arrival of the flower has once again reminded people that hope prevails no matter what. Nature, on one hand with the fire, reminded people of the power it still holds over our lives, on the other hand, it rekindled hope in humans with the burst of pink in the Blue Mountains. As people travel to witness the merger of blue and pink, remember to keep in mind that we are going through a pandemic and necessary precautions must be observed.
Follow us on Twitter or subscribe to our email list