Prepare time: 35 min
Cook: 25 min
Ready in: 1 hour
These 3 types of steamed eggs are melt-in-your-mouth delicious and protein-packed. Make them all together for a variety of nourishing flavors and to feed a vibrant family of four.
Eggs
should be labeled a superfood for they are packed with Vitamin A, folate, Vitamins B5, B12, B2, phosphorus, selenium, Vitamin D, Vitamin E, Vitamin K, Vitamin B6, calcium, and zinc. They also keep you feeling full for longer, but without feeling heavy or bloated.
Steamed eggs are good for children
Steamed eggs are good for children who are learning to eat and don't have all their teeth yet. They are soft and easy to chew. Steamed eggs are also good for older people in the family who have problems chewing. I like to serve these on warm summer evenings or for a light weekend lunch.
Ingredients
4 eggs (200 gm)
3/4 cup + 4 tsp water, lukewarm (200 ml)
2 tbsp miso
1 tbsp shallot, fried
1 pinch salt
1. Fish and leek:
1/4 pound sliced fish fillet (100 gm)
a few pieces of leek, cut into strips
Marinade for fish:
Subscribe to our Newsletter!
Receive selected content straight into your inbox.
1 tbsp cooking wine
1 pinch salt
1 pinch pepper
2. Vegetarian:

4 ounces tofu (100 gm)
3/4 ounce seaweed (20 gm)
3/4 ounce enoki mushrooms
3. Chicken:

1/3 pound chicken (150 gm)
2 tbsp shallot, fried
Marinade for chicken:
1 tbsp cooking wine
1/2 tsp sesame oil
1/4 tsp salt
1/2 tsp garlic powder (optional)
1 pinch pepper
Special equipment for steamed eggs
Steamer pan (optional, see image)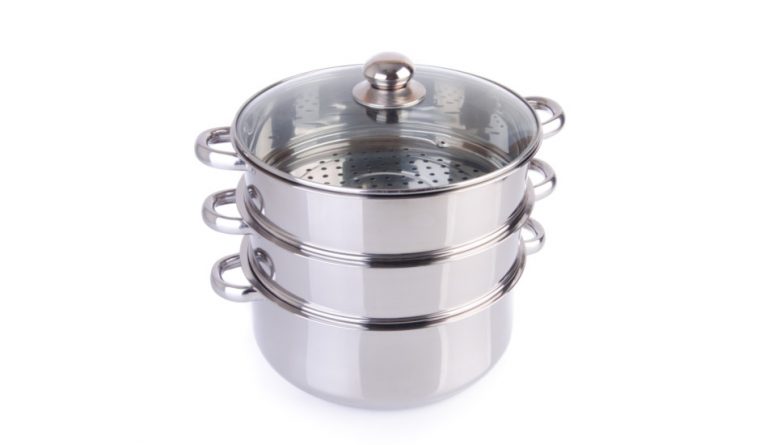 Directions
1. Prepare the marinades for fish and chicken and allow them to marinate for at least 30 minutes.
2. Fry chicken with oil. When cooked, stir in fried shallot, then set aside for later.
3. Beat eggs, add salt. Add miso and water. Mix well.
4. Sieve egg batter, pour into 3 separate bowls, and sprinkle some shallots into each:
Bowl No. 1: Put in fish and leek
Bowl No. 2: Put in tofu, enoki mushrooms, and seaweed
Bowl No. 3: Put in chicken (half)
5. Cover bowls with cling wrap (the type that can withstand steaming).
6. Boil water and turn down to low heat to steam for about 15 minutes.
7. Remove bowls No. 1 & 2.
8. Bowl No. 3  Add in the remaining chicken. Cover with wrap again and steam for 1 more minute, then remove.
9. Ready to serve.