It's common for archaeologists and others to discover the remains of dropped bombs at places of warfare. However, it is quite rare to see artisans who use un-exploded bombs in their works. The news of a Taiwanese blacksmith turning Chinese bombs into knives has made headlines. Wu Tseng-dong, a blacksmith living on Kinmen Island, is the talented man behind the knives. The Island is a Taiwanese territory close to mainland China. It was heavily bombarded during an attack from The People's Liberation Army (PLA) over a territorial dispute.
The Chinese army dropped 479,500 bombs over 44 days. Wu said: "It was terrifying. We were always panic-stricken. We had to scout out places to hide when the bombs dropped. A big tree is good because it can block the impact, but the best place to hide was inside a gutter. The only time they stopped bombing was during meal times." While the intensity of the bombing went down with time, Kinmen was bombarded until 1978. Wu added: "Some of those bombs would explode into many pieces. Back then, we didn't have machines to cut the bomb into little pieces, so we would collect these fragmented pieces and make knives with them." (AtlasObscura).
Subscribe to our Newsletter!
Receive selected content straight into your inbox.
The art of crafting knives from bombshells
Wu is a blacksmith and makes knives for Maestro Wu, a family business. Now, he takes the artillery shells and makes knives. Crafting stuff out of warfare debris is not exactly new. Artisans in Europe made use of bombshell casings used in WWI to make jewelry, tobacco jars, and decorative vases. The heavy bombing kept the people of Kinmen island worried, however, the metal from the bombs proved to be useful. The metal ensured they did not have to leave the Island for basic needs.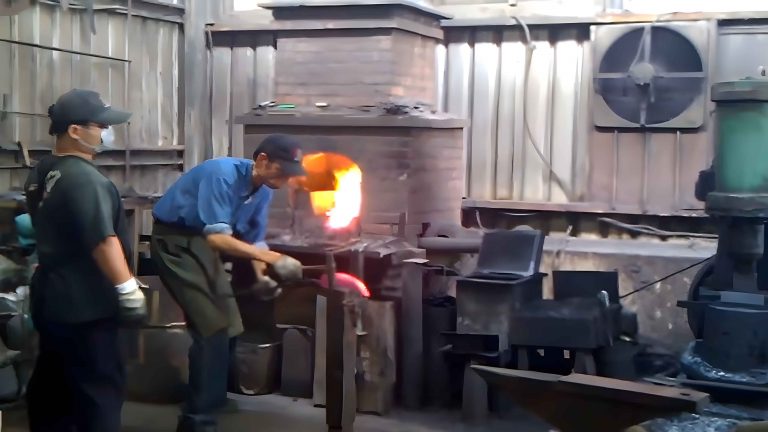 Wu's rise in the family business
Wu's family began crafting tools made from bombshells a long time ago. His grandfather used to gather scrap from bombs used by the Allied Air Forces. Wu learned the tricks of the trade early in his life from his father. Back in those days, they used hand-operated grinding wheels to shape and polish the knives. Slowly, he was given the responsibility of crafting the knives. All his siblings would do the same. However, Wu was the one who later inherited the business.
Wu now has a flourishing business, and there are eight master blacksmiths under him. He has become a pro in making knives from scratch. He can handle it all: sharpening, polishing, grinding, and melting. The process does not even take 30 minutes. His knives are much sought after owing to their strength and versatility. He can still develop 80 knives per day. While the shrapnel collected by him has been nearly exhausted, the Island still has plenty of artillery shells buried deep under the ground. So the chance of the source metal getting depleted is small.
Wu's bombshell knives in high demand
Nowadays, traditional knife-making is not practiced that much, but Wu stands out as an exceptional craftsman of the art. His knives are popular among chefs. For a section of the customers buying knives from his shop, durability is not the sole reason. For a section of them, it is experiencing a sense of nostalgia. That explains why a lot of retired army men and soldiers also order from his shop. Many tourists visiting Kinmen are aware of its war-torn past. They want to take home souvenirs made with locally made materials.