The much anticipated annual cherry blossom season has finally arrived in Taiwan, with the 2022 Wuling Farm Cherry Blossom Festival taking place from February 12 through 28. The cherry blossom festival boasts the most comprehensive display of its kind across the country.
Please watch the following video for more beautiful photos of the 2022 Wuling Farm Cherry Blossom Festival.
Subscribe to our Newsletter!
Receive selected content straight into your inbox.
It is the first time in 10 years that the cherry blossom festival has occurred at such an early date. It is believed that the premature blooming of the farm's cherry blossoms this year is due to a warm winter along with robust precipitation.
About the leisure farm
Located in central Taiwan's Taichung City, Wuling Farm is also known as Wuling National Forest Recreation Area. It is part of Shei-Pa National Park (雪霸國家公園) in central Taiwan. Covering over 700 ha (1,729 ac) of land at an altitude of 1,740-2,100 m (5,709-6,889 ft), the farm is 7 km (4.3 mi) long from north to south, with a vertical drop of about 400 m (1,312 ft). It is one of the three largest alpine farms in Taiwan.
The farm was first established as Taiwan's Veteran Cultivation Reclaim Service Station in 1963 to employ retired service members. It was renamed Wuling Farm after it was hailed as a paradise immersed in the beauty of nature and serenity by late president Chiang Ching-kuo, the then-Chairman of the Vocational Assistance Commission for Retired Servicemen (now titled Veterans Affairs Council), during his inspection tour of this area in 1969.
After four phases of transformation, this beautiful valley evolved into a leisure farm in 2007. It is currently the most popular leisure farm among the eight farms managed by the Veterans Affairs Council.
The farm is a fantastic attraction that displays different scenery during the four seasons along with a wide variety of wild birds and butterflies. In addition to the cherry blossom landscapes in spring, Wuling Farm also offers spectacular views of the surrounding mountains all year round.
There are some excellent hiking trails in the area, including Bird-watching Tail (950 m, or 3,116 ft), Tea Garden Trail (1,150 m, or 3,772 ft), Bird and Butterfly Watching Trail (2,150 m or 7,053 ft), Alpine Botanical Garden Trail (1,150 m or 3,772 ft), Pine Avenue (300 m or 984 ft), and among others including Taoshan Waterfall Trail, which is a 4.3 km (2.6 mi) trail leading to the 50-meter (164-foot) Taoshan Waterfalls.
About the cherry blossoms
Wuling Farm began planting cherry trees in 1993. After ongoing developments over the past decades, the farm is home to over 21,000 cherry blossom trees scattered in 10 different locations. More than 10 different varieties of cherry trees are on the farm, including Taiwan Cherry, Pink Lady Cherry, Yae Cherry, Showa Cherry, Yoshino Cherry, Oshima Cherry, Ink-black Cherry, Kawazu Cherry, Peony Cherry, Fuji Cherry, and Wusheh Cherry.
These cherry trees are mainly planted along a 3-km (1.8-mi) path, which blooms in succession in the spring. They flourish all over the hills and the valley, creating a pink Shangri-la for visitors. It is a perfect place to relax with family or friends. The cherry trees are especially gorgeous when lit up at night during the cherry blossom festival.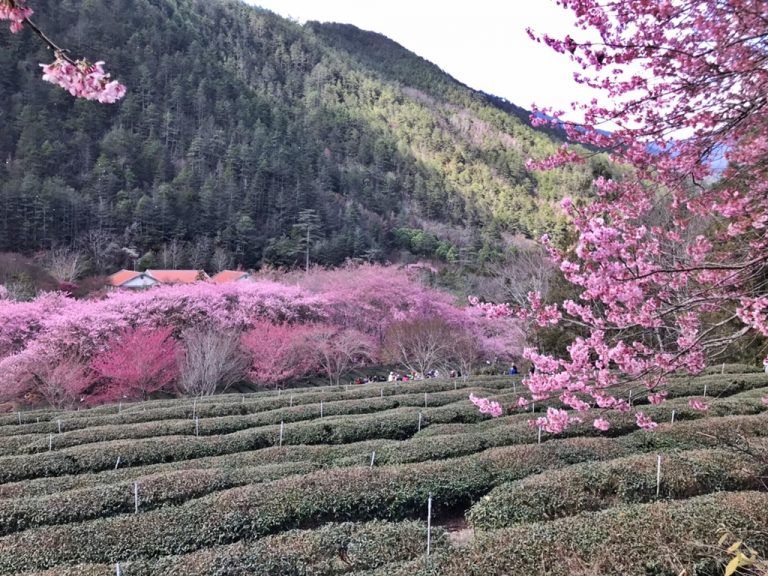 About the cherry blossom festival
The annual floral rendezvous at Wuling Farm was first held about two decades ago. Weather conditions can speed up or delay the emergence of cherry blossoms, thus the cherry blossom festival dates are subject to change based upon the recommendations of the farm's botanists.
Every year, the cherry blossom festival attracts hundreds of thousands of anthophiles or flower lovers who enjoy the breathtaking view of a sea of cherry trees overflowing with perfect pink blooms during the peak season.
To guarantee the quality of flower viewing, the farm has capped the number of daily visitors to 6,000 people during the cherry blossom festival. As a result, only guests staying at the farms, tour groups, or those who arrive by public transportation can enter the farm.