The following story about a donkey illustrates the cycle of reincarnation and the building up and repaying of debts. A famous saying goes: "It is only right to pay your debts." However, it's unavoidable to owe others emotional debts, financial debts, and even life debts. If you don't repay these debts in your lifetime, you will still have to pay the debts somehow during the six paths of reincarnation. If you don't owe someone something from your previous life, you will not meet the creditor in this lifetime.
Zhang Gao was a successful businessman in the Tang Dynasty and prospered in Chang'an, accumulating enormous wealth. Zhang owned a donkey for many years that followed him around wherever he went for business.
Subscribe to our Newsletter!
Receive selected content straight into your inbox.
In August of the 12th year of Emperor Xianzong's reign (A.D. 817), Zhang Gao passed away. Thirteen days later, his wife asked their son Zhang He to ride the donkey to the suburbs to buy vessels for the monk who was preparing for the funeral. However, after walking out of the town gate, it suddenly came to an abrupt halt. Feeling frustrated, Zhang slapped it, but it just fell to the ground. Finally, Zhang was so angry that he beat it with a whip.
The donkey started talking
Straight away, a shocking thing happened. Suddenly turning its head, the donkey spoke to Zhang: "Why are you beating me?" it asked. Zhang blurted out: "My family spent 20,000 coins to buy you, but you didn't do something for me. So, I lashed you." After saying it, Zhang realized what had happened and was shocked: How can a donkey speak?!
It said: "Twenty thousand coins! Why didn't you say that your father had ridden me for twenty years? Now I tell you that humans and animals can reincarnate as each other if the debts are not settled. I owed your father a debt in my previous life, so I repaid it as a donkey in this life. After your father died, you still made sure I had plenty to eat so I didn't care how you behaved toward me.
"Last night, your father came to settle our account and told me I now owe your family just one and a half strings of coins. I couldn't refuse when your father was riding me, but I owe you nothing, so you cannot ride me. But if you do it forcibly, you will also be reincarnated as a donkey to be ridden by me as a man in the future. This way, we will ride each other during alternate lifetimes. When will it end?"
It added: "Currently, my price should be more than 20,000 coins. But I just owe you one and a half strings of coins. If you sell me on the market, the buyer will pay you more than the debt I owe you. So you must make sure that nobody purchases me because they owe me nothing. Only the moustached Wang, a grain-store owner, owed me two strings of coins in another life. If you sell me to him, you can take one and a half strings of coins back, and he can use the half string of coins left to buy forage for me, and then my life as a donkey will be ended."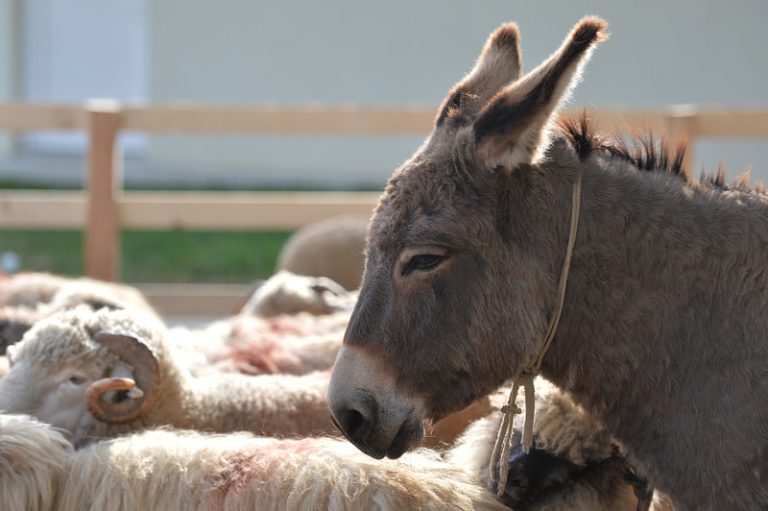 Zhang brought the animal home and told his mother what had happened. His mother said to the donkey in tears: "My husband has been riding you for so many years. I appreciate it. The debt, one and a half strings of coins, was nothing. If you agree, we can erase it and feed you with sufficient fodder to make you live longer. Do you agree?" The donkey shook its head. Zhang's mother asked again: "Do you want us to sell you to repay the debt you owed us?" The animal nodded.
Zhang's mother then announced that the donkey must be sold with a price of one and a half strings of coins. As the price was very low, nobody dared to buy the animal in case there was something wrong with him. Zhang's mother had no choice but to ask Zhang to bring the donkey to the West Market's grain store to sell it. Zhang then came across a tall person with a large mustache on the way, who stopped him and offered to buy the animal at the price offered. After the sale, Zhang asked the buyer's surname, and the person replied: "Wang," just as the donkey had told him.
From then on, it rained continuously for days. When the weather cleared up, Zhang went to see the donkey in secret. It turned out that it had passed away, and Wang never rode it as the donkey said. After paying off its karmic debts, the donkey was relieved of its burden and was ready to be reincarnated again.
Translated by Joseph Wu