Have you ever heard of a 'YouTube Village' channel run by an entire village? It's a community involved in making videos for a YouTube channel! It's an interesting story about a village called Shimulia in Bangladesh.
A YouTube channel transformed a remote village
Shimulia is a remote village in Bangladesh. It is an ordinary and remote village, but its unique food culture makes it special. A Youtube Channel called AroundMeBD captured their excellent food practices, which first featured a video depicting a group of men and women preparing, cooking, and serving food for the entire village.
Subscribe to our Newsletter!
Receive selected content straight into your inbox.
The channel showcased the community kitchen in Shimulia and its one-of-a-kind ways of food preparation and consumption. One of the most popular videos on the channel showed how massive the dishes were, consisting of different kinds of delicacies such as a 650-pound water buffalo dish, a 140-pound fried tilapia curry, or a 320-pound vegetable mishmash.
Millions of people saw the videos, and they were well-received by audiences worldwide. The channel subscribers increased rapidly and in only two years after launching the cooking project in 2018, viewership reached 3.25 million. The most popular video had almost 63 million views.
The channel's success has uplifted the economy of Shimulia, which is now known as the Youtube village of Bangladesh.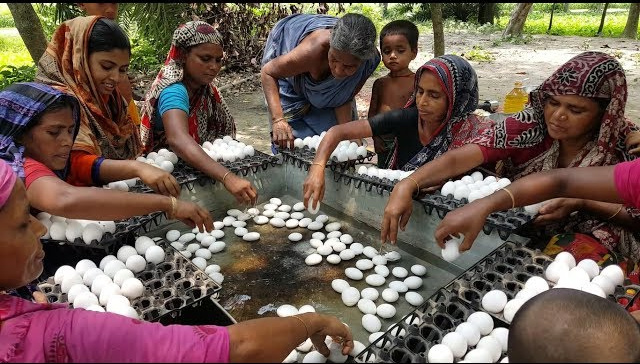 From a personal hobby to a YouTube village
Liton Ali, a teenage Shimulia villager, started a YouTube channel in 2017. He had always loved capturing the world around him on his camera. So he took pictures of everyday things that made him happy, such as lively markets, roadside booths selling ceramics, garment factory sewing, fishing in local ponds, local snake charmers, etc.
Although he didn't have any formal training in photography and videography, he started filming and uploading videos of what was going on around him to his YouTube channel, which he called AroundMeBD.
At that time, his channel didn't have a specific theme. Instead, he was collecting and sharing everything going on around him. He wasn't concerned with views or subscribers. He was merely wandering around, filming, and uploading videos on the internet. But, within a few months, people began to take an interest in the videos he posted that were receiving positive feedback.
One day, Liton discussed his proposal with his uncle Delwar Hossain. He expressed an interest in producing large-scale cooking videos for locals and sharing the entire process online. His uncle, unsurprisingly, was enthralled by the concept.
Liton returned to Shimulia, now with full video gear, and assembled the villagers for his cooking endeavor with the help of his uncle. His Youtube channel had a concept — the food would be cooked by the villagers for the villagers.
The Youtube channel that Liton started for fun is now showcasing their unique food culture and people, helping create jobs, generate income, and instilling entrepreneurial and technological skills within their community.
The channel's success has had a ripple effect throughout the YouTube village
As the channel's popularity grew, more locals were employed to arrange shoots, handle the crowds who came to dine, and delegate duties to self-sustaining the channel. Around 50 people work for the channel currently, including 17 women who appear in the videos and operate the show.
The success of the channels impacted the rest of the community. The proceeds from the operation were used to construct amusement facilities, such as a life-size giraffe replica, a gigantic duck, a straw elephant, and a children's water slide. In addition, a city park is now being planned.
When a fire destroyed some homes in the village, YouTube ad money was utilized to rehouse families who had lost their homes in the fire. The channel also pays for medical bills for the village's elderly. So if any of the elderly have a problem, the funds from the channel cover the majority of the medical expenses — whether it's to see a doctor or to receive treatment.
The YouTube village benefited as more revenue was generated from the growing number of views and subscriptions.
Celebrating food, people, and culture
The YouTube village is an excellent example of a niche. It is part of a rising online trend in South Asia. The Internet spreads to remote areas, and rural communities embrace social media platforms to display and commercialize their distinct food cultures to audiences worldwide.
Those places that previously had limited to no exposure to the world now have opportunities to share their culture and develop enterprises that employ hundreds of people to the rest of the world.