Tucked away between Qijing Farm and Hehuan Mountain, Mei Feng Highland Experimental Farm (梅峰農場) is a striking highland farm located in the mountain ranges at altitudes between 900m and 2,700 m (2,952ft and 8,858 ft) at Renai Township in central Taiwan's Nantou County.
Please watch the following video for more images of the Spring Festival at National Taiwan University's Mei Feng Highland Experimental Farm.
Subscribe to our Newsletter!
Receive selected content straight into your inbox.
With a total acreage of 1,092 ha (2,697 ac), the farm is one of the highland farms of National Taiwan University (NTU) and is composed of the main farm and two sub-farms: Chun Yang sub-farm and Cui Feng sub-farm.
The Mei Feng Highland Experimental Farm is an ideal destination for ecotourism, education, and leisure. Among other things, visitors can take in the beauty of nature, and they can appreciate temperate and alpine flowers, fruits, vegetables, and other plants in different seasons. 
The farm, however, is generally not open to the public unless group reservations have been made in advance. Nevertheless, the farm has organized some natural ecology camps to help promote environmental education since 1998. Visitors can also enter the farm during the flower festival held in March, when glorious, exuberant blooms can be seen.
History
Established in 1937 during Japanese colonial rule (1895-1945), the Mei Feng Highland Experimental Farm was initially established to teach and train the Taihoku Imperial University faculty (currently called National Taiwan University).
The farm was called "Wu-She Highland Farm" in 1961, but was renamed "Highland Experimental Farm of National Taiwan University's College of Agriculture" and "Highland Experimental Farm of National Taiwan University's College of Bioresources and Agriculture" in 1973 and 2002, respectively.
Origins of the Mei Feng farm
The farm is nestled in a valley surrounded by mountains on three sides. Since the valley is usually not hit by strong winds in all seasons, it was originally named "Mei Feng (沒風)," meaning "a place without strong winds" in Chinese. Because this Chinese expression is a homophone for another expression that denotes "a peak full of plum trees (梅峰)," the place was thus renamed Mei Feng (梅峰) afterward.
In fact, with many plum trees planted on this highland farm over the past decades, the farm can now truly live up to its current name and what it stands for.
The main farm
The main farm comprises six themed areas: Ecological Education Park, Crops Production Area, Ornamental and Leisure Area (including a maze and two poplar trails), Indoor Exhibition Area, Forest Area, and Education Exhibition Center.
Covering an area of 623 ha (1,539 ac), the main farm is mainly for teaching, researching, and demonstrative management of cold and high area horticulture. Many fruit trees, bright and colorful flowers, alpine vegetables, fruits, and other horticultural plants can be seen. It was accredited as an organic farm by the Council of Agriculture in 2014.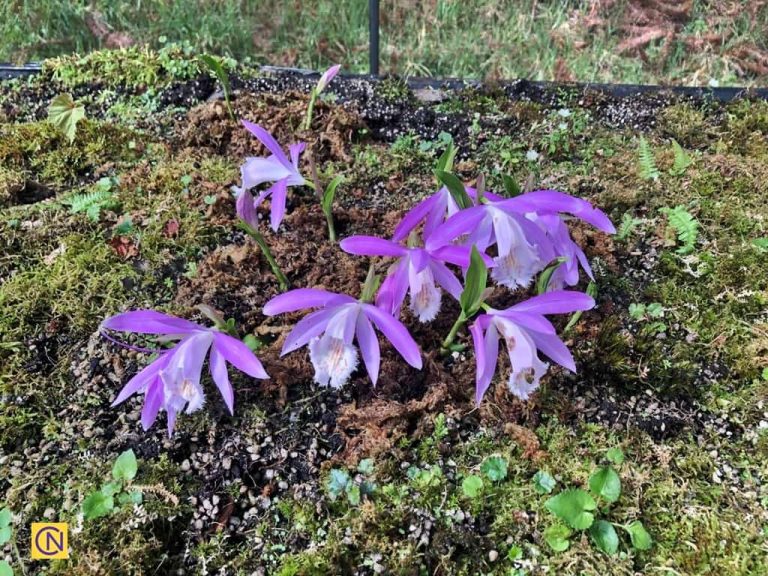 In addition to its horticultural values and natural beauty, the farm is especially famous for its peach blossom tunnels and the successful restoration and breeding of the endangered Pleione formosana Hayata (一葉蘭).
The eye-dazzling peach blossom tunnels are always a big draw for visitors. They allow visitors to appreciate the perfect masses of the exquisite and exuberant peach blossom and enjoy the romantic atmosphere while walking inside the tunnels.
The Pleione Formosana Hayata Exhibition Area is another striking highlight of the farm. It imitates the wild environment of this rare species native to Taiwan. The farm is home to this endangered native orchid, also called the single-leaf orchid in Taiwan. During the flower festival, it is open to the public to appreciate the beauty of the purple and rare white Pleione formosana Hayata.
Chun Yang sub-farm
Located in Chun Yang Village in Renai Township, this sub-farm covers 44 ha (108 ac). Approximately three-fourths of its land is secondary forest and two-leaf pine plantations. The rest is cultivated farmland producing nursery plants and plug seedlings of various vegetables. In addition, a fern garden, an aquatic plants garden, and an orchid garden are open for teaching and research purposes.
Because it is nestled in the Chunyang settlement, a folk botanical garden was established to preserve the aborigines' varieties of plants. There are also traditional aboriginal huts that showcase the traditional crafts of the tribe.
Cui Feng sub-farm
This farm is an excellent spot for stargazing. With an area of 425 ha (1,050 ac), a hand-built natural trail leads to the peak at 2,376 m (7,795 ft). The beautiful trail is about 1.5 km (4,921 ft), and it takes about 2 hours to make a round trip.
The old name of the farm is Cui Feng (吹風), which means "wind blowing" because it is located on the path of the draft. As Cui Feng (翠峰) is a homophone for the Chinese expression meaning Cui Feng (吹風), it was thus named.