Hollywood has chosen the U.S. over China after it responded to the outcry from fans who noticed the Taiwanese and Japanese flags were missing from the black bomber jacket worn by Tom Cruise's character in the trailer of the movie Top Gun: Maverick.
In the original Top Gun film, which premiered in 1986, Cruise's navy pilot character Pete "Maverick" Mitchell wears a bomber jacket that belonged to the fighter pilot's father. The back of the jacket is emblazoned with patches commemorating tours Maverick's father served in the U.S. Navy, including tours in Japan and Taiwan from 1963 to 1964.
Subscribe to our Newsletter!
Receive selected content straight into your inbox.
Made-up emblems
But when trailers for Top Gun: Maverick aired in 2019, scenes showing the back of Maverick's iconic black leather jacket revealed the Taiwanese flag and the Japanese flag next to it had been replaced with made-up emblems that matched the color schemes of the originals. At the time, Paramount Pictures was believed to be appealing to the demands of the Chinese Communist Party (CCP).
Top Gun: Maverick was initially supposed to be co-financed by China's Tencent. This deal guaranteed a lucrative theatrical release in China, where Tom Cruise is immensely popular. However, Tencent backed out over the "film's themes and closeness with the U.S. military," which could potentially upset Beijing.
Beijing sees the recognition of Taiwan as an independent country as a challenge to its sovereignty instead of considering it to be part of its territory. It has previously boycotted companies for implying Taiwan was its own country, and as a result, Apple has censored the Taiwan flag emoji for iPhone users in China.
Harsh blowback
The studio's original decision to remove the references to Taiwan and Japan was met with harsh blowback.
Following the trailer's release, one fan wrote: "Well, that does it. Not getting a dime from me, not in the theater or on any streaming platform." Another commented: "Why Tom? Taiwan is a free country! So why do this for China?"
Members of Congress, including Sen. Ted Cruz (R-TX), blasted Paramount for engaging in an apparent act of creative censorship to appease Beijing. "What are we saying to the world? That Maverick is afraid of the Chinese communists?" Cruz said in an appearance on Fox News in 2020.
The flags return
When the Top Gun: Maverick sequel to the 1986 classic hit theaters, the Taiwanese flag was featured prominently on the back of Maverick's jacket next to a previously hidden Japanese flag. The patches are visible early in the movie when he takes the famous jacket out of his locker.
Though creators have not explained why the flags were removed from Top Gun: Maverick, many fans were pleased to see they had been reinstated in the film's final cut, which was released in cinemas on May 27, 2022.
During a screening of Top Gun: Maverick in Taiwan, audiences cheered upon seeing Taiwan's flag appear on Cruise's jacket and applauded several times throughout the film, according to a local online media outlet, SETN. One Twitter user in the U.S. who saw the movie at a screening wrote that the Taiwanese flag was the "first thing" they saw, adding: "Not a big deal, but as an immigrant from there, it was a thrill to me."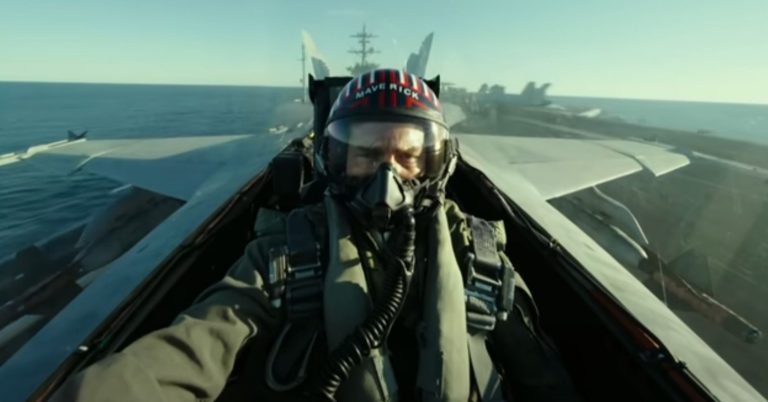 No release date in China
Top Gun: Maverick has not yet been given a release date in China, and it is uncertain if the Paramount film will be allowed to screen there, especially after the return of the Taiwanese and Japanese flags.
For comparison, Doctor Strange in the Multiverse of Madness was recently banned from China shortly after it came to light that one of its scenes briefly contained a news rack belonging to The Epoch Times, an anti-CCP newspaper.
While Top Gun: Maverick is not expected to be released in China, it dominated the Memorial Day weekend box office, taking in a record US$156 million from 4,735 theaters over the four-day holiday — enough to trump Pirates of the Caribbean: At World's End's US$153 million take 15 years ago. The three-day total stands at US$126.7 million, which is the second-best start for a Paramount release after Iron Man 2 (US$128.1 million).
With Top Gun: Maverick, Hollywood producers are maybe signaling that are no longer so concerned about kowtowing to the whims of Beijing.