Good fortune comes from doing good deeds. Han Shusan was born into a poor family in Huating County in the Province of Jiangsu. Although the clothing shop run by his father, Han Weng, was not as prosperous as the more prominent businesses in the county, he was nevertheless enthusiastic when helping others. Wang Daoding, a famous writer during the Qing Dynasty, said of him:
"Han Shusan was hailed by the people of Huating County as a man of great compassion because he was always very polite, compassionate, and conscientious. The following story about why his family was wealthy deserves to be shared with others."

Subscribe to our Newsletter!

Receive selected content straight into your inbox.
On a day not long before the New Year celebrations, Han Weng finished work and was ready for bed. Outside, it was snowing heavily. It was the middle of the night when Han Weng heard a vibration coming from the front door, as if someone was leaning against it and sighing. When he opened the door, he found a stranger sitting against it with a bag in his hand.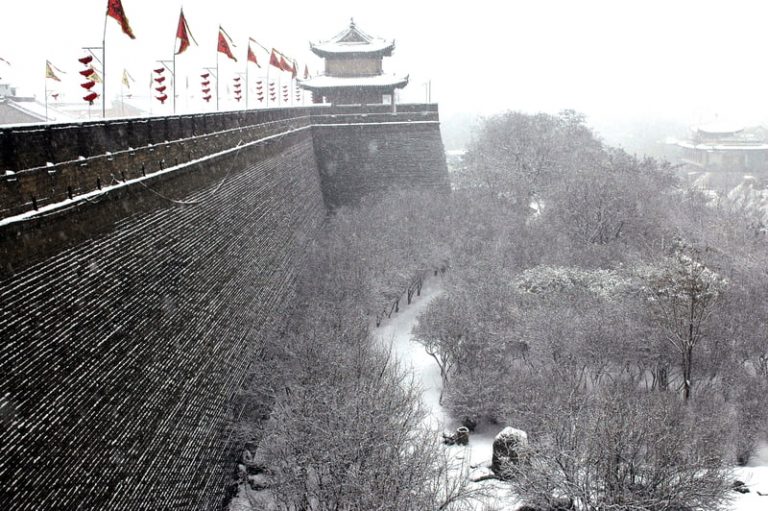 Han Weng asked the man who he was and learned that he was a clerk who had just come back from a debt collection run on behalf of his employer. It was too late at night for him to catch a ferry boat or stay in a hostel. So he had no choice but to sit on Han Weng's stoop until dawn. Han Weng said to the man:
"You're on your way back from a debt collection run, so you must have lots of money on you. How can you sleep outside? Even if it's safe, how can you stand the cold? My house is small and shabby, but it's big enough to give you shelter from the snowstorm."
Han ushered the man into his home. Seeing the man was drenched to the skin, Han handed him the new clothes he bought for himself for the New Year and treated him to a big meal. The man greatly appreciated Han's kindness. It was unimaginable that he would be treated so kindly by a stranger while suffering from cold and hunger. Later, Han made the man's bed before he himself went to bed.
After dawn, the ferries were unable to operate, as the snow had become heavier during the previous night. Han asked the man to stay and treated him to a big meal without complaining. That evening, the man told Han that he was very grateful for Han's great kindness and didn't know how to repay him.
So he offered Han 300 taels of silver so that he could ship local rice from Huating County to Shanghai in order to make some money. Han flatly refused the offer, and the man just nodded his head without saying a word. The next day, the sky cleared and Han hired a ferry boat for the man, and personally saw him off.
Before sailing away, the man told Han the 300 taels of silver he'd offered the other day was under the bed, and he asked Han to meet him in Shanghai for the Lantern Festival the following year. Han was stunned by what he heard, but it was too late to return the silver to the man. When he returned home, he found the money was indeed under the bed, and he decided to do as the man said.
Good deeds lead to good fortune
When he made it to Shanghai on the appointed date, Han was highly praised by the man for keeping his promise. Han told him that he had a large shipment of rice with him to sell in Shanghai. When introduced by the man to the director of his business, he showed his sincere appreciation by treating Han as a distinguished guest and praising him:
"It was very risky for my clerk to sleep outside last year with a huge amount of silver. If it wasn't for your great kindness, he might have been robbed. Today, you are here as promised. Your unselfish deed is invaluable."
After escorting Han to see various sites in the city, the director said to him:
"Now that you've helped me make a large amount of money by shipping your rice to Shanghai, I should share half the profit with you."
The director then handed a large sum of silver to Han on the spot. Han tried to turn down the offer, but the director insisted. So Han asked the director if he would allow him to donate some of the silver to the needy.
The director asked the clerk to give Han 2000 taels of silver. From that time on, Han devoted himself to charity work. He found that he could always earn sufficient money even while donating to charity. After Han became a very successful businessman, he was still very humble and continued to do charity work.
When his son, Han Shusan, inherited the family business, he lived up to the family motto of committing to charity. Later, Han Shusan's son, Han Luoqing, passed the imperial examination and became very successful and well-known in society. The entire family was blessed with endless good luck and prosperity.
Wang Daoding, the writer of the Chinese literary classic Zuo Hua Zhi Gao, said:
"When I was travelling in Songjiang, I heard much about Han Weng. Although he didn't go to school, he was a man of great deeds — he always kept his word and never cheated anyone. He was exceptionally generous and sincere, while having great compassion. That's why he was able to become wealthy so quickly even though he was born into a poor family. Most people know only that the Han family became rich quickly, but what they don't know is that it didn't happen by accident."
Translated from an excerpt from Zuo Hua Zhi Guo, written by Wang Daoding during the Qing Dynasty