Since the Chinese Communist Party (CCP) imposed the much-criticized security law on Hong Kong, the exodus of Hong Kong residents to foreign countries has picked pace. Apart from ordinary citizens, several noted scientists, media persons, and entrepreneurs have immigrated to countries such as the UK and Canada, where they feel they will be safe from the wrong moves of the Chinese government. However, a recent study found that some Hong Kong immigrants to the UK have to cope with mental health issues, such as post-traumatic stress disorder (PTSD).
Subscribe to our Newsletter!
Receive selected content straight into your inbox.
Hongkongers carried out the study in Britain. A UK-based advocacy group led by Mark Liang, a Cambridge University researcher. The findings hint at a section of the survey respondents who coped with post-traumatic stress caused by their experiences in Hong Kong. More than 60 percent of candidates said their mental health changed for the better after relocating to the UK.
A new life outside of Hong Kong
In the last two years, the rate and amount of applications for the BN(O) visa shot up significantly following the implementation of the National Security Law in 2019.
The online questionnaire reveals important data on Hong Kong immigrants living in the UK. Mr. Liang said the Hong Kong residents moving to the UK were subjected to several issues that caused them elevated mental stress. These issues are language barriers, finding suitable employment, and adjusting to a new place. In addition, many of them were sad about the hardships in visiting their homeland and meeting their families in the future.
Mr. Liang believes that a section of the Hong Kong immigrants in the UK are still not entirely comfortable and hesitate to express their problems. Only a tiny percentage have contacted a general practitioner to address mental health issues. They have refrained from getting doctors and facilities offering mental health treatments.
A few respondents did not complete the online survey after seeing the PTSD queries, which worried Liang. He said if the mental health crisis remains unresolved, that may lead to complications. Therefore, he recommended that the UK government arrange specialized psychotherapy services and counselors with Cantonese expertise.
Over 100,000 Hongkongers opted for the BN(O) visa, and it is assumed that around 300,000 Hong Kong people may choose the UK for relocation in the next few years. The BN(O) visa proved to be bliss for oppressed Hong Kong residents who wanted a haven in a country where the CCP would not target them. Previously, large-scale emigration was caused by historical events such as the Hong Kong transfer of sovereignty and the infamous Tiananmen Square crackdown.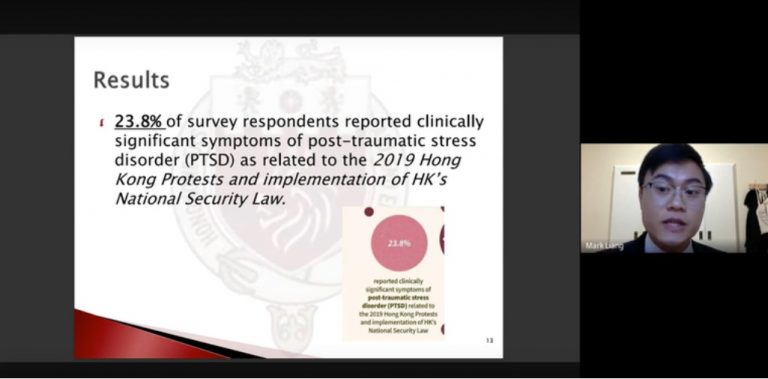 Coping with mental health issues
While a section of Hong Kong immigrants in the UK continues to cope with mental health issues, most have succeeded in adapting to the new country and environment. Eric Wong, a business owner selling milk tea in Hong Kong, tasted success by replicating his model in the UK. Thousands of Hong Kong immigrants in the UK have found new beginnings, and they are seen in abundance in cities like Kingston and Birmingham.
A Hong Kong-based designer Kago Ng had several apprehensions about living in the UK, but she found it better than her homeland after relocating to London. There remain some hurdles. Hong Kong residents fleeing to the UK have faced cold treatment from Chinese with communist ties living in the UK.