Taiwan's foreign minister said that China's military drills last week in protest of U.S. House of Representatives Speaker Nancy Pelosi's visit were an excuse to prepare for an impending invasion of the self-ruled nation.
Foreign Minister Joseph Wu addressed the media on August 9 as China's People's Liberation Army (PLA) continued military exercises and Taiwan commenced its previously scheduled live-fire drills.
Subscribe to our Newsletter!
Receive selected content straight into your inbox.
Wu told reporters in Taipei: "China has used the drills in its military play-book to prepare for the invasion of Taiwan."
"China's real intention behind these military exercises is to alter the status quo in the Taiwan Strait and the entire region," Wu said, warning that Beijing's behavior toward Taiwan is "merely a pretext" and "its ambitions and impact is extending far beyond Taiwan."
Cyber attacks
During Pelosi's visit, government websites, convenience stores, and train station signs were targeted by cyber-attacks. Wu said the varying attacks were traced to China and Russia across several days. Overseas cyberattacks continued, and Taiwan's authorities remained "high alert," Wu said, but Taiwan would not be cowed.
"China's continued attempt to intimidate Taiwan will not panic us, nor will they defeat us. The values of freedom and democracy cannot be taken away."
Intrusions across the median line
During its four-day live-fire exercise following Pelosi's departure, the Eastern Theater Command of China's PLA conducted more than 100 sea and air crossings of the median line, an unofficial border in the Taiwan Strait between China and Taiwan. The breaching of the median line represents a more aggressive posture than Beijing's frequent forays into Taipei's air defense identification zone (AIDZ) over the past two years.
Wu said China has taken "specific action to break the longstanding tacit agreement of the median line" and would probably now try to "routinize its actions."
"Its intentions are not likely to end there," he said, noting the security agreement with the Solomon Islands and China's influence across the Pacific, south-east Asia, Africa, and Latin America.
'Following the example of North Korea'
During last week's drills, the PLA also reportedly launched 11 Dongfeng series ballistic missiles into waters around Taiwan's northeast and southwest coasts. Taiwan's ministry of foreign affairs accused China of "following the example of North Korea in wilfully test-firing missiles into waters near other countries."
Japan said five Chinese missiles landed in its exclusive economic zone within 200 nautical miles (370 kilometers) from its shores, prompting a call for an "immediate stop" to the exercises.
In response to the missile salvos, U.S. Defense Secretary Lloyd Austin ordered the U.S. aircraft carrier Ronald Reagan and its strike group to "remain on station in the general area to monitor the situation."
Renewed PLA joint drills
Wu spoke as the Eastern Theatre Command commenced new joint drills on August 8th, which included anti-submarine and sea assault drills in waters around Taiwan, with several aircraft crossing the median line of the Taiwan Strait.
Beijing's ongoing drills are expected to continue to disrupt shipping lanes and flights to and from Taiwan, forcing both ships and aircraft to re-route, impacting supply chains and international travel. It is apparent that Beijing is rehearsing blockade operations to choke Taiwan off from international commerce.
The renewed drills come just days after China suspended cooperation with the U.S. on cross-border crime, including narcotics and maritime safety. In addition, all high-level US-China military dialogue and discussions on climate change were to be paused.
For its part, Taiwan commenced its long-scheduled drills on August 9th, firing howitzer artillery out to sea in the southern county of Pingtung. The exercises are designed to simulate defensive operations against an attack on the island.
'We're not going to take the bait'
A senior Pentagon official refuted reports claiming that U.S. officials now believe China could invade Taiwan by 2024 but stated that China's recent military activities attempt to create instability in the region.
During a Pentagon press conference on Monday, August 8, Under Secretary of Defense for Policy Colin Kahl said, "Clearly the (People's Republic of China) is trying to coerce Taiwan; clearly they're trying to coerce the international community, and all I'll say is we're not going to take the bait, and it's not going to work."
When asked whether the United States had a new assessment that China could attempt to take over Taiwan in two years, Kahl replied, "No."
Kahl also said the U.S. military would continue voyaging through the Taiwan Strait in the coming weeks.
"It's a manufactured crisis, but that doesn't mean we have to play into that. I think it would only play to Beijing's advantage. So what we'll do instead is to continue to fly, sail, and operate wherever international law allows us to do so, and that includes in the Taiwan Strait, and we will continue to stand by our allies and partners in the region."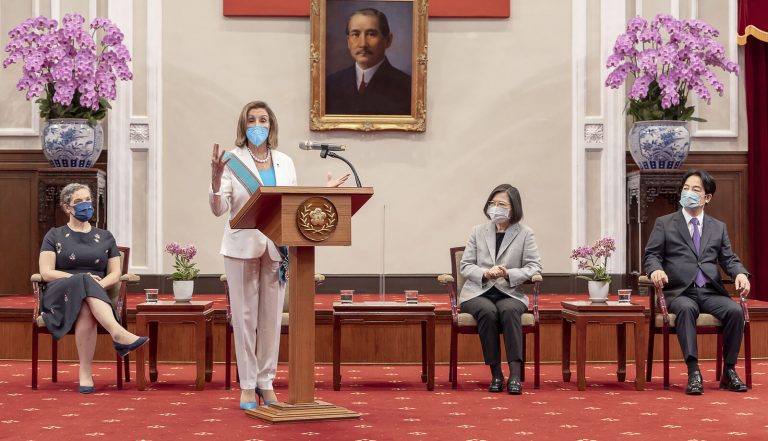 'Today, the world faces a choice between democracy and autocracy'
During her meeting with Taiwanese President Tsai Ing-wen on August 3rd, Pelosi said, "Today, the world faces a choice between democracy and autocracy," she said in a short speech during a meeting with Taiwan President Tsai Ing-wen. "America's determination to preserve democracy, here in Taiwan and around the world, remains ironclad."
In her remarks, Tsai said, "Facing deliberately heightened military threats, Taiwan will not back down. "We will firmly uphold our nation's sovereignty and continue to hold the line of defense for democracy."
President Tsai thanked Pelosi for visiting, praised her long commitment to democracy and human rights, and bestowed her Taiwan's highest civilian honor.