While many cultures can take pride in the exceptional quality of their coffee, Vienna, Austria, has raised the beverage to an art form and made drinking it a way of life.
Customers can spend entire days in a delightful atmosphere and a diversity of customers by purchasing a single cup of coffee in one of the city's big old cafés, making the Vienna coffee house an essential component of the city's social experience.
Subscribe to our Newsletter!
Receive selected content straight into your inbox.
As soon as you walk into a coffee shop in Vienna, you begin to maintain the poise required by such a classy setting. These characteristic Vienna meeting places, which are frequently referred to as "the city's public living rooms," allow visitors to stay under the high ceilings, tasteful interior design, and diverse fellow patrons for the entire day for the price of a single coffee.
The Vienna coffee shop has just been recognized by UNESCO as a "National Agency for the Intangible Cultural Heritage" because it is a fundamental component of the city's culture. The coffee shop is a location "where time and space are consumed, yet only the coffee is listed on the bill."
According to lore, coffee's place in the hearts of the Viennese is the result of an accident. Its arrival in the city can be traced back to 1683, when Turkish invaders were forced to flee the city by allied forces led by the Polish-Habsburg army, leaving behind sacks of the small brown bean.
The army intended to burn the bags after mistaking them for camel feed, but Polish King Jan III Sobieski instead passed the beans to an officer named Jerzy Franciszek Kulczycki. Kulczycki began experimenting with the small hard pellets, adding milk and sugar to create the country's most popular beverage. Soon after, he opened Vienna's first coffee shop.
In Vienna, sipping coffee has been elevated to an art form
The experience of drinking coffee is greatly influenced by the culture of each nation, even though countries like Italy and France may also claim expertise in their manufacturing and delivery. In Vienna, the coffee shop's extensive menu of handcrafted javas means one cannot simply go in and ask for a cup of coffee.
The Mocca, also known as a Scharzer, is the only coffee that may be ordered black, while the Melange, a traditional Viennese drink, is the closest thing to a cappuccino. Other options on the menu include the whipped cream-topped Eispanner, the Maria Theresa with orange liqueur, and the Turkische served in a copper pot with sugar.
Combinations of coffee, flavored liqueurs, chocolate, and ice cream are included in the list, seemingly endless in most establishments. A glass of cold water and a silver tray serve each cup.
There are benefits to being a regular client, even though the diversity of faces at these restaurants fosters a welcoming atmosphere. Regular visitors are referred to as "stamgasts" in Austria, albeit the meaning of this word is more nuanced than that in English.
The stamgast in the coffee shop is more than simply a regular customer; they receive special consideration. A regular may count on the personnel at the coffee shop to remember their regular order and preferred table and perhaps even save one for a walk-in.
A more unusual luxury is that if a customer only wants a few bits of cake rather than a whole slice, the staff member and the customer can agree on a cake flavor and split it. This privilege may not be typical of all Vienna coffee shops, but it is practiced in some.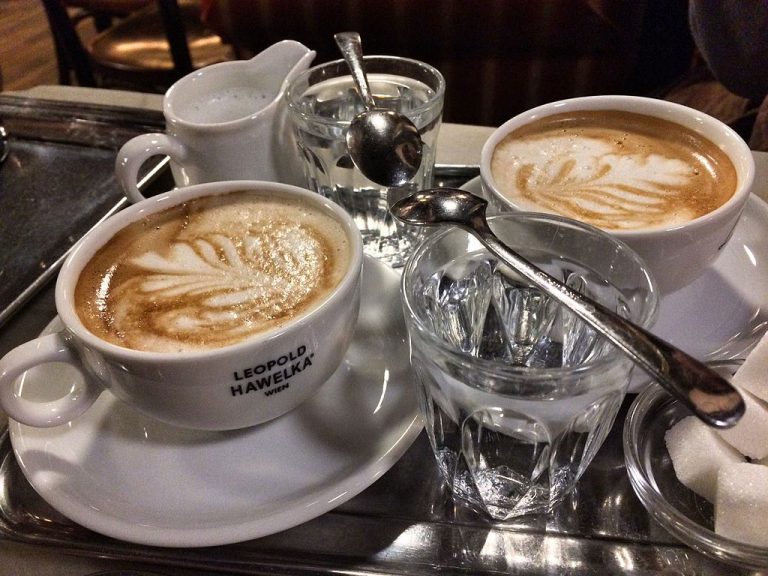 Every Viennese has a favorite store
Here is a list of three reputable Viennese coffee shops to visit in the nation's capital without making any claims to be the best.
Café Central
One of Vienna's most lavish coffee shops, Café Central, opened its doors in 1876. The interior features impressive polished stone columns that support tall vaulted ceilings, and a grand piano is positioned in the middle of the space.
The café evolved as a hangout for Vienna's intellectual crowd during the 19th century. At one point, notable individuals, including Sigmund Freud and Leon Trotsky, were regular customers. At the time, as it is now, Café Central was a well-liked hangout for people of all ages, serving the best-handcrafted pastries and coffee in a beautiful setting.
Café Weimar
Café Weimar opened in 1900 as Café Orleans in a building built in 1880. At the end of World War I, the coffee shop was renamed Café Weimer to commemorate the establishment of the Weimar Republic in Germany. The café is still a favorite hangout for artists and visitors to the nearby Imperial Jubilee Theater. Despite its understated elegance, Café Weimar is known for its warmth and welcoming atmosphere, making for a classic Viennese experience.
Café Hawelka
Café Hawelka was opened in 1939 by husband and wife Leopold and Josephine Hawelka. It was closed at the outbreak of World War II, but remained intact, and the couple picked up right where they had left off in 1945. In 1955, the café began to attract writers and important thinkers such as Heimito von Doderer, Albert Paris Gutersloh, and Hans Weigel. Josephine died in 2005 after 66 years of service at the café. Leopold greeted his customers every day until he died in 2011.