Located in the Gongliao District of New Taipei City in northeast Taiwan, Longdong Bay is the largest bay on the northeast coast. It is a popular attraction famous for snorkeling, scuba diving, and rock climbing. It is listed as one of the Seven Natural Wonders of Taiwan by a famous website known as Wandering Educators.
For more exciting images of the picturesque natural bay in Taiwan, please watch the following video:
Subscribe to our Newsletter!
Receive selected content straight into your inbox.
Geography of Longdong Bay
Longdong literally means dragon cave (龍洞). It is a picturesque bay naturally formed by the geological movement of the Northeast Coast about 35 million years ago. As its name suggests, the shape of the coastline resembles the body of a giant dragon crouching on the coast, and there is a large sea cave at the foot of the steep cliffs along the coastline.
There is also a 1.2-mile (2-km) scenic trail that connects Longdong Bay and the nearby Bitou Cape. Along the trail, there are some viewing platforms that allow visitors to take a rest and enjoy the stunning cliffs that look like beautiful golden and gray walls.
Along the coastline, there is a series of dramatic sea-eroded sandstone formations. They formed from sediment in the ocean millions of years ago, and then were uplifted due to the collision of the Eurasian and Philippine plates. These interesting rock formations are similar to those in northern Taiwan's Keelung City, such as Yehliu Geopark, Heping Island Park, etc.
Rock climbing
Stretching about 2 kilometers (1.2 miles) along the seacoast, not only is Longdong Bay the best and biggest natural rock climbing site in Taiwan, but also one of the premier sea-cliff climbing destinations in the world.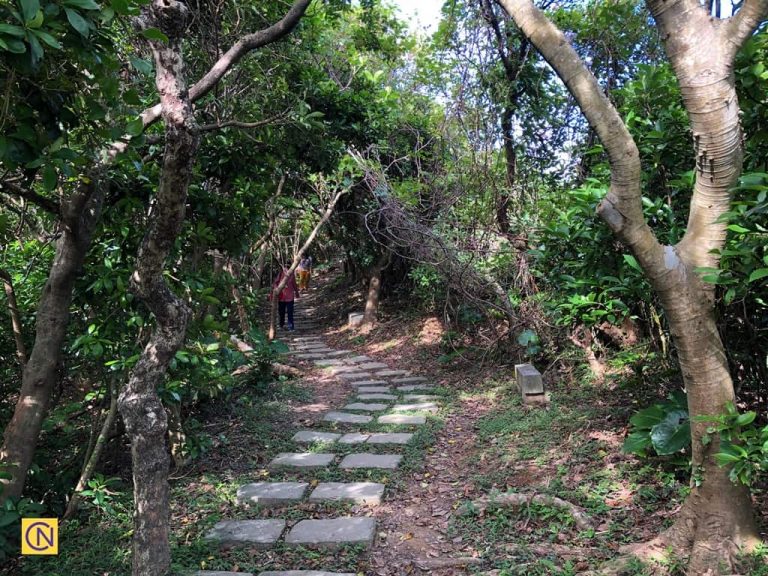 The cliffs in this rock-climbing site are the sturdiest of all. They are sedimentary "Szuling sandstones (四稜砂岩)" formed about 50 million years ago, which are perfect for rock climbing.
This rock climbing paradise is divided into nine zones, including School Gate (校門口), Clocktower (鐘塔), Long Lane (長巷), Music Hall (音樂廳), Grand Auditorium (大禮堂), First Cave (第一洞), Second Cave (第二洞), Golden Valley (黃金谷), and Back Door (後門). 
This cliff climbing site offers roughly 500 climbing routes, from easy to difficult. Therefore, it is suitable for beginners, amateur climbers, and professionals.
Additionally, a local climbing community has persistently conducted load-testing and removed unsafe bolts. What's even better, a spreadsheet with updated testing information is available online.
Diving
Clear water and rich marine ecology coupled with perfect natural barriers make Longdong Bay the most popular diving site in northern Taiwan. This area is basically divable all year round, except when there are large swells, especially during the monsoon season in winter. However, the primary dive season at Longdong is from May to September, as the ocean can be relatively chilly during other periods of time.
Because the depth of water in this area ranges from 5 meters (16 feet) to over 25 meters (82 feet), it is an ideal destination for anyone who wishes to admire the beautiful fish and coral reefs. It is said that over 80 percent of the divers in Taipei had their first diving experience or got their diving certification at Longdong.
There are many dive sites at Longdong, among them is the one close to Ho-Mei Elementary School, so it is called "Ho-Mei Elementary School" by the local diving community. It is also referred to as "Ladder," as there may be many people waiting to enter the water by the ladder during the dive season.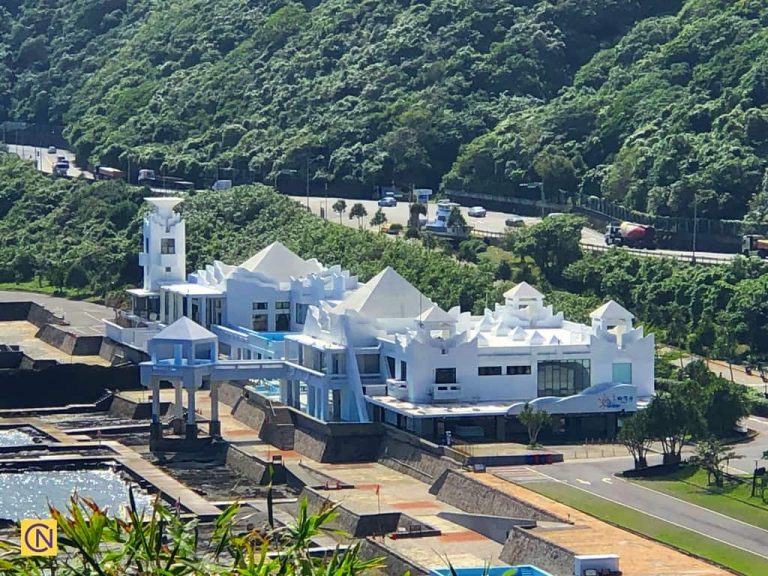 Longdong South Ocean Park
Longdong South Ocean Park (龍洞南口海洋公園), also known as Longdong Four Seasons Bay (龍洞四季灣), is another popular attraction on the Northeast Coast. Covering an area of 16 hectares (39.5 acres), this ocean park is adjacent to Longdong Bay. It is the first multi-functional outdoor natural educational center featuring a yacht harbor, natural seawater swimming pools, marine exhibition rooms, and perfect dive sites. In particular, its white Mediterranean-style architecture has added a certain charm to this ocean park.