For 10 years during the Cultural Revolution, Jiang Qing, former First Lady of the People's Republic of China, was submissive to only one person, but she wielded dictatorial powers over hundreds of millions of people. Her malevolent influence propelled her fast climb to the top. She was vindictive, arbitrary, and thoroughly corrupt. No big surprise: She eventually ended up a tragic figure of her own making.
The marriage between First Lady Jiang Qing and Mao Zedong
The bloodthirsty Mao Zedong is said to have had four wives during his life. The first wife, Luo Yixiu, died after three years of marriage; the second wife, Yang Kaihui, was accused of being disloyal by Mao and he ordered her to be executed by Kuomintang officials; he married his third wife, and before being granted a divorce from her, the 45-year old Mao married the 24-year-old Jiang Qing in a cave in Yan'an in November 1938.
Subscribe to our Newsletter!
Receive selected content straight into your inbox.
Before Jiang married Mao, she was already a veteran of the bedroom. At the age of 15, she married a child from a wealthy family in Jinan; at the age of 18, she lived with a child from a wealthy family in Qingdao; at the age of 22, she was married to a writer and film critic named Tang Na in Shanghai, but soon they fell out. Tang Na attempted suicide twice in Jinan and Shanghai, but he was unsuccessful. This matter created a big scandal.
Jiang and Mao hit it off with each other. For more than 25 years, Jiang had no visible political role. Then in 1966, Mao launched the Cultural Revolution and Jiang became one of the movement's poster girls and one of its most zealous leaders. During the Cultural Revolution, the two even sang and performed together a "grand drama" that has been stinking for ages.
Jiang Qing's personal purges and excesses, and her corrupt, vindictive crimes
During the Cultural Revolution from 1966 to 1976, some of Jiang Qing's vindictive crimes can be summarized and divided into five categories.
The first category of victims was Mao's political rivals;
The second category of victims was leaders in the literary and artistic circles whom Mao disliked;
The third category of victims was leaders of the public security organs who knew the background of Jiang's past love affairs;
The fourth category of victims was people in the entertainment industry who also knew about the background of Jiang's past love affairs, and celebrities that she envied and hated;
The fifth category of victims was the staff around her, such as her secretary and health care doctor.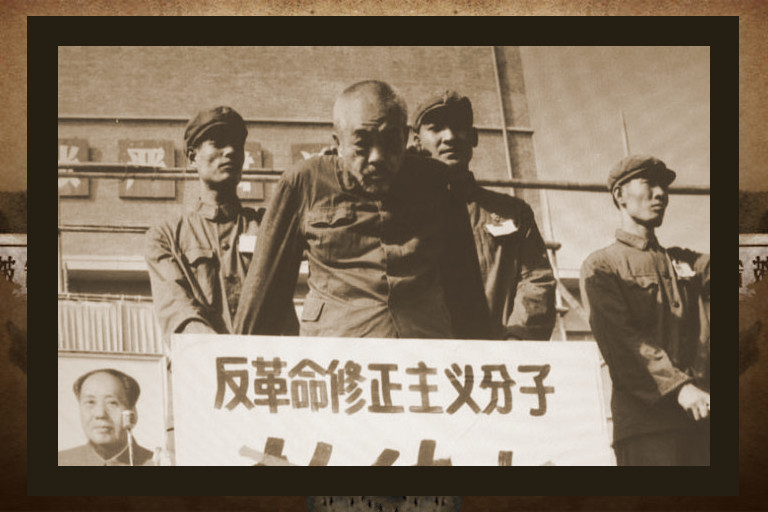 Why did Jiang Qing persecute, victimize and arrest these people? Jiang Qing often said that "first," she was a Communist Party member; "second," she was a staff member around Mao; and "third," she was Mao Zedong's wife. Being Mao Zedong's wife, she could get away with her savagery.
Eight hundred million people all knew that she could not be touched or offended. The common people knew her measure well, as did the minor officials and the higher-ranking officials. They particularly knew that the scary part of her lies was not based on her "first" or her "second" claim, but on her "third" crutch.
Self-described "Mao's Dog" Jiang was given enormous power by Mao and he let her off the leash
Jiang would say "this person is bad," and then say "that person has always been against me," or "that person has a deep hatred for me." Then she would have them arrested one by one and throw them into prison. Many people were driven mad by her, and many people were forced by her to commit suicide by throwing themselves into a river or hanging themselves!
Jiang's first secretary, Yan Changgui, wrote in his memoirs: "Mao Zedong had great trust in Jiang Qing during the Cultural Revolution, and the most powerful proof is that Mao wrote to Jiang on August 4, 1967, proposing to arm the leftists by sending guns to them. Later, this letter was conveyed to the Politburo through Jiang, and implemented throughout the Party and the whole country."
Yan Changgui said that Jiang Qing also lived up to Mao Zedong's "high expectations." For every significant strategic deployment of Mao Zedong during the Cultural Revolution, Jiang Qing responded aggressively and implemented each one with all her capabilities.
Jiang Qing said: "I am Chairman Mao's dog." This is a true portrayal of the relationship between Jiang and Mao. Mao made full use of this mad "dog" during the Cultural Revolution and cherished her debased nature very much. For Jiang, as Mao's "dog," she used this power against the people, and at the same time, she was always loyal to her "master." She did not say a word against Mao until her suicide in 1991.
Jiang Qing, losing the protection of her master, is quickly dealt with, arrested, and sentenced
On September 9, 1976, Mao Zedong died. Soon after, Jiang Qing immediately fell from power and was arrested at 8:30 a.m. on October 6, 1976.
On January 25, 1981, Jiang was sentenced to death, with a reprieve of two years by the Special Court of the Supreme Court of the Communist Party of China. She was thrown into Qincheng Prison.
The court found Jiang Qing guilty on the charges : (1) Attempts to seize power by organizing militant coups; (2) Subverting the government; (3) Counter-revolutionary propaganda and incitement; and (4) Treason.
Jiang Qing appeared unrepentant from beginning to end and did not confess her guilt.
In her final statement, Jiang Qing said: "Now you arrest me and try me to smear Chairman Mao. The person you are attacking is Chairman Mao. There is a saying in my hometown: 'To beat a dog, you must first see who his master is.' So now you are beating the master because I am Chairman Mao's dog. For Chairman Mao, I am not afraid of your beating. On Chairman Mao's political chessboard, I am just a pawn, but a pawn that has crossed the river."
On May 14, 1991, it is said that Jiang Qing committed suicide at the age of 77.
As with everything related to the CCP, controversy surrounds her death
Based on the earliest report from Time magazine published on June 1, 1991: "Jiang Qing hanged herself" because "she was unwilling to endure the pain of throat cancer." However, they did not disclose the source of the news.
It was later said that while in prison, Jiang was diagnosed with throat cancer, and she hanged herself in a bathroom of the hospital.
In 2012, He Diankui, the former director of the Supervision Department of Qincheng Prison, revealed in an interview with China News Weekly that Jiang Qing committed suicide by taking sleeping pills: "After careful preparation, she saved up on sleeping pills and committed suicide."
Mao Zedong and Jiang Qing were the creators, perpetrators, and engineers of the perfidious and unrestrained savagery of the 10-year-long Cultural Revolution inflicted on the people of China and the world.
Translated by: Chua BC