In December 1948 (the 37th year of the Republic of China), many intellectuals were faced with a major life choice of whether they should go with the Kuomintang or stay in Beijing under the Communist Party of China. On the day that President Mei Yiqi left Tsinghua University, he met Professor Wu Zelin at the gate of the school. Professor Wu asked him if he was going to leave. Mei Yiqi replied: "I must leave. I am leaving to protect Tsinghua's fund. If I don't leave, I will have no way to protect this fund."
Professor Mei Yiqi abandoned university president privileges
Mei Yiqi was among the first group of publicly-funded students studying in the United States. He was a favorite student of Zhang Boling, founder of Nankai School, and after studying at Baoding Higher School, he was sent to the United States as one of the first group of Boxer Indemnity Scholarship Program students. He had been familiar with the scriptures since he was a child and was good at reciting. According to the recollection of his colleagues, Professor Mei Yiqi once said: "If any of us recites any Chinese scriptures with mistakes or omissions, I can continue to recite the chapters."
Subscribe to our Newsletter!
Receive selected content straight into your inbox.
After taking office as the president of Tsinghua University in 1931, Mei Yiqi, being a righteous man, abandoned many privileges of the president in daily life such as having his telephone bills paid for, receiving two tons of coal per month, free rice and noodle supplies, and money to pay the salary of a domestic helper. All these expenses could have been paid by the school, but he paid all of them himself. During the difficult years of the Anti-Japanese War, when he was President of Southwest United University (a consortium of China's best universities), he rented a cheap and simple bungalow like regular professors and the space was very narrow.
Mei Yiqi used the reverse side of used paper when drafting reports and official letters. He seldom used the president's special car and his normal transportation was his own two legs. He never allowed his family members to use the car for private use. He never took advantage of a penny of public funds as he believed that "this is a concept and system problem."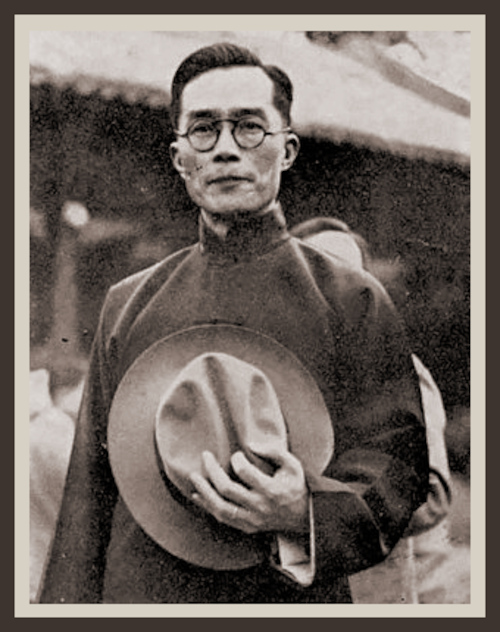 Moved to the United States and set a meager salary for himself
In 1949, Mei Yiqi, who was over 60 years old, left for the United States to manage Tsinghua's Boxer Indemnity Fund there. According to him, Tsinghua University needed to budget the money for books, appliances, and professors. The salary he set for himself was the same as that of the students studying in the United States, which was 300 Yuan, (US$42.00) and he rejected the 1,500 Yuan (US$210.00) given to him by the authorities of the Republic of China (under the Kuomintang).
In November 1955, Mei Yiqi returned to Taiwan from the United States and began to establish the Tsinghua Institute of Atomic Sciences and Tsinghua University in Hsinchu City. He held a huge amount of money in the Tsinghua Fund, but the money he earned in Taiwan could not even take care of his family's finances, which were very tight.
Guarding heroic wife's street stall Han Yonghua
At that time, his wife Han Yonghua was 62 years old and had to stay in New York to work. She worked in a hat factory, assisted at the counter in a jewelry store, and went to the hospital as a nurse to take care of blind children. She made a living by herself for four consecutive years.
In 1939, a group of students from Southwest Associated University was about to graduate, and Mei Yiqi was invited to give a final lecture. Mei Yiqi readily accepted, and the class time was set. It was almost time for class and Mei Yiqi, who is always strict and punctual, had not arrived yet.
The students were wondering if he had met with an accident. When the classroom door opened suddenly, Mei Yiqi who was out of breath ran in and walked to the podium, still panting heavily.
Mei Yiqi explained to the students: "I was just guarding my wife's pastry stall on the street while she went to buy some supplies. I told her that I have a class at 8:00 but she still had not come back by 7:30. I had no choice but to leave the stall and come here. Fortunately, the snack is selling well today so we can make some money!"
After finishing speaking, he smiled shyly, but the students could not help but shed tears.
Traveled by postal truck instead of plane and arrived almost late for a conference
One day in July 1941, Mei Yiqi was in Chengdu when he suddenly received a call from Southwest Associated University asking him to return to Kunming to attend an educational conference. After an airline friend learned about it, he bought an air ticket for Mei Yiqi.
On the day of the conference, Mei Yiqi still had not arrived. The school hurriedly prepared an emergency agenda in the event that Mei Yiqi would not be attending the event. However, just 20 minutes before the conference started, Mei Yiqi hurriedly entered the venue with an apologetic look.
It turned out that although Mei Yiqi already had a plane ticket, he suddenly had the opportunity to travel by postal truck three days before he departed for Kunming. He thought he could save a few hundred dollars for the country, so he refunded the plane ticket without hesitation. Unexpectedly, the postal vehicle broke down halfway and his journey was delayed, causing him to almost miss the conference.
Impoverished and could not afford medical and funeral expenses
During the Anti-Japanese War, Mei Yiqi used various methods to ensure that the teachers and students in the school had a continuous food supply. He formed the Tsinghua Service Club, used the production surplus to subsidize the living expenses of his colleagues, and even paid everyone an extra month's salary at the end of the year. His own family was so poor that he had to ask his wife to set up a street stall to supplement his family's living expenses.
Mei Yiqi usually divided his monthly salary into three parts: One for his parents, one for his younger brothers, and one for his wife and children, while he himself was very poor. His wife, Han Yonghua, had no financial power at home and would live with whatever amount her husband gave to her.
On May 19, 1962, at the age of 73, Mei Yiqi died at the National Taiwan University Hospital. When he was hospitalized, he had a bag that he carried with him. He kept the bag in a secret place under the bed. After he passed away, his secretary opened the bag. Inside it was the accounts of the Tsinghua Fund which were clearly listed and nothing else. This really stunned everyone.
What is even more poignant is that Mei Yiqi could not even pay for medical expenses and his family could not afford the funeral expenses. Later, teachers and students of Tsinghua University contributed to pay for these expenses.
Jiang Menglin, the former Minister of Education of the Nationalist Government, wrote an inscription praising Mei Yiqi: "Dedicated to academics all his life, and spent fifty years serving the country." This praise acknowledges how much Mei Yiqi had contributed and how appreciated he was. His perseverance in learning and cultivation is a model for future generations to learn from.
Translated by: Chua BC