As one of the eight new sceneries of Alishan, Ogasawara Mountain (Xiaoliyuanshan 小笠原山) is one of the most striking parts of Alishan National Forest Recreation Area in central Taiwan. It was named after Ogasawara Tojiro, the first Japanese technician who surveyed this area in 1904 during the Japanese colonial era (1895-1945).
The picturesque trail and magnificent lookouts
There is picturesque scenery on both sides of the well-paved trail in Ogasawara Mountain. There are also a couple of excellent lookouts along the beautiful route. The first one is near the Alishan Forest Railway's Duigaoyue Station. Then, after walking about 20 minutes uphill from Zhushan Station, visitors can see a striking nine-turn wooden passage along the trail.
Subscribe to our Newsletter!
Receive selected content straight into your inbox.
For more exciting photos of Ogasawara Mountain, please watch the following video.
Another magnificent lookout in the pattern of the Eight Trigrams (八卦, the bagua, which means "eight symbols") is close to this wooden passage in a zigzag shape. This unique platform comprises wooden planks and is called the Ogasawara (Xiaoliyuan) Mountain Observation Deck. 
With an altitude of 2,488 meters (8,162 feet), this deck allows visitors unobstructed views in all directions. Not only is it a great location to view the sunrise, but it is also an ideal spot to take in the breathtaking view of the peaks of Central Mountain Range, Yushan Mountain Range, and Alishan Mountain Range, three of Taiwan's significant ranges. 
Cloud watching and stargazing
In addition to appreciating the breathtaking view of the mountains and beautiful scenery, Ogasawara Mountain is a great destination to enjoy the sea of clouds, one of the five stunning views of Alishan.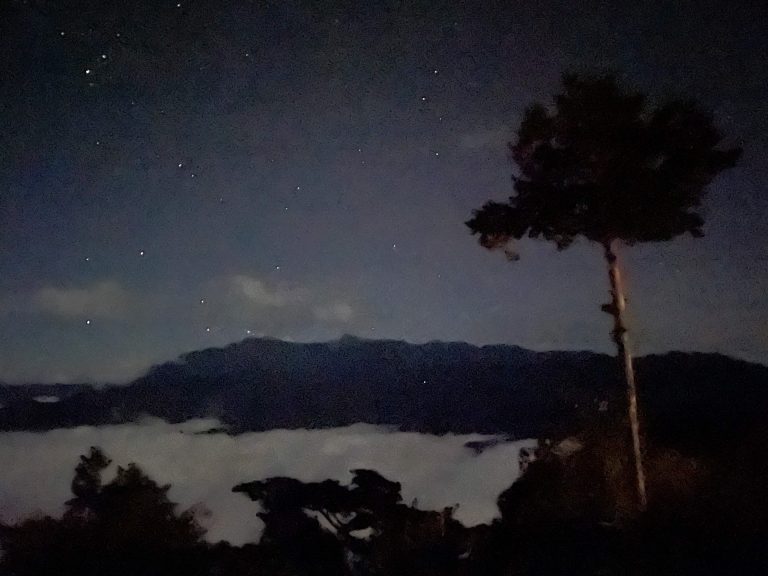 On the other hand, Ogasawara Mountain is one of Taiwan's best locations for stargazing. It would be an unforgettable experience to view the spectacular star-embellished night sky above a sea of clouds while lying down on the eight-diagram pattern at the Xiaoliyuan Mountain Observation Deck.
Therefore, it is advisable to visit Xiaoliyuan Mountain twice on the same trip, once in the morning or during the daytime, and again in the evening. This way, you can appreciate the magnificent sunrise and picturesque mountain view in the morning, and take in the star-embellished sky in the evening.
Bird watching 
There are over 100 species of native birds in Alishan, and most of them can be found in Ogasawara Mountain. Ogasawara Mountain is among the most popular locations where visitors can see wild Mikado pheasants (帝雉). Even better, they are commonly found in pairs, with one male mating with one female.
Referred to as "A King Amidst the Misty World (迷霧中的王者)," the Mikado pheasant is also called Syrmaticus mikado, or Hei Chang Wei Chih (黑長尾雉). It is physically the largest of Taiwan's endemic bird species. This precious gamebird is listed on the prohibited trading list by the Convention on International Trade in Endangered Species (CITES). It is also classified as a level two protected species in Taiwan.
As the Mikado pheasant habitat is well protected in Taiwan, the administration of Yushan National Park estimated that the number of Mikado pheasants around Alishan National Forest Recreation Area, one of the main habitats of this endangered species in Taiwan, currently exceeds 10,000.
Moreover, the Mikado pheasant and the Formosan magpie (Taiwan blue magpie, 台灣藍鵲) have been commonly considered national birds of Taiwan since the Taiwan National Bird Vote online campaign was conducted in 2007.
Mikado pheasants and Yushan (Jade Mountain) have been featured on the country's NT$1,000 banknote since July 2000.
Alishan mahonia
Alishan mahonia is a unique medicinal plant that visitors may like to identify when visiting Ogasawara Mountain. It is also known as Mahonia oiwakensis, Hayata, Alishan mahonia, Yushan mahonia, or Two-color leaf mahonia.
However, it is commonly called the "Alishan Ten Great Merits" in Chinese (阿里山十大功勞) by the local people, as the whole plant, including roots, stems, leaves, and fruits, have medicinal properties that can treat many diseases. The use of "ten" is to feature its versatile application, not just 10. After all, 10 in Chinese denotes abundance and perfection. 
Mahonia oiwakensis is an evergreen shrub with erect stems, which usually grows 2.5-3.5 meters (8.2-11.5 feet) tall. There are four species of Mahonia oiwakensis endemic to Taiwan. They grow in broad-leaved forests in the mid-to-high-latitudes of 1,500-3,500 meters (4,921-11,483 feet) above sea level. They can also be cultivated as ornamental plants in gardens.