The South of France, also called "as le Midi," is famous for its lovely weather, verdant landscapes, historic castles, wine, and much more. In addition, regions like the French Riviera offer trendsetting seaside holidays with private beach clubs, stylish boutiques, and fabulous cuisine.
But there's more; scratch the surface, and you will find the gem beyond France's popular tourist destinations. The South of France offers a rich history and fascinating heritage reflected in the people's architecture, food, and laid-back traditions. 
Subscribe to our Newsletter!
Receive selected content straight into your inbox.
You've probably heard about the French Riviera region (Côte d'Azur). Still, the South of France has other captivating parts like Dordogne, Occitanie, Provence Alpes, and Aquitaine. There is something for everyone. 
Regions to visit in the South of France
1. Dordogne
Also known as Périgord, Dordogne is a visitor's paradise. This region in Southwest France is known for its medieval villages, stunning churches, beautiful landscapes, and numerous caves (it has the most caves in France).
Only a two-hour drive from the Bordeaux Airport, Dordogne was built around the Dordogne River. The valley surrounding the river is a dream come true for nature enthusiasts, hikers, and photographers. Plus, you can take in the stunning hills, cliffs, and forests from the sky in a hot air balloon. 
There are also dozens of charming villages across Dordogne, such as Beynac-et-Cazenac, Rocamadour, La Roque-Gageac, and more. Each clifftop village has unique cuisine, churches, nature activities, and historical sites for you.
Better yet, there is a reason this region is called the "Land of 1001 Castles". Hundreds of castles exist in Périgord, and most are open to the public. Château de Beynac, Château des Milandes, and Château de Castelnaud have a great history. You may even catch a festival or medieval reenactment if you are lucky.
Périgord is also famous for its cuisine, so allow your tastebuds to experience foods like foie gras, Périgord black truffle, Quercy lamb, walnut pie, and more.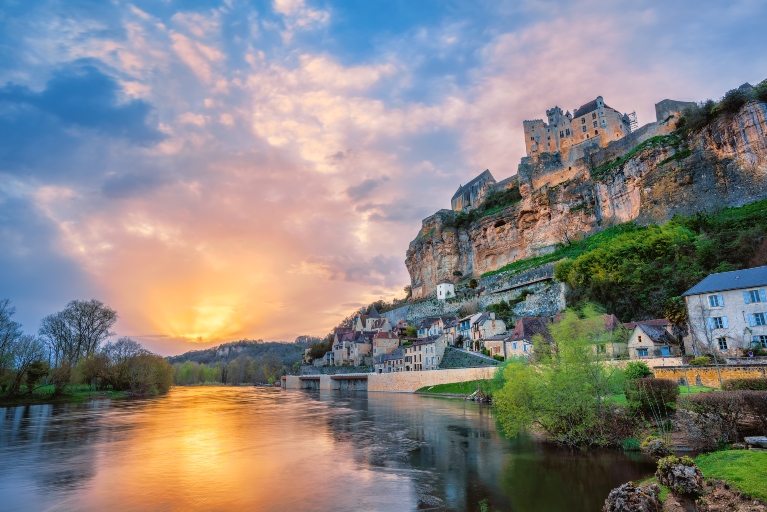 2. Aquitaine
Nouvelle Aquitaine is a fantastic place for families, couples, and retirees. It offers numerous beaches, lush landscapes, historic villages and towns, vineyards, and stunning mountains.
There are several other reasons to visit the cities and villages in South France. For instance, Bordeaux, the capital of Aquitaine, is the finest embodiment of 18th-century Europe. This city offers ancient architecture, beautiful shops, boat tours, a cafe lifestyle, historical Bordeaux, and above all, wine. It is one of the most famous wine-producing areas in the world.
Aquitaine's countryside may be known for its vineyards and wine, but remember to take in its fantastic scenery. You can enjoy the beautiful town of St. Emilion, the pine-crested Les Landes forest, the enchanting landscapes at Charente, and the tremendous views of Pilat Dune.
The 250-km Aquitaine coastline also has fantastic beaches such as Biarritz. Empress Eugenie once lauded Biarritz as the "King of beaches and the beach of kings."
In Dordogne, food lovers can enjoy chocolate, gastronomic products, truffles, porcini mushrooms, Bergerac mushrooms, foie gras, and more.
3. Occitanie
Occitanie is another fascinating region in Southern France. Sandwiched between the Mediterranean Sea and the Pyrénées mountains, Occitanie is a tourist's haven. Photographers, nature lovers, historians, hikers, and beachgoers can have a field day in this region.
Southern France has countless stunning destinations, such as the Episquette beach and historic cities and villages from Toulouse, Albi, Montpellier, and Midi-Pyrenees to Saint-Cirq-Lapopie, Nimes, and Carcassonne.
Besides its incredible landscape and outdoor activities, this region is renowned for its vineyards and gastronomic products. You can enjoy Spanish-influenced cassoulet, truffles, Languedoc-Roussillon wines, Roquefort cheese, byrrh (pronounced beer), and more.
History lovers can also be taken back in time by exploring the region's architecture, castles, churches, paintings, and ancient sites like Carcassonne. Places like Pont du Gard and the Arena of Nimes will also transport you back to Roman times.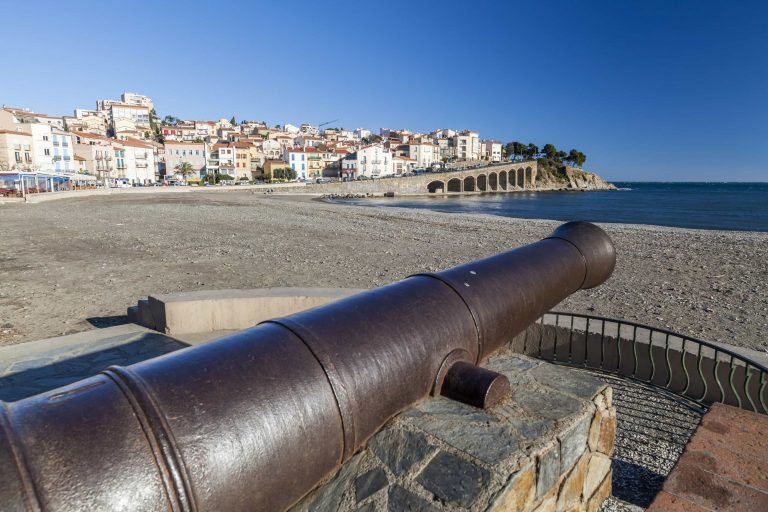 4. Provence
Like the mentioned top destinations in Southern France, Provence teems with lush landscapes, beautiful villages, historical monuments, unique traditions, lovely foods, and wine!
For instance, Avignon, a historical city full of churches, castles, and convents, is a fantastic place for history buffs. The town was once a seat for popes, and it has the magnificent Palais des Papes, a magnificent gothic palace for popes built in 1335.
Cities like Avignon and Arles are lively, no doubt. But you can also explore the colorful rustic villages like Uzes, Roussillon, Gordes, Saint-Rémy-de-Provence, Valensole, and more. For example, Camargue in Provence is well-known for its wild white horses, pink flamingos, black bulls, and more than 400 species of birds.
Arty Aix-En-Provence is another excellent town renowned for its beautiful alleyways and squares. The moniker "the city of a thousand fountains" perfectly fits the place. More interestingly, art buffs can tour the workshop of Paul Cezanne — a famous post-impressionist painter.
Speaking of art, Petit Palais Museum in Avignon is home to over 300 sculptures and paintings, such as Madonna and Child by Sandro Botticelli.
Exploring the South of France
There are hundreds of places to visit South of France. You can explore region to region, castle to castle, beach to beach, or festival to festival; it doesn't matter. What matters is that there's something for everybody to enjoy in the South of France.