Apple's Books service now offers audiobooks with text-to-speech artificial intelligence narration, a development that might profoundly affect the multibillion-dollar audiobook market, which includes industry leader Amazon's Audible.
On its website, Apple claims that the new "digital narration technology" would lower "the cost and complexity" of generating audiobooks for authors and publishers, therefore increasing "the creation of audiobooks more accessible to everybody."
Subscribe to our Newsletter!
Receive selected content straight into your inbox.
According to Apple's website, the functionality is initially only accessible for romance and fiction publications, and it names Madison and Jackson as the two possible digital voices. (Two other voices, Mitchell and Helena, are coming for nonfiction works.)
Apple is curious about the book genres its computer narrators can handle, and the service is now only available in English. According to the organization's website, the primary genre must be romance or fiction (literary, historical, and women's fiction are acceptable; mysteries and thrillers, as well as science fiction and fantasy, are not currently supported).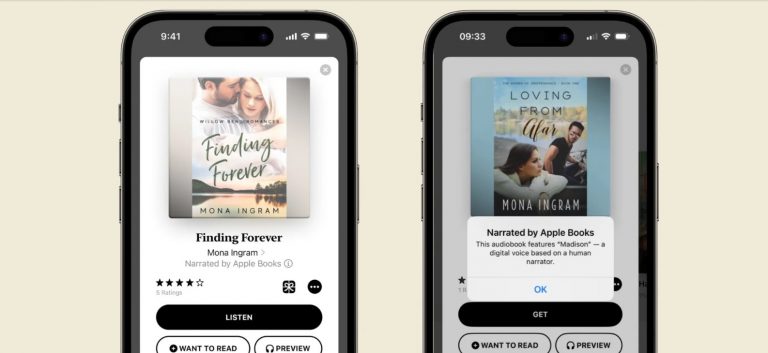 Audiobooks have become very popular
Since audiobooks have become so popular, technological companies have vied for a piece of the action. As a result, last year's sales increased by 25 percent and totaled more than US$1.5 billion. By 2030, according to industry sources, the worldwide market may be worth more than US$35 billion.
The turbulent purchase of Twitter by Elon Musk and the layoffs at Meta, which dominated headlines at the time, caused Apple to postpone the new feature's debut, according to The Guardian, which broke the story of it first.
Searching for "AI narration" on the company's Books app reveals the list of titles the program covers, which are "narrated by artificial voice based on a human narrator."
Apple has reportedly contacted small publishers about narrating their books and has offered to cover the associated costs while giving writers royalties.
According to Apple's website, publishers and writers retain the right to produce additional audiobook editions if they desire.
Contrary to rival Amazon, which states explicitly in its Audible regulations that submitted audiobooks "must be narrated by a human," Apple has a different stance on computer narration. Notably, text-to-speech support for Amazon Kindles was initially available, but it was removed a decade ago due to copyright issues.
According to this Wired article, at least one AI-narrated audiobook had previously surfaced on Amazon's site, but it was taken down following complaints.
Spotify said that Apple's "cumbersome" procedure for buying audiobooks "makes it harder for you to find your next favorite author or book" on a newly formed website, Time to Play Fair, designed to defend its stance.
It claims that because of Apple's practices, "writers and publishers are now being penalized, in addition to consumers being harmed."
Apple defended the denial by claiming that Spotify's audiobook offering violates the policies governing online transactions and consumer communications.
Although Apple already sells audiobooks, the most recent action will likely add to concerns about its anti-competitive behavior. Following accusations that Apple restricts competition, lawmakers in Europe and the U.S. have increased their scrutiny of the business.
Apple charges a 30 percent fee on all services and goods sold through its app store. A recent antitrust action involving Epic Games brought to light the app shop's stringent rules and enormous revenue.
Apple's high-margin services division, which includes app revenues and music, gaming, and streaming services, recently brought in US$78.13 billion.