"I am so homesick — I would love for you to invite me into your home to share a home-cooked meal that I have not had for a long time." Such were the words posted on social media by a wandering and despondent Hong Kong exile.
Under the pressure of the National Security Law in Hong Kong, Wong Sir, a former secondary school teacher of Liberal Studies and Visual Arts, found that his contract was not renewed due to anonymous complaints about his political cartoons and he was forced to go into exile in Taiwan. He currently has been unable to return to his family in Hong Kong.
Subscribe to our Newsletter!
Receive selected content straight into your inbox.
In July 2022, he left to study at the Institute of Interdisciplinary Arts at the National Taipei University of the Arts in Taiwan and started a new chapter in his life journey.
A fresh start in life: embracing Taiwan with a paintbrush
"When I came to Taiwan to study, I spent a lot of time alone in a rented room, ordering takeaway food, and I hadn't cooked a meal for a long time. I spent Christmas and New Year with my family and friends in the past, but I'm going to spend it alone this year, so I'm starting to feel homesick."
Wong Sir spoke frankly about his feelings, and to combat this loneliness, he launched a new art project on New Year's Eve, 2023.
The project's theme is "Painting for Dinner — Add an Extra Pair of Chopsticks." His planned vision was to visit different Taiwanese families and use his art skills to paint lasting memories of their encounters. "Painting" in exchange for "dinner" was Wong Sir's desire to exchange and engage with each other's authentic life experiences — a Taiwanese family and their food traditions for his artistic prowess.
Two weeks after launching this art project, Wong Sir was inundated with invites to dinner. His fans, however, turned out to be Hong Kong residents who had immigrated to Taiwan. Despite these heart-warming responses, Wong Sir added them to his waiting list; his goal was to reach out to his local Taiwanese friends first.
He realized that it is not easy to start life in a new place:
"Some people already know me from Hong Kong! But when I came to Taiwan, 90 percent of my acquaintances didn't know me. I still want to continue drawing political cartoons, but it will have to be after the election since I don't know much about current events in Taiwan.
"I want to start afresh, and I hope to take this opportunity to find a group of people who don't know me and reintroduce myself, which is also my first step to embracing Taiwan and integrating into this place."
Building relationships with trust; feeling at home on Christmas Eve
On December 24, 2022, Wong Sir was lucky enough to be invited by a pair of Taiwanese brothers, Michael, a photographer, and his brother, a chiropractor, along with his sister-in-law and his brother's apprentice. Michael had seen Wong Sir's post on social media and reached out to him to invite him over for dinner.
Some of his friends raised objections, worrying that it would be unsafe for him to go to a stranger's home. Wong Sir laughed: "I don't know why, but I trust Taiwanese people, and I have nothing to be fooled by." Nevertheless, he was happy to attend the appointment and got quite a few surprises.
"It turns out Michael knew a lot about cooking and cooked me a special eclipsed rice made with Hong Kong rose dew. Accompanied by this was barbecued pork, which was cooked at a low temperature for four hours and sealed in a vacuum; it was soft and satiating in the mouth."
So for his first meal, Wong Sir experienced a Hong Kong-style meal made by Taiwanese hands — barbecued pork rice and a soft-boiled egg, a taste of home that he hadn't had in quite some time.
In addition to the Hong Kong-style food, he was treated to a Taiwanese chicken soup with clams and garlic. Following this meal, Michael took him into the back garden for fried fish, served with a warm, specially blended mulled wine to add warmth to the cold winter day.
He was grateful for the warmth and hospitality of Michael's family. As they opened up and talked, Wong Sir used his experience as an example to give Taiwanese people a better understanding of the current situation faced by Hong Kong people.
Michael, the photographer, had taken a portrait of his family, and this photo became the blueprint for Wong Sir's painting. His first experience in Taiwan with "Painting for Dinner — Add an Extra Pair of Chopsticks" gave Wong Sir the confidence to look forward to his next meal.
Tasting authentic Taiwanese flavors and anticipating more future exchanges
His second invitation was received from a typical Taiwanese family; a mother and her son, a senior high school student. As soon as he entered the home, he felt a strong sense of homeliness. He was impressed by a bottle of more than 50 percent sorghum wine, accompanied by a special mullet roe snack.
As a treat, he was served a dessert of Niu Wen Shui, a traditional Hakka dessert. "It's a bit like Hong Kong dumplings, like flattened balls, but it's much more conventional, and the owner said it's made by hand from home-milled rice, which takes a lot of work.
"If I hadn't visited the Taiwanese family's home, I probably wouldn't have tasted such authentic Taiwanese snacks and experienced their diverse culture."
The Taiwanese family also bought a special dish of roast duck for Wong Sir, who was a bit embarrassed by the Taiwanese impression that typical Hong Kong-style food is based on roasting and wanted to bring him a taste of home.
"A home-cooked meal is fine; my Taiwanese hosts needn't spend too much on treating me. I'm already content to taste a home-cooked meal!"
Wong Sir thought the dinner table was an excellent way to interact with Taiwanese people and an opportunity to learn more about them. During an exchange with the second Taiwanese family, he learned how the Taiwanese viewed the anti-SEC incident in Hong Kong:
"I know from their words that they think Hong Kong people are brave for what transpired in Hong Kong during 2019, and they worried about our safety and wholeheartedly welcomed us.
"But from a parent's point of view, they may still be uneasy about the next generation going out if their children's freedom is threatened one day. But of course, in the eyes of a child, it is simply something about defending their home and their freedom. So this also shows me the impact of the Hong Kong incident on the next generation in Taiwan."
"I hope this art project can last for more than six months. I would love to know how friends in different parts of Taiwan celebrate their festivals, such as the Chinese New Year, Lantern Festival, and Mid-Autumn Festival, to name a few.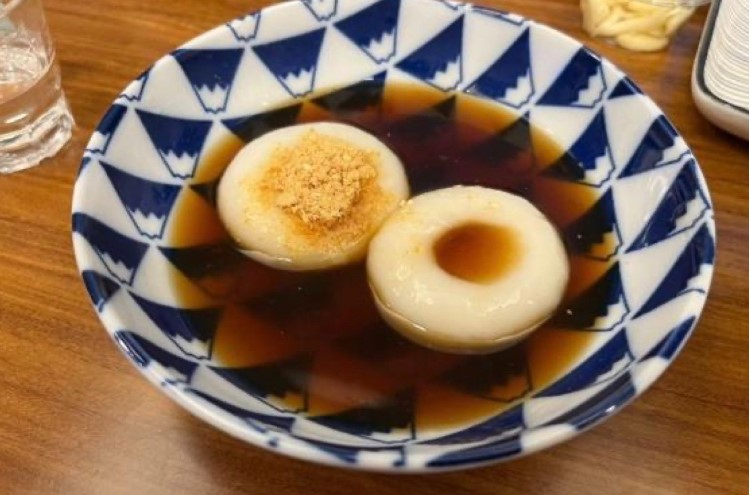 "Are these festivals different from those in Hong Kong?
"Do their ways of celebrating festivals differ in Taipei, Taichung, and Tainan? These are all the things I would love to experience."
Wong Sir mentioned that he would like to meet all Taiwanese people, not only city families, but also the indigenous people living in villages and the outer-lying islands in Taiwan. He also stressed that friends who share a house are welcome to contact him. He believes the "Painting for Dinner — Add an Extra Pair of Chopsticks" project will provide a different living and social experience.
His long-term future goal is to eventually have this series of works exhibited or published for the general public to witness and share in his experiences throughout Taiwan.
After immersing himself in a foreign country, Wong Sir is now in a more relaxed frame of mind than when he first arrived.
"At first, I felt uncomfortable and emotional when conversing with other Hong Kong people. We would all hug each other and shed tears. Now, however, I realize it is time to embrace our situation and try to integrate into the new culture.
"As for me, I did this by starting with a meal, the oldest and the most tried and true method of getting to know others — culturally, socially, intellectually, and emotionally.
"This has become a most rewarding, hands-on experience of living and integrating with the Taiwanese people, and they, in turn, were learning about me and my past Hong Kong culture."
Translated by Audrey Wang and edited by Maria Meyer