Finding a new hairstyle for your face shape can be challenging. You can choose the latest hairstyle, but it won't look as pretty if it doesn't fit your face shape. So selecting the most flattering style for your face shape is advisable instead of going for the latest trends. 
Expert stylists agree that some haircuts look flatter on some face shapes. Instead, they recommend hairstyles that accentuate your features (or downplay some parts of your face shape).
Subscribe to our Newsletter!
Receive selected content straight into your inbox.
Hairstyles can reflect your personality, so it's important to rock your best style. However, this doesn't mean the following recommendations are rules cast in stone. The rule of thumb is to choose a style that makes you feel comfortable and confident.
What's your face shape?
Before you select the best hairstyle for your face shape, it's essential to determine its shape. Generally, there are six categories of face shapes: oval, square, rectangle, round, diamond, and heart-shaped.
If you can't figure out your shape by looking at the mirror, take a photo with your hair tied back. Then trace around your face and see which shape it closely looks like.
Alternatively, you can measure your face using a ruler. Here you should use three criteria: the widest part of your head (cheeks, forehead, jaw), your jawline (round, pointy, square), and the length of your face (short or long). Then, try to find the proportions and match your face to any of the mentioned shapes. For example, if the proportions of the length of your face match or come close to the width, your face is probably square or round.
Remember, not everyone falls into a neat face shape category. Some people are a combination of more than one face shape.
The best hairstyle for your face shape
Long faces
People with rectangular face shapes should try to downplay the appearance of their sharp jaw without making their faces look even longer.
For women, the best haircut for long or rectangular faces is long hair with a fringe, a bob with an edge, and medium waves with a frame. However, some stylists recommend against overly long hair that will make your face look longer. If you choose the longer hairstyle, style your hair with curls, waves, or blowouts. Otherwise, opting for a shorter length with lots of volume is advisable.
Oval faces
Oval shapes can go with almost any hairstyle because of their proportional appearance. However, you can use a bob, medium-length hair, and light waves to accentuate your features.
If you want longer hair, you can choose styles with curls or waves to prevent your hair from dragging down your face. But more importantly, focus on a suitable hairstyle for your hair texture.
Square faces
A square shape has a strong jawline, wide cheekbones, and a broad forehead. These strong cheekbones and jaws on a square face can make some women feel insecure.
So it is advisable to soften sharp corners to get that round look. Styles that work best include long curls, multiple layers, and a short sideways fringe. If you want a shorter length, you can go for a short layered bob, but remember to add side-swept wispy curtain bangs.
Round faces
Like square faces, round faces have almost the same width and length. However, they also feature prominent and rounded cheeks. So the best hairstyles for women with round faces are those that try to make your face look longer. 
Try to avoid cutting your hair above the level of your chin. Instead, go for styles like long straight hair, a wavy ponytail, or a long fringe.
On the other hand, don't go for bobs and single-length cuts that may add more width to your cheek area.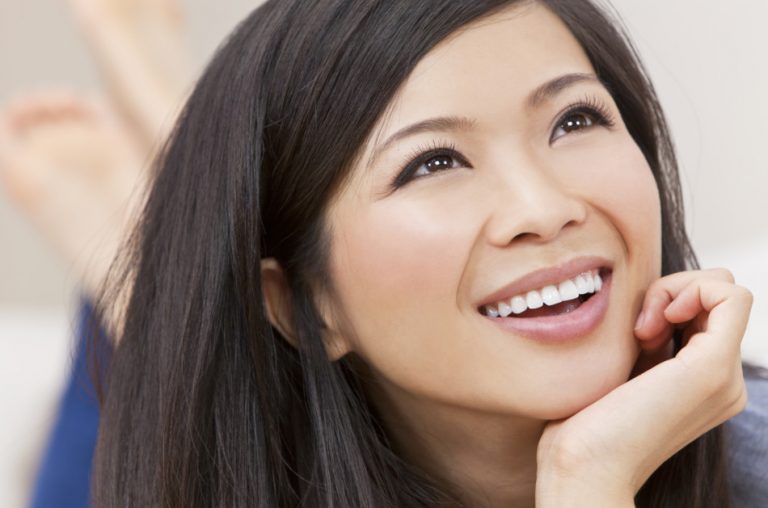 Diamond-shaped faces
Ladies with diamond faces should try to soften their cheeks and avoid drawing attention to straight lines. The best style for diamond-shaped looks includes medium length with side parting, a pixie style, or a thick fringe with waves.
Also, a chin-length bob will help you accentuate the appearance of your jaw. And a pulled-back ponytail will show off your cheekbones while highlighting the appearance of your forehead.
Heart-shaped faces
These are v-shaped faces defined by a narrow jawline and chin. So try to find a hairstyle that decreases the width of your brow while increasing the width around your chin. The hairstyles should also draw attention to your eyes and cheeks.
These hairstyles include medium-length curls, medium-length flow, or side ponytails. Other styles are a side-parted pixie cut and a bob or lob haircut that will show the fullness of your jaw.
Remember, if you have a more prominent forehead, experts recommend bangs. They can be flattering for heart-shaped faces with a prominent forehead. However, charges are difficult for ladies with thick or very curly hair.
Your comfort is paramount
As mentioned, the best hairstyles for face shapes aren't complex rules. Choose a hairstyle that makes you feel comfortable and confident. It won't do you justice if you rock a style that makes you feel unnatural.
Also, your stylist can tailor specific haircuts to match the shape of your face. Or you can go for those universal hairstyles for all face conditions. So don't be discouraged about a trending hairstyle that doesn't "fit" your face.
The bottom line — no hairstyle or beauty industry tips should trump how you feel about yourself.