Teaching your children table manners is extremely important in their upbringing. But if you're struggling to teach your children how to behave around the table or don't know what proper table etiquette is, check out this article.
When teaching a child table manners, one of the most challenging roadblocks as a parent is knowing what to teach and how to teach it properly. Depending on how you teach your children, they could get the correct etiquette or fail to behave appropriately at the dining table.
Subscribe to our Newsletter!
Receive selected content straight into your inbox.
This article talks about the simple but proper techniques to teach your child about table etiquette without making it too complicated. By following these techniques, you won't have to experiment with the lessons you are trying to teach your child.
Being straightforward and direct is very important when teaching table etiquette. However, if you aren't sure about some of the disciplines, this article will teach you the proper procedures.
Before everything else, let's learn about table manners and why they're so important.
What are table manners?
Table manners are proper procedures to be practiced around the dining table. They are a form of courtesy, respect, and discipline that you can practice at home and when outside.
When applying table etiquette, you show the people you are dining with that you are well-mannered and civilized. In addition, learning table manners when you are older is more complex than learning them when you are young.
This is because you'll have to make a conscious decision with every small detail regarding the dinner table. If you learn them as a child, you'll find it easier to practice them around the dining table.
Why are table manners important?
Table manners are important because they teach courtesy, respect, and discipline while showing that you are well-behaved and know how to act around the dining table later in life.
People are still judged by how well they know how to act around the dining table, especially in formal settings such as meeting new relatives or business meetings. Although that practice doesn't always follow today, showing manners helps build discipline and respect for the dinner table.
The dinner table is for more than just food. Important family decisions and conversations often take place around this table.
Techniques you can follow to teach your child etiquette
Some of these table manners have a deep history in Western culture. Teach your child how to practice proper forms at the table when they are young. This will help them grow up respectful and with good character.
Here are some techniques you can follow.
Wash hands and face
Children should learn how to wash up before dinner. Not only does this show respect and make them look presentable for dinner, but it is also a good hygiene habit.
Most people forget to wash their hands before eating. Not only does this show a lack of good manners, but it can also cause them to eat or spread viruses and germs from their hands to their mouth.
Wait until everyone is served
Even if your food arrives first, this does not mean you should go ahead and eat. On the contrary, showing proper etiquette involves waiting until everybody else gets their meal.
If you eat first, you disrespect other people at the table. Eating ahead is like saying you don't value their time and don't care if they don't have food yet. Boys should also pull out chairs for girls to sit at the table.
Dinner is made to be enjoyed together.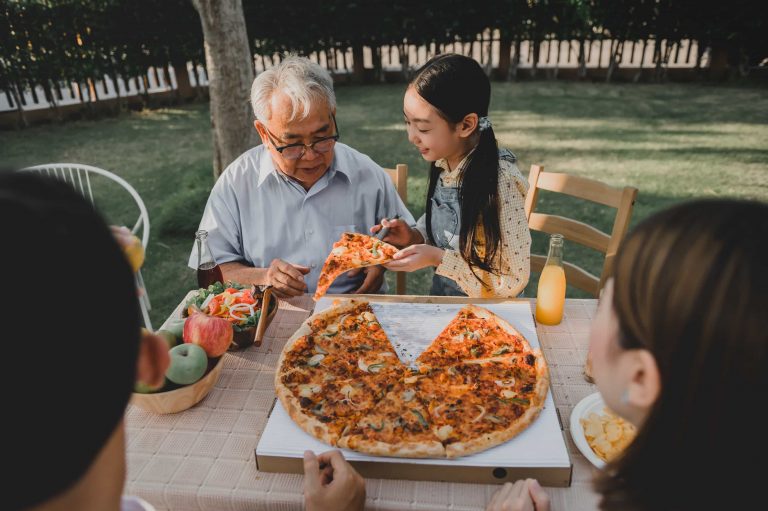 Chew with your mouth closed
You should not open your mouth when chewing your food. Unfortunately, children tend to chew with their mouths open or while talking, and it's your job as a parent to remind them to close their mouths and chew gently.
Chewing with open mouths is considered rude in almost all cultures and extremely rude in some. Chewing with your mouth closed is one of the most basic table manners.
Avoid stuffing your mouth
Don't pack too much food on your fork or fill your mouth with more than you can chew. Not only does this make it harder for you to eat, but it also presents a rude appearance with your cheeks full of food.
Proper table etiquette involves eating at the right pace. Also, don't cram all your food at once into your mouth. There are, however, some exceptions for big bites, like eating a slice of pizza or burger, which will require you to fill your mouth with more food.
Say 'please' and 'thank you'
Don't forget to say "please" or "thank you" whenever asking for something around the dinner table. Aside from saying thank you to the host, always thank the person who cooked the meal. Also, be courteous when asking for more food or drinks.
To be more polite, compliment the cook and share which part of the meal you loved.
Use napkins and utensils properly
On rare occasions, it's okay to eat with your hands, such as at a fast food restaurant. However, more typical dinners require using the correct utensils and glasses and placing napkins on laps, not in collars. Knowing what glass, fork, knife, and spoon to use with what food and drink is essential. This is also true for chopsticks!
Follow us on Twitter, Facebook, or Pinterest