Talking with others is a necessary part of our daily lives, and a beautiful voice is something everyone hopes to have. But people are busy and don't know how to protect their throats. In addition, the pressures in life are increasing, so a little cold or hoarseness is easy to ignore.
Sometimes, it may not be easy to speak, but people don't stop to rest or see their doctor, even if they can't get the words out. But if you experience a dry and hoarse throat or can't speak daily, these seemingly minor manifestations could hide a severe problem.
Subscribe to our Newsletter!
Receive selected content straight into your inbox.
A sudden or long-term loss of voice could indicate cancer cells invading the throat. In addition, the phenomenon in the throat may tell that cancer cells are quietly developing.
Pay attention to these throat symptoms
1. Severe hoarseness
There are many reasons for hoarseness. An upper respiratory tract infection is the most common cause. However, there are also some patients whose vocal cords are severely congested due to long-term excessive use of the throat. Under such normal circumstances, hoarseness can be treated with antiviral measures, disinfection treatments, heat, or resting the voice.
But there are rare instances where it could be a sign of something more serious, not just a case of harmless hoarseness, so such methods will not work.
Any disease has a period of development before a full onset. In the case of thyroid cancer, the early symptoms may manifest as hoarseness or some other changes in your voice. Thyroid cancer may also be discovered by the appearance of thyroid nodules, which may also cause swelling of the lymph nodes in the neck.
Thyroid nodules may also be detected during an exam with your doctor when he feels your neck in your thyroid area while asking you to swallow. They can also show up when a test, like an ultrasound, is performed.
If you have hoarseness or some other change in your voice that does not go away after some time, it's essential to pay attention to it. Timely diagnosis and treatment are necessary to avoid any severe disease advancing further.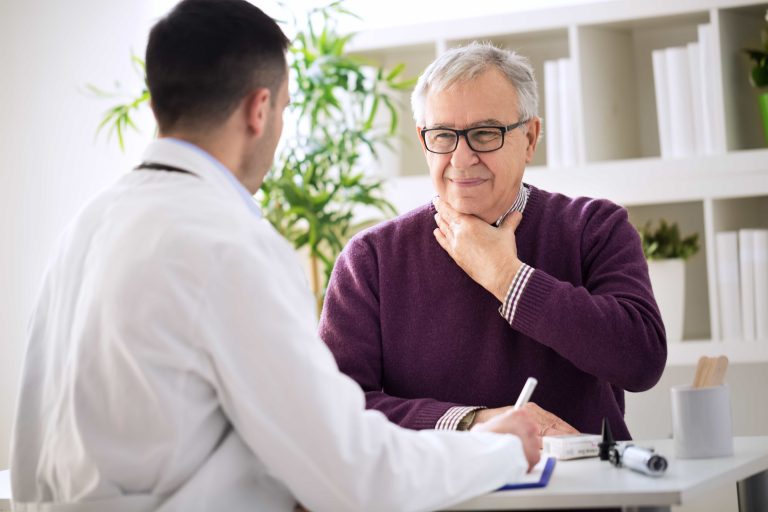 2. Foreign body sensation in the throat and difficulty swallowing
A "foreign body sensation" in the throat refers to abnormal sensations in the pharynx, like the feeling that your throat is blocked or that swallowing is difficult or even painful. Some patients may also have an overall uncomfortable feeling in their necks.
The throat is rich in nerves, including the parasympathetic nerve, vagus nerve, accessory nerve, glossopharyngeal nerve, etc. Therefore, a sensitive pharynx can reflect the disease abnormalities in the body. Over time, the pain may even spread to the ear. The causes of discomfort in the pharynx are varied and should be evaluated by your doctor if the discomfort doesn't get better after some time.
This is because one of the early symptoms of throat cancer is the sensation of a foreign body in the throat and difficulty swallowing. Usually, a sore throat caused by laryngeal cancer lasts a long time without fully resolving. However, once cancer cells in the throat spread, it may lead to sensations of a sore throat and a sense of foreign body obstruction.
The takeaway is, don't ignore these warning signs because you think a strange voice or strange sensation in your throat seems like no big deal — especially if the symptoms go on for a while. You can only stay healthy and enjoy a long life by being alert.